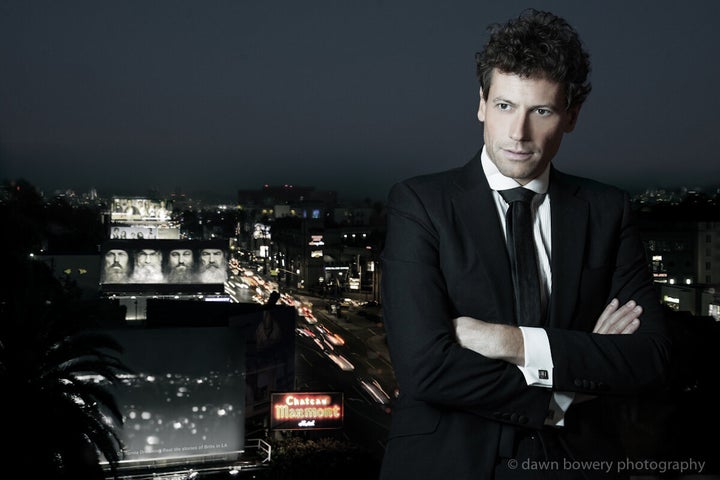 Welsh actor Ioan Gruffudd, as photographed by Dawn Bowery in the forthcoming book, California Dreaming: Real life stories of Brits in LA.
Scores of Brits have crossed the ocean since Winston Churchill declared a special relationship between the UK and its former colony. As air travel advanced and offered direct flights to LAX, many expats just skipped New York and Florida's Disney World for sunny California.
Indeed, a forthcoming coffee-table book, California Dreaming: Real life stories of Brits in LA, featuring the photography of Dawn Bowery, formerly of Kingston Upon Thames, will feature striking portraits of an eclectic mix of British people who followed their dreams to the City of Angels.
As might be expected, many of the book's subjects work in the creative industries. Some are semi-famous, such as musician/producer Peter Asher; former Sex Pistols guitarist/radio DJ Steve Jones; TV producer Nigel Lythgoe (Pop Idol, American Idol and You Think You Can Dance); Olympics heavyweight boxer Audley Harrison; and actor Welsh actor Ioan Gruffudd (title role in the Poldark remake, among his credits).
"It's not a celebrity book," cautions Bowery, whose subjects also include a butler, a rocket scientist, a scuba-diving drummer, as well as Cirque du Soleil acrobats who are twin brothers. The oldest is Anne Coates, 87, a film editor who won an Oscar for Laurence of Arabia. Other local celebrities include: Martyn Lawrence Bullard (interior decorator) and Zandra Rhodes (fashion designer), Ross King (TV host), Dr David Bull (TV host/doctor).
Others, of course, are unsung actors, costume designers, set decorators - as one would imagine, many are BAFTA members, albeit now LA chapter - hairstylists, musicians, painters, comedians, celebrity ghostwriters, and entrepreneurs. They all have interesting tales to tell how they ended up in Tinseltown.
"There are some rags to riches stories. What they all have in common is that they came to Los Angles to find their dreams," explains Bowery, who might as well have been talking about herself, especially in regard to California Dreamin', which is finished. She is now in the middle of an Indiegogo campaign to raise the capital for its printing.
Bowery first went west in 1996 and landed in Santa Barbara; two years later she settled over to Los Angeles to work at a Hollywood visual effects studio Rhythm & Hues. Two years later, she went back to London, thinking she'd be home for only six months, however ended up staying for a decade after landing a plum job at Sky Television. In 2010 Sky went through a round of layoffs; Bowery decided to take the redundancy offer and head back to Los Angeles without a job waiting for her.
The move allowed her to explore her photography passion, which turned in her full-time livelihood, shooting headshots, commercial work, events, and portraits of individuals and families.
This time in LA, she found an active, built-in support group, aptly dubbed BritsInLA, which holds a regular Tuesday morning brunch at West Hollywood eatery Ceconni's on Melrose. The new friends made there and at BAFTA functions often resulted in referrals impressed by her portfolio.
Many of the BritsInLA club's denizens ended up in the book. Their Ceconni's conversations often serve as validation that she and her cohorts did the right thing by abandoning what some already consider the 51st state.
Even her local Laurel Canyon Country Store has a British section of groceries. "Most material things that I miss I can find in LA quite easily," Bowery says. You can take the girl out of Britain, but not Britain out of California, apparently.
Related