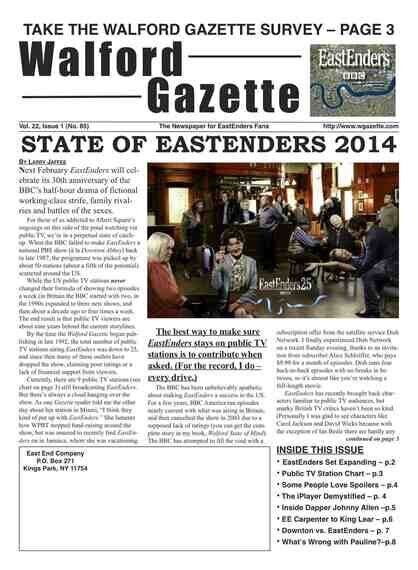 Next February EastEnders will celebrate its 30th anniversary of the BBC broadcasting four times a week a half-hour of fictional working-class strife, family rivalries and battles of the sexes.
For those of us addicted to Albert Square ongoings on the US side of the pond watching via public TV, we're in a perpetual state of catch-up. When the BBC failed to make EastEnders a national PBS show (à la Downton Abbey) back in late 1987, the programme was picked up by about 50 stations (about a fifth of the potential) scattered around the US.
While the US public TV stations never changed their formula of showing two episodes a week, the BBC in Britain in the 1990s expanded to three times, and then about a decade ago to four times a week. The end result is that public TV viewers are about nine years behind the current storylines.
By the time the Walford Gazette began publishing in late 1992, the total number of public TV stations airing EastEnders was down to 25, and since then many of these outlets have dropped the show, claiming poor ratings or a lack of financial support from viewers.
Currently, there are 9 public TV stations still broadcasting EastEnders. But there's still a cloud hanging over the show. As one Gazette reader told me the other day about her local station in Miami, "I think they kind of put up with EastEnders." She laments how WPBT stopped fund-raising around the show, but was amazed to recently find EastEnders on in Jamaica, where she was vacationing.
The best way to make sure the show stays on the air on public TV stations is to contribute - specifically to EastEnders - when asked. (For the record, I do - every drive.)
The BBC has been unbelievably apathetic about making EastEnders a success in the US. For a few years, BBC America ran episodes nearly current with what was airing in Britain, and then cancelled the show in 2003 due to a supposed lack of ratings (you can get the complete story in my book, Walford State of Mind).
The BBC has attempted to fill the void with a subscription service from the satellite service, Dish Network. I finally experienced Dish Network on a recent Sunday evening, thanks to an invitation from a subscriber, who pays $9.99 for a month of episodes. Dish runs four back-to-back episodes with no breaks in between, so it's almost like you're watching a full-length movie.
Snarky British TV critics haven't been so kind to the returns of Janine Butcher and Stacey Slater. (Personally I was glad to see characters like Carol Jackson and David Wicks because with the exception of Ian Beale there are hardly any others we know.)
Back to the 'State of EastEnders 2014', for those fans whose stations cancelled the programme, the Internet does help, particularly YouTube, on which the BBC maintains an official EastEnders presence, and there are even some full episodes to watch there. It takes a little search ingenuity, matching the original UK air date with help a useful episode guide.
TV Guide also offers online descriptions of the episodes that US public TV stations air, but there are storyline variance, depending on city, due to preemptions, etc.
In 2011, the BBC announced that it was making its popular iPlayer available in the US via the iPad for an $8 monthly subscription, allowing UK episodes on demand. But the launch never occurred. For the past two years, the powers that be in London have been incommunicado, despite numerous enquiries from the Walford Gazette.
I'm going to speculate that the iPlayer non-US appearance may very well be a victim of Auntie's £100 million digital media fiasco, although one theory holds that BBC America actually squashed it, even though they don't have EastEnders on their own schedule. What's not known is whether Dish has exclusive rights for non-public TV broadcast. Dish Network also does not respond to queries.
In any case, there are other online alternatives to access the iPlayer from the US , and also grey-area means via Facebook.
So BBC, get your iPlayer act together! There are customers willing to pay good money for the real thing, while others are more than happy to fill the void.