Randy Newman (known for hits like "Short People" and "I Love LA") turns 74 in November. On his Live in London CD/DVD 2011 release of a 2008 concert, Newman explains why he wrote his wry song "I'm Dead":
"Speaking of myself and geriatric rock in general, nobody is retiring from rock 'n' roll. People who said at 20 'I am not doing this at 30' are out there in walkers. The stages are clogged thick with gray-haired people."
Almost a decade after Newman's apt observation, a Wall Street Journal article studied empirically just how important the Baby Boomer generation has become to the music industry financially.
Concert tours by rock 'n' roll megastars are still a huge business. Bruce Springsteen, 67, topped the list last year, grossing $268 million. The Rolling Stones, with an average age of 73, finished ninth with $91 million. Such septuagenarians are continuing the tradition of bluesmen and jazz musicians before them, toiling their craft and trade as elder statesmen.
I'd be remiss not acknowledging the passing on 18 March of 90-year-old Chuck Berry, who hadn't performed publicly in almost a decade. His impact on rock music is immeasurable. The early Rolling Stones and Beach Boys were based mostly on Chuck's riffs. His recently recorded album, Chuck, - and first new material in 38 years - is getting released posthumously this coming 16 June.
On the night before Berry's death, I caught up backstage in Westbury, NY, with one of his disciples, Johnny Rivers, another one of my rock heroes who's been criminally overlooked by the Rock 'n' Roll Hall of Fame.
In the 1960s and 1970s Rivers scored 29 still-memorable chart hits ("Secret Agent Man," "Poor Side of the Town" and "Summer Rain," among them), selling more than 30 million albums over the course of his career. Rivers knocked none less than The Beatles off the top of the charts in 1964 with his first American No. 1, a cover of Berry's "Memphis."
"Secret Agent Man," by the way, was the title song on American broadcasts of the British spy television series, Danger Man, starring Patrick McGoohan.
Rivers, turns 75 this November and looks more like 60, graciously autographed my cherished copy of his original LP, Whisky A Go Go, recorded live at the famed Los Angeles nightclub on Sunset Strip frequented by Hollywood celebrities.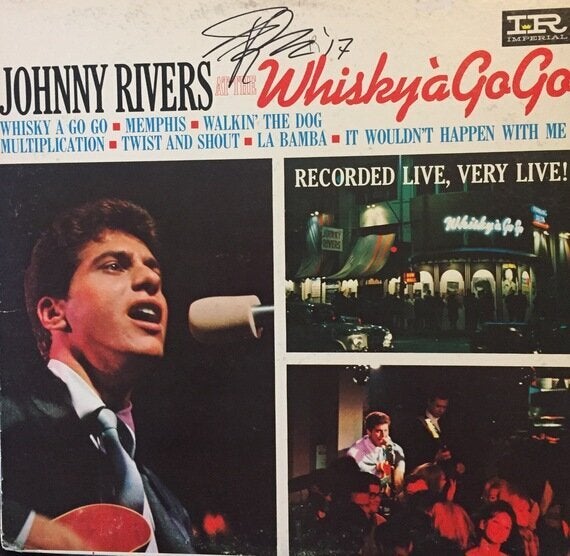 Rivers was among the performers at Berry's funeral on Easter Sunday.
Living up to the textbook definition of "journeyman musician," Rivers regularly tours the country. When I pointed out to Johnny that he might have recorded cover versions of more hit songs than any other performer or recording artist, he nonchalantly quipped: "I just played the songs I liked."
A few minutes later he was on stage with a tight band, knocking out hit after hit. No doubt doing what Rivers loves and does best, and healthy living, contributes to his longevity. And, of course, a great song lives on forever.
On his website, Rivers states Berry was "more than a friend and mentor, he was my idol." Rivers also scored hits with Berry's "Maybelline," "Brown-Eyed Handsome Man," and every night he'd play at least three or four of the master's songs at the Whisky A Go Go.
Chuck Berry and Johnny Rivers playing "Roll Over Beethoven"
"Chuck, you made it possible for me to buy a home for my parents and move them from Baton Rouge (Louisiana) to Beverly Hills," Rivers states on his website. ... Now that you have finally reached the 'Promised Land' say hello to Willie Dixon and Johnnie Johnson. I'm looking forward to jamming with you guys when I get there."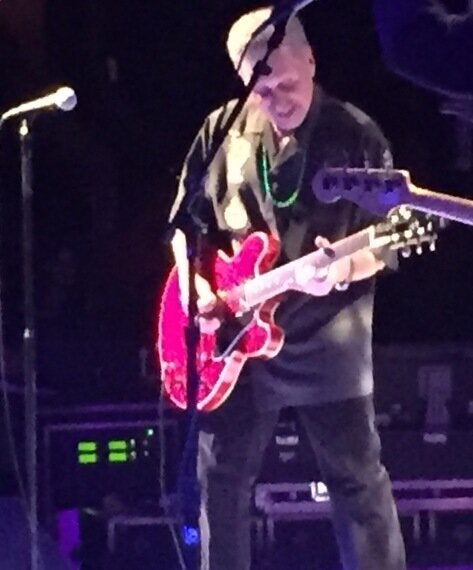 Johnny Rivers, 17 March 2017, Westbury, NY