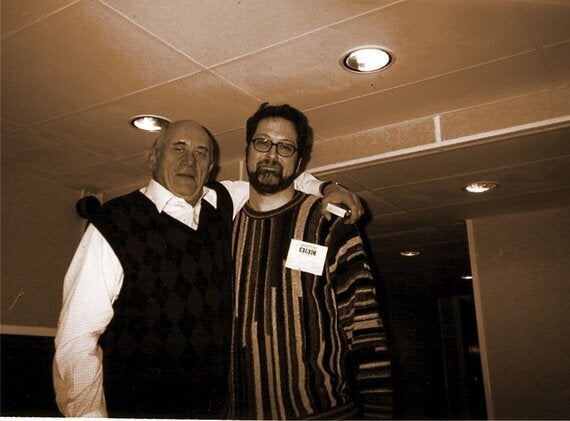 Minutes after the new issue of the Walford Gazette was delivered to the printer early this morning, I learned that my good friend John Bardon (Jim Branning) had passed away at the age of 75.
John had a stroke in 2007 and he never fully recovered. But thankfully he was in good health when he and his wife Enda enjoyed a wonderful holiday in New York in November 2005.
My condolences go out to Enda, a trained nurse, who took wonderful care of him throughout his illness.
Bardon, in a wheelchair and despite his poor condition, remarkably made a few appearances on EastEnders in recent years because he loved being on the show so much.
I first met John in 2002 (as you can see from the photo above. A full tribute about his career will run in the next issue (No. 88). We finally did a proper interview in the fall of 2005, excerpts of which follows. You can read the full interview here.
Actor John Bardon Explains: The Wit and Wisdom of Jim Branning
The first time I met John Bardon (Jim Branning) was in the BBC canteen at the EastEnders studio. I was about to grab a sandwich when Michael Greco (Beppe di Marco) and Marc Bannerman (Gianni di Marco), who both remembered meeting me the year before in their dressing rooms when they had just started on the show, asked me to join them.
John, whom I hadn't met before, was with them. John was impressed by my being from New York, and immediately asked about "the lines round the block" for East Is East, a well-received film about the assimilation of a Pakistani family in northern England, in which he had a featured role.
I told him I wasn't sure about the line, but it was a pretty full house the night I saw the film in Greenwich Village. "Did they tell you I made only 150 quid on that?"
Wasn't it a small independent film by a first-time director? I responded. "It wasn't my first film!" John replied, with the three of us laughing. The exchange perfectly captured the wit and wisdom of his alter ego, the inimitable Jim Branning.
We met again a year or so later in the foyer of the interior sets, and we vowed that one day we'd make the time to do a "proper" interview. Thanks to Wendy Richard, that took place in November 2005. Wendy had e-mailed me that John and his wife were taking a pre-Christmas holiday in New York.
Walford Gazette: Did you watch EastEnders before you landed the part?
John Bardon: Not really. I knew about it. But I wasn't an avid watcher.
WG: At what point did they decide to make you a couple with Dot?
JB: There was a bit of courting that went on first. She was just a mate really, just a friend. No way did the pair of us want to get married because we thought if we got married, we'd sit indoors and watch the telly every night. As it happened, we've had some nice things to do. And we are married, and it's worked out all right.
WG: I remember the first time you and I met at the studio canteen, and the previous night on BBC1 they had Jim chatting up Dot sitting on the stairs, flirting with her basically. And that point, she wasn't interested.
JB: She didn't want to know, at all.
WG: Eventually she fell under the spell of Jim?
JB: Yes, she softened to my charms, yes. That's it, mate.
WG: To what extent is your wife is similar to Dot?
JB: Is she what? Nothing at all, thank God! Larry, please! Nothing at all. No.
WG: Do June and Enda compare notes at all?
JB: They get on very well together. We took June on holiday with us this year for a week to our place in Turkey. She had a wonderful time. People don't recognise June when she doesn't have the wig on. They know me. I get spotted wherever I go. But with June, it was sort of an after thing. They'd say, "Oh, you're here as well!" It blew their mind, some of them, to see me and her walking down the street in Turkey.
WG: Getting back to Jim when he was first introduced, it seemed like the character was somewhat bigoted, not unlike your character in East Is East. But then his best friend becomes Patrick Trueman.
JB: I see what you mean. You can't get away with it anymore. Everything needs to be PC. Politically correct stuff, that's what it is. He was bigoted, yeah, yeah. But he's softened.
WG: I noticed on the official BBC EastEnders website when you recently gave an interview, you said, "June works in a different way from me." Could you please be a little more specific, different in what ways?
JB: We're all Method actors because that's the way you do it. Otherwise, you wouldn't get it right. But you do it at home. She takes it to extremes. I love her to bits really. But she's got to know what's in her handbag. She's got to know where she's come from, why she's there, where she's going, what she's had for breakfast. She takes it to too extreme.
WG: I guess that helps establish the relationship between the characters on-screen (i.e., opposites attract)?
JB: I suppose that's what comes across on the screen, but I do love her to bits, as it happens.
WG: And a couple of months ago the two of you won "Best On-Screen Partnership".
JB: We've won that four times actually, me and her.
WG: I noticed that you personally won the Laurence Olivier Award for your performance in Kiss Me Kate.
JB: I'm very proud of that.
WG: I think one of my favourite moments in EastEnders history was Jim inadvertently vacuuming up the budgie (Dot's pet parakeet).
JB: That's everyone's favourite (laughs). They'll forever show that. It's clever how they did that; they reversed the tape.
WG: I also wanted to ask you about your stand-up comedy act. How would you describe it?
JB: I did a one-man show about a comedian called Max Miller. I did it for five years, eight weeks in the West End, and showed it all over the place. I did see Max Miller work. In 1933 he was in a film called The Good Companions made from a novel by J.B. Priestley. Then later I was in a musical of The Good Companions, for which Andre Previn and Johnny Mercer wrote the music and words. J.B. Priestley said, "That film made a star of Max Miller, and this is going to make a star of you." He wasn't too right about that. But it gave me the idea of getting stuff together to do this show. I'll bring a copy of the tape and you can have a look at it. It's an hour long. Very simple gags he does. I do it every now and then. I don't get the time any more.
WG: Have you done panto at all?
JB: Yeah, I normally play Dame, female, the Ugly Sister. I've played Cinderella's dad in a couple
WG: All right, Jim-I mean John.
JB: Only once, Larry! Only one time allowed. That's all. You better warn the others as well.
WG: I will. I'm glad we did this after having met briefly twice before. We'd put it off.
JB: Yeah, we did. God bless, Larry mate.