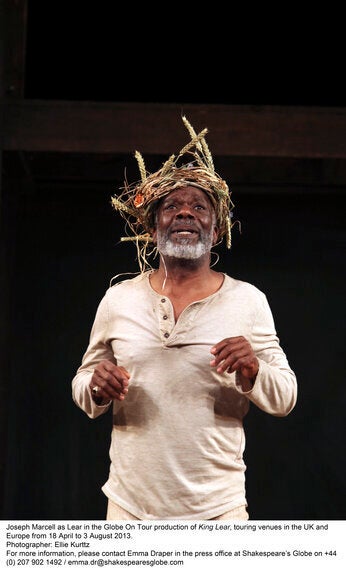 Shakespeare wasn't kidding when he wrote "all the world's a stage."
The Shakespeare's Globe Theatre
This New York run is part of a US swing of a tour that began in the spring of 2013 with stops throughout the UK, Europe and Asia with several month breaks in between, and wraps Dec. 1 in Napa, California, not before they hit a dozen major American cities.
"It's the longest show I've been in," says Joseph Marcell, playing the title role, in a phone call from his Philadelphia hotel. The tour also stopped for four performances in his native St. Lucia, which the 67-year-old actor left with his family at the age of 8 for England. He wouldn't call those Caribbean performances a "homecoming," although he had many friends in the audience, because he's been a "wanderer."
No doubt Marcell, despite working steadily as an actor on the stage, film and television since the early 1970s, is best known for playing the droll, proper British butler Geoffrey in the American sitcom Fresh Prince of Bel-Air (1990-1996).
After six years on the popular show, Marcell became one of the most envied British actors to cross the Atlantic. "It opened the door for them all," Marcell comments cheekily. However, he admits to the Walford Gazette that he was quite lonesome during that period when Tinseltown did not have the expat support system that exists today, such as the 'BritsInLA' social club.
"The hardest part was the weekends. I'd sit in my apartment in Studio City and wonder, 'What am I going to do for my Sunday lunch?'"
Marcell feels fortunate his time in Hollywood was two decades before the emergence of social media and TMZ, but even then the producers alerted the actors of "the cultural pitfalls, such as being at the wrong places, showing off" and the expected "decorum." There was also an understanding that "the audience was our bread and butter."
It took a while for his fellow sitcom actors to reach the conclusion "this guy is cool," and he says Smith was "a generous man" about their scenes together. "It really was a pleasure working with Will. The straight guy is so uncelebrated. It's the heart of the job."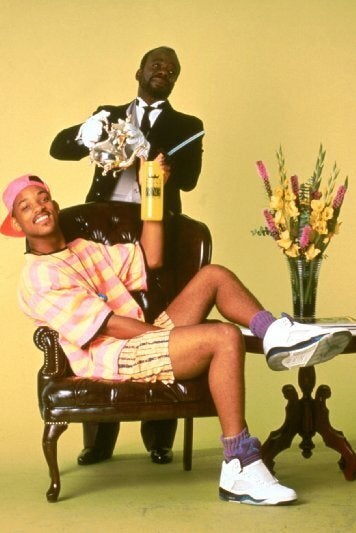 It was on the Fresh Prince set that Marcell learned "a look was much better than a word."
Asked whether his Geoffrey was influenced by John Gielgud's Hobson in the 1981 Dudley Moore film Arthur, Marcell says he was "certainly influenced" by that performance, as well as Mr Belvedere, the American sitcom that ran 1985-1990, and Admirable Crichton, the classic butler play written by J. M. Barrie in 1902, the same year it was first staged in London, which is home to Marcell these days when he's not on the road.
But despite those actors who came before him in such an archetypal role, Marcell points out, "You need to find a way to make it your own," much in the same way he approaches Shakespearean roles. I point out that both Frank Langella and John Lithgow have also played Lear on New York stages since January.
"All the silver foxes are out," he quips, adding that he wouldn't go see any of them while he is in the midst of such a tour. "My mistakes, my mistakes only."
In the same way Fresh Prince was "very stringently rehearsed," his current eight-person Globe troupe "rehearses all the time. We don't sit back and say it's done. It's very technical on how every line is presented. It's up intonation, not down. The thing is always fresh."
Marcell is no stranger to Shakespeare. Trained at the Central School of Speech and Drama in London, he also attended the University of Sheffield in Yorkshire, England. As a student he was in Julius Caesar, and that play was also his first professional job as a member of the Royal Shakespeare Company. He serves on the Globe's board, and he previously starred as Leonato in its production of Much Ado About Nothing in 2011, and in its Coriolanus in 2006.
It's been interesting for Marcell to see the cultural differences where the current production takes them. "Turkey and Romania couldn't understand how Lear's daughters could have treated him so bad. Denmark loved it from beginning to end. Austria lapped it up."
Following his Fresh Prince experience, Marcell yearned to get back to theatre. "After six years, I didn't want to do another [American] sitcom," although he did act in 26 episodes of the American soap the Bold and the Beautiful, produced in Los Angeles.
Speaking of soaps, Marcell's CV also includes two stints on EastEnders. He was interviewed by a Walford Gazette writer in 1996.
"I remember the Walford Gazette," laughs Marcell, who's chuffed to learn that his second EE tenure hasn't yet played on US public TV stations, even though it ran on BBC1 in 2006. His EastEnders character Aubrey Valentine, was once a member of a band called 'The Five Hectors', along with Patrick Trueman, played by Rudolph Walker, an interviewee of the Gazette . Aubrey makes a play for Patrick's wife Yolande.
At the time, it was something of a reunion for Marcell and Walker, both whom appeared in Empire Road, which was the first the British television series in 1978 to be "acted written, produced and directed by a non-white organisation." Marcell aspired to follow in Walker's thespian footsteps, taking pride that he was also of Caribbean descent.
A Trinidad native, Walker's first professional role in 1966 was starring in the title role of Othello, and he won great notices for his roles in The Tempest, Macbeth and Romeo & Juliet, at the Young Vic, among other respected theatres.
"Every actor wants what [Walker] accomplished," Marcell says. While EastEnders gave Walker fame over the past 13 years much in the same way Fresh Prince did for him, I had to break the news to Marcell that Patrick Trueman just had a stroke.
But that's show business for you.