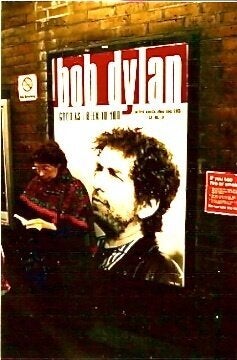 Earls Court, London, 1992; Photo: Larry Jaffee
"Sometimes it seemed that every fan in Britain had launched a fanzine..."
--David Kinney, The Dylanologists
With apologies to Patrick Humphries and John Bauldie for the above headline, but I couldn't resist usurping the title of their weighty 1991 compendium of the intricacies of being obsessed with Bob Dylan.
It's apparently an affliction shared by many, according to David Kinney's new book, The Dylanologists: Adventures in the Land of Bob (Simon & Schuster/Atria), and admittedly including me, a contributing writer to a now-defunct, US-published Dylanzine that had a decade-long run.
Reading this book, released in the UK on 22 May, I found myself transported back to November 1992 when I trekked to Leicester as the sole Yank delegate of a well-attended Dylan convention. Many of the so-called experts were present, and for every tedious lyric analysis there was also valuable inside information about how the record industry operated before the digital age. Bauldie, for example, revealed that some accountant at Sony at the eleventh hour reduced the Bootleg Series boxed set from 4 CDs to 3 CDs, as we in the audience collectively sighed.
Not that we probably didn't already have every track that would have been on that missing disc, of course. Kinney does a great job delving into this fascinating subculture, as I had done myself more than 20 years ago trying to convince myself that it was a journalism exercise, only to come to the realization that I was much like my subjects, which made me feel a little uneasy, (but no one tied the laces of my shoes).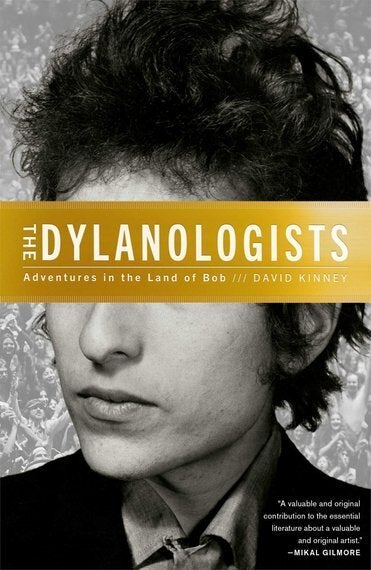 The Dylanologists gets into how the fans arrived at Dylan, and their trials and tribulations of balancing real life's family and job obligations vs. what could easily become an all-assuming, expensive hobby following the Never-Ending Tour. Kinney non-judgmentally tackles the lunatic fringe, allowing them explain how he or she just knew Dylan was speaking directly to them from the stage.
Like many of the interviewees, my interest in Dylan has gone through cycles. As a tenth grader I fell under his spell with the 1974 release of Blood On The Tracks, devoured everything that came before that, loved his passion on Slow Train Coming but was otherwise put off by the Christian period, and signed back on after Infidels. My basement is full of hundreds of Dylan-related magazines, books, songbooks, tour programs and tapes. Although I've purged thousands of LPs, CDs, books and DVDs over the past few years for financial and space reasons, my Dylan collection is untouchable.
When Dylan turned 50, I was one of the organizers of a New York convention (I found the venue) that attracted the likes of A.J. Weberman (prominent in Kinney's book), who became infamous for picking through Dylan's garbage. At the 1992 convention, Weberman told a story about how he was once in the middle of an anti-Vietnam protest at a mid-western university in which students were battling cops. He was grabbed by who he thought was an officer, only to realize it was Dylan himself. Did it happen? It reminds me of the Dire Straits lyric by some-time Dylan cohort Mark Knopfler "Two men claimed to be Jesus, one of them must be lying."
My favorite story in The Dylanologists comes from Andrew Muir, who I briefly met in Leicester and bought a copy of his Homer The Slut. Being a fanzine editor/publisher myself (not of Dylan, but EastEnders, of the Walford Gazette), I was amazed of his moxie using his employer British Telecom copiers on the weekend to mass-produce an issue. In any case, I found Muir to be affable, and Kinney does a good job retelling the zinester's firsthand encounter with Dylan himself.
Towards the end of the book, a few of the interviewees express misgivings about Dylan now just going through the motions in performance, and how his voice is shot, so why does he bother? That's what ruined Tempest for me, as well as his Long Island show last summer. I'm blown away that at 73 he still spends half the year on the road, and forever thankful for his string of albums Time Out of Mind, Love & Theft and Modern Times, which surprised the hell out me and I play as much as these days as Bringing It all Back Home, Highway 61 Revisited and Blonde On Blonde.
For me, being a Dylan fan is sort of like Al Pacino in Godfather 3: "Just when I was thought I was out, they drag me back in."
About a year ago, a business acquaintance/guitarist enlisted me for publicity help with his band "The Complete Unknowns" who are the star attraction for the "73rd Bob Dylan Birthday Celebration" at B.B. King Blues & Grill in New York this 26 May.
Dylan archivist Mitch Blank, who figures prominently in The Dylanologists, raves of The Complete Unknowns: "These guys do songs that Bob doesn't do, and they know all the words! It's really great because we'll never get a chance to hear Bob do them."