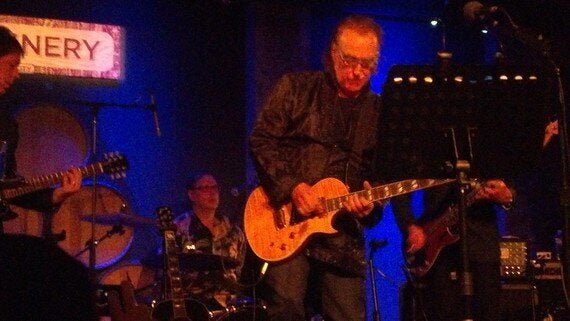 Dave Davies, Nov. 25, 2014 PHOTO: STEVE BEDNEY
He thinks back to all the mistakes that he made
To a time when he was so young and green
Innocent days when they both looked forward to that
Now it's all over, it's all over, all over
And all over America people are going home
--Ray Davies, "Thanksgiving Day" (2006)
The Kinks Reunion Rumour Mill is working overtime regarding a possible tour next year.
Little brother Dave, on a 14-date US tour, played two nights (24-25 Nov.) at Manhattan's City Winery, right before the Thanksgiving holiday.
Meanwhile, big brother Ray was promoting the new 5-CD boxed set of The Kinks Anthology 1964-1971, including 139 tracks among which are 25 unheard demos and outtakes.
In 45 minutes on NPR, Fresh Air host Terry Gross managed not to ask him about the possibility of a Kinks tour.
Or maybe she did, and Ray asked her not to go there beforehand, or something was edited out. Only they know.
Asked by Rolling Stone in its latest issue about whether a Kinks tour was possible for 2015, Ray was decidedly non-committal. He likens the feud between Dave and original drummer Mick Avory, who quit the group in 1984, "a bad Harold Pinter play."
He sort of played dumb about whatever barriers remain between he and his brother, which historically are worthy of a Sam Shepard drama (a True West sequel, anyone?).
"As for the Kinks, I have to talk to Dave ... We actually put down a few demos last Christmas. He came to see me, and he played me a couple of new songs."
On stage at City Winery, Dave was diplomatic, and he didn't slag off Ray at all.
In fact, nearly three-quarters of the 22-song set were Kinks hits, most of which originally had been sung by his older brother.
By doing so, Dave recognized a need for him to - to quote an Kinks album title - Give the People What They Want. There's no doubt that Dave added needed musical textures to Ray's songs, which are easily among the greatest in popular music, such as the power chords of "You Really Got Me" or "All Day and All of the Night."
Dave played a few numbers from his new solo stuff, Rippin' Up Time, as well as a few of his Kinks songwriting contributions, such as the gem "Death of A Clown."
Most importantly, Dave showed no lasting effects of the stroke he suffered a decade ago. By 2006, he had recovered enough to be able to walk, talk and play guitar.
Let's hope The Kinks do get back together next year with Avory behind the skins.
We've heard it for nearly two decades since The Kinks last played publicly in 1996.
As much as I adored Ray's last two solo albums Other People's Lives and Working Man's Cafe, The Kinks Bros. together are far greater than the sum of its parts.
So what if they missed the 50th anniversary of their first hit "You Really Got Me"? That didn't stop the Rolling Stones for a few victory laps.
All's forgiven. God Save The Kinks.