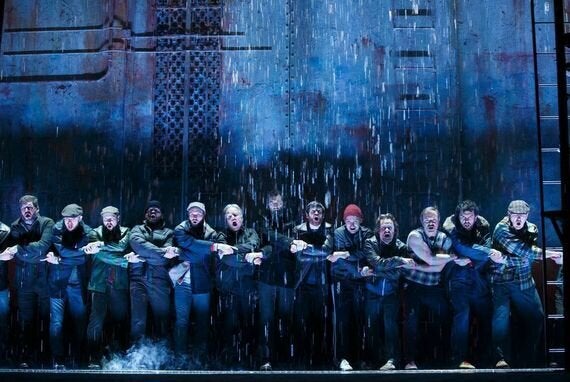 The Last Ship's ensemble cast. Photos: Joan Murphy
Writers are supposed to write about what we know, and that so often embodies itself in from where we came. When I was in grad school at Penn State, I wrote about my dad the taxi driver.
Sting grew up in the shadows of a shipbuilding yard in Wallsend, near Newcastle upon Tyne. All he knew was that it wasn't what he wanted, and he couldn't wait to become, well, a rock star.
It's against that backdrop that the former Gordon Sumner delivers a Broadway musical,The Last Ship, which opened Sunday night at the Neil Simon Theater. While Sting previously starred on Broadway in The Threepenny Opera, it appears he has much more riding on The Last Ship. He had enough acting chops to pull off Mack the Knife in the Weill/Brecht classic. The stakes are higher when it's his story and music as composer that's going to be judged by the critics and audiences.
The Last Ship has had a unique gestation period. Sting rounded up Broadway pros: book by Tony Award-winner John Logan, directed by Tony Award-winner Joe Mantello and choreographed by Olivier Award-winner and Tony Award-nominee Steven Hoggett, and a Anglo-American cast with formidable credits.
Sting also shrewdly released a CD in 2013 titled The Last Ship containing most of the music in the show, to whet the appetites of his baby-boomer fan base that fondly remembers The Police as one of the better bands of the post-punk new wave. The show was also tested in Chicago.
Sting previously in his career touched upon his roots in his 1991 solo album The Soul Cages, largely about the recent death of his father, and more recently in his 2005 memoir Broken Music.
At the preview performance I caught the Friday night (24/10) before the opening, it was clear The Last Ship has enough memorable Celtic and more traditional, musical theatre, ensemble-style tunes for its two-hour plus running time, although the main title theme might have been repeated once too many times. And two principal locations, the pub and the shipyard, are all that's needed to play out the drama.
Unlike other romanticised, working-class themed British dramas that crossed over to American audiences, The Last Ship doesn't blame Thatcherism for a community struggling with unemployment. We never find out what kind of ships the Wallsend shipyard was building, only that ships were being built more cheaply in Asia, which is true.
The show opens with "Island of Souls," adapted from Soul Cages' first track, instrumentally signaling the same haunting importance of the story that's about to unfold. Up next is Sting's solo hit "All This Time" also from Soul Cages, which apparently was a late addition to the show not included in the Chicago tryout last summer.
Some of the performances really shine, such as Jimmy Nail as Jackie the shipyard foreman, tapping his own Newcastle roots; Nail's father was a shipbuilder. (Sting's dad was an engineer and then a milkman.)
Fred Applegate steals the show in a supporting role with the best comic lines as Father James O'Brien, who's not above swearing or drinking. He's the one individual everyone respects in this tight-knit community, whether or not they're churchgoers or believers.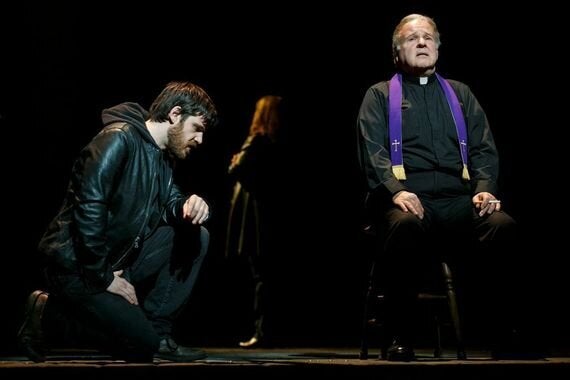 Father Jim (Fred Applegate) hears Gideon's (Michael Esper) confession.
Michael Esper (best known as the principal in Green Day's "rock opera" American Idiot) is believable as the arrogant Gideon, who returns home too late to say goodbye to his seriously ill dad. He rejected his son, who makes it clear he has no interest in also taking up his livelihood, or literally his boots, to the father's chagrin. It's an age-old dispute between fathers and sons who lack understanding and compassion for the other's point of view.
In promoting The Last Ship, Sting told host James Lipton a moving story on the American TV show Inside the Actors Studio on Bravo, about when his father was dying the singer closely looked at his hands and realised they were a replica of his own. "But you did more with yours," his father told him. Sting said it was the first compliment he had received from him, after all the rock star's considerable achievements.
This Geordie story also revolves around the romance Gideon left behind when he was a lad. Rachel Hunter's Meg has the grit of a single mum to a teenage son, while working as a barmaid at the pub. For reasons maybe she doesn't know either, Meg puts off the marriage proposal of her doting longtime boyfriend Arthur (Aaron Lazar) who used to be a shipyard worker and now is perceived to be a corporate stooge for the scrap metal firm dismantling the shipyard.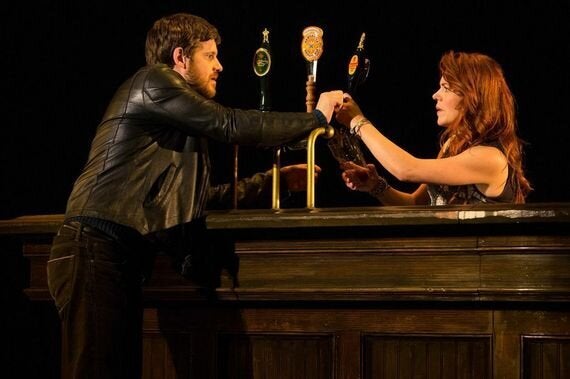 Gideon (Michael Esper) pisses off Meg (Rachel Hunter) showing up out of nowhere.
Gideon thinks he can pick up his romance with Meg, even though he hasn't been in touch in 15 years. Thankfully, Sting didn't try to work in more of his greatest hits, such as have Gideon croon "Every Breath You Take," or adapt with a few lyrical switches, for example, "Work The Black Seam" about coal mining.
His father's son, Gideon ironically joins his former mates in an act of defiance to build one last ship, whose materials have been apparently financed with the church's till as a parting gift from Father Jim, even though no one is being paid for their work. A labour of love, indeed. (I can relate to the workers, having seen several of the magazines where I've worked disappear over the past decade, and HuffPost doesn't pay its bloggers.)
The Last Ship is devoid of union-busting, or the state's dismantling of an industry such as coal mines (Billy Elliot, Brassed Off) or steel mills (The Full Monty). In this show at least, it seems to have been a business decision to close the shipyard - the owner simply wasn't making enough of a profit to keep it going.
So when the shipyard workers decide to defy their former employer's wishes and occupy the yard, you can't help not root for them against the man.
Bravo, Sting, for not resting on past laurels, and stretching beyond your comfort zone.