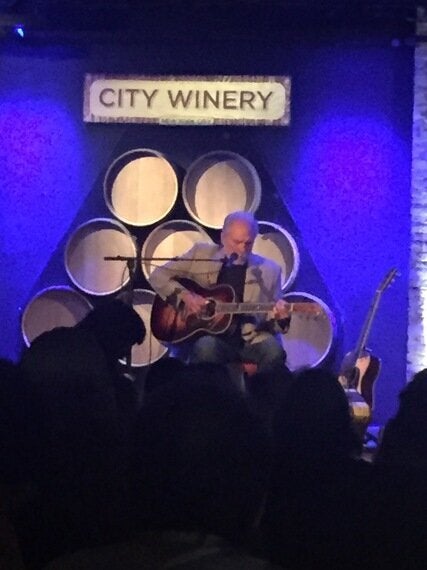 Jorma Kaukonen, City Winery, NYC, 29/11/16
They say blues music usually falls into two categories: the I ain't got no woman blues, or the I ain't got no money blues.
The oversimplification doesn't take into account the post-election blues, as experienced by the lion's share of New Yorkers whose sure-thing candidate lost about a month ago (88.7% of Manhattan voters went for Hillary, 10% Trump).
Music is good therapy for curing most ailments, and soothing acoustic blues certainly is what the doctor ordered.
The legendary Jorma Kaukonen (lead guitarist in psychedelic era standard bearers the Jefferson Airplane and his own power trio Hot Tuna) took the City Winery stage 29 November in a decidedly mellow mood as he strapped on his Martin and settled onto the stool.
His Airplane bandmate/chief songwriter Paul Kantner (who died in January) was the political one. Co-lead singer Grace Slick, a high school classmate of first daughter Tricia Nixon when invited to the White House planned to dose the newly inaugurated president, only to be turned away because we showed up with 1960s radical/provocateur Abbie Hoffman as her date.
The audience were largely subdued, save for the Jorma diehards shouting out obscure requests that mostly went unacknowledged. Much of the 27 songs over the two sets performed were his interpretations of traditional blues standards handed down by the likes of Reverend Gary Davis (3 songs), Jimmy Cox, Jesse Fuller, Jelly Roll Morton, and Blind Willie Johnson. The content dealt with big issues like mortality.
Kaukonen, now 75, has aged gracefully with a neatly coifed white mane and beard.
His guitar picking hasn't diminished any, and his voice sounds the same when he'd get his rare lead vocal, such as 1969 "Good Shepherd" on the Airplane's Volunteers album, an incendiary Woodstock Nation call to arms for young people to get the Vietnam War ended.
Kaukonen at least a half dozen times during his long career composed acoustic guitar instrumental progressions that remain embedded in anyone's brain who's an aficionado of FM free-form, deep album-cut radio since the late 1960s.
Among them Hot Tuna's "Water Song" and the Airplane's "Embryonic Journey," which he played late in the second set, as he did the aforementioned "Good Shepherd."
A journeyman often on the road, Kaukonen, who lives on a farm in Ohio (a supposed swing state that this time went red, i.e, GOP), refrained from mentioning Trump, although it was hard not to think the president-elect when the ironic lyric of the bluesy "Barbecue King" talked about the protagonist's "shiny pants, well, he looks like a clown." He'll cook you a bun anyway you please." Campaign promise sound familiar?
Kaukonen didn't disappoint by concluding the show with arguably his greatest composition and performance "Genesis" from his 1974 solo album Quah.
Popular in the Community