I read this article on the BBC website with interest recently. It talks about the rise of the 'bloggable' wedding and the pressure that couples put themselves under to have a wedding that's deemed 'blogworthy'.
A few people I know from the wedding industry have contributed to the article and I think it's interesting to hear the different perspectives on the subject.
I know that as a wedding photograher I often do a little yelp with excitement if I turn up at a wedding and there are lots of beautiful details to photograph. As someone who takes photographs for a living I guess my brain is drawn to the aesthetic and not just the pretty - I love juxtaposition, gritty and urban way more than I like pretty things.
On the flip side I also love photographing people and feel extremely humbled if I can provide my clients with documentary images that focus on the people that were present and that grow in importance over time.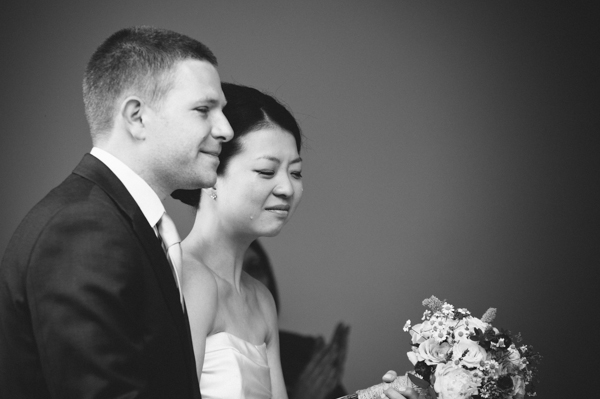 Image by Babb Photo
A wedding is a time for families and friends to come together. That was the thing I absolutely loved the most about my own wedding and I know that's what my couples are most looking forward to as they make their commitment to each other. I am there to provide a record of that process from start to finish. A record that will become more important as time goes on.
This point hit home in a big way recently when one of my clients from a few years ago posted a picture on Facebook that I'd taken of her dad, at her wedding. It was a candid shot of him sitting down for dinner, smiling. She posted the picture because he had recently passed away.
He wasn't well at the time of the wedding but you wouldn't necessarily know that from the picture. In retrospect that picture tells a story and has a different value now that the bride's father is no longer with us and I am exceptionally glad that I was there to capture it.
That wedding was bloggable. It was featured on one of the UK's biggest wedding blogs. It had quite a few creative details and, yes, of course I took pictures of them and the couple were pleased that I did.
I provided a record of the whole of their day, including the backdrop that they had created to celebrate against.
People spend a lot of time thinking about the details of their wedding; what flowers they'll have, what they'll eat, the decor and what they can do to thank their friends and family for their support.
In the end, though, those details fade into the background and it's the shots of the people, especially those who are no longer with us, that become important.
Lots of my clients find me via wedding blogs, so I asked some of them whether they feel under any pressure to have a bloggable wedding.
One person whose wedding I'm photographing in August, said that they don't feel any pressure to have a bloggable wedding, "but it's been really nice to have a sort of online community of other couples who basically tell you it's fine to be yourself on your wedding day".
Another of my customers who was married May said that they vowed not to buy any wedding magazines for their wedding but ended up secretly scouring the net for wedding blogs. They found some really great advice on blogs and some great ideas but the best advice was be yourselves and enjoy the planning as the day whizzes by.
Phoebe from So You're Getting Married, another (brilliant because of Phoebe's propensity to tell it like it is) UK wedding blog has a slightly different view on what makes a blogable wedding:
"If you planned your wedding with love and affection, included things that you enjoy and had it photographed beautifully then of course we all want to see it. It is great for all the wonderful suppliers you used to get a pat on the back for their good work. We want to feel like we were part of your day and feel inspired. As bloggers we fricking love weddings, but what we love about them the most is the emotion and joy that comes through in the images and the memories we know you will forever cherish"
I concur wholeheartedly.
The BBC article presents the worst case scenario. Much in the same way the people from The Only Way is Essex are about as different from me, a born and bred Essex person (albeit living in London now), as it's possible to be.
You can have a creative, detail heavy wedding just because you want to have a fun day that's enjoyable and visually stimulating for your guests, you know. Or you can have a wedding with no details at all and it will still be just as amazing.
On of my favourite weddings of last year was at Camden Town Hall with a reception at a local arts center. There was no decor, no favours, no pomp and no ceremony. Just a wedding for two people who love each other, followed by a brilliant party. I loved that wedding so much because of the energy of the people who were there.
Wedding blogs, just like any other kind of magazine, are there to inspire us. You can take as much or as little inspiration from them as you choose to whilst repeating the mantra that, at the end of the day, it's all about the love.
I refuse to be so cynical as to believe that it's anything more than a tiny proportion of people who might plan a wedding with a blog feature in mind.
Babb Photo is a London Wedding photographer, providing quirky, beautiful and creative wedding photography services in London, Surrey, Essex, Hertfordshire, the UK and beyond.