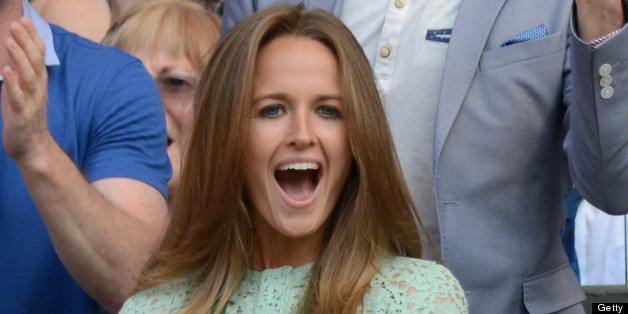 Getty
The UK was united in celebration this weekend, as Andy Murray became the first British man for 77 years to take home the Men's Singles Wimbledon title. But for many it was Andy's long-term girlfriend, Kim Sears, who had them talking throughout the tournament.
Turning out to support her boyfriend of 7 years at every stage of the competition, striking Kim was often more talked about on social media than her sportsman beau. The 25-year-old artist became front page news as her stylish outfits and effortless beauty captivated a nation of women.
Now widely considered the 'best looking WAG' in sport, here's how Sears stole the spotlight- and how you can emulate her natural, healthy look in 3 easy steps.
Skin
A flawless complexion like Kim's is something most of us can only dream of, but there are numerous ways you can freshen up your skin and revive your radiance. Beauty starts from the inside, so if you want to keep your skin looking healthy make sure you're eating the right foods. Believe it or not, some foods contain anti-ageing nutrients, like B6, which can improve the production of new skin cells resulting in a firm complexion. You can also find collagen-boosting benefits from limes and oranges, as the Vitamin C helps maintain the skin's elastic quality.
It's also important to undertake a thorough skincare regime. Kim obviously takes very good care of her skin, and it's more than likely she uses a good moisturiser with an SPF of 15 or more when supporting Andy courtside. Sun damage is one of the biggest causes of premature wrinkles, so it's vital to protect your skin from ageing UV rays.
The surface of Kim's skin also appears flawless and smooth. If you suffer with dull skin that lacks that special 'glow', or you perhaps have acne scaring, there are minimally-invasive cosmetic treatments available that can help. Skin peels and microdermabrasion, for example, can remove dead cells and encourage the renewal of healthy skin, giving you a dewy complexion just like Murray's Mrs.
Hair
Not many people can say their hair has its own Twitter account- except Kim. Glossy, sleek and full of body, it now has a life of its own on social media, but how does she keep her locks looking so perfect? According to Kim, the secret is in a good blow-dry. Ensuring the hair is kept loose with big waves at the bottom, her tresses look bouncy and healthy. The caramel tone to her hair colour also brings warmth to her face, emulating a healthy glow.
Smile
Kim's bright white teeth were the talk of Twitter during the tennis event, leaving many women wondering how they can get their smile shining like Sears. Few of us are lucky enough to have naturally pearly white teeth, but one option is to lighten the shade of your teeth using tooth whitening. An increasingly popular cosmetic dentistry treatment, it's no longer just for celebrities. A simple and effective way to give your smile a boost, tooth whitening can lighten teeth that may be stained from smoking, coffee, red wine, or just from general wear and tear. Yellowing teeth can age the face dramatically, but Kim's dazzling smile makes her appear youthful, as well as beautiful.
For further information on looking and feeling great during the summer, visit www.thecosmeticsurgeryguide.org