Each year FAD holds a student competition in search for exciting new designs and talent. This year the brief was 'Future Optimism' and asked young designers to look to the future for new optimistic fashion concepts. We were challenged to 'look forward and explore' and to 'envisage a key development or change taking place in the next ten years, and design two outfits which respond to it.' The outfits will be judged at the Vauxhall Fashion Scout showcase during London Fashion Week February 19th by a top industry panel, including iconic fashion journalist and talent spotter Hilary Alexander. The lucky winner will receive £1000 and a work placement alongside two runners-up who will receive half this price each.
When my project was chosen to be entered for the 2013 FAD competition at the end of last year I was over the moon and couldn't contain my excitement! A few weeks later I received an email telling me that I had been selected as one of 15 finalists from over 100 entries across the UK and I couldn't believe it! The prospect of showcasing my work at London Fashion week has been a lifelong dream and is definitely an un-missable opportunity for any young designer!
For 4 weeks I was working on my outfits along side my final year collection and found that each project helped to push the other further! Filling me with ideas and inspiration. It has been very fulfilling bringing my designs and drawings to life and allowed me to really get sucked into my concept, which has hugely inspired the aesthetic for my final year collection. I would never have thought that so many exciting opportunities could come from being entered into a student design competition and would really recommend students getting involved in competitions if they want to gain extra opportunities and publicity.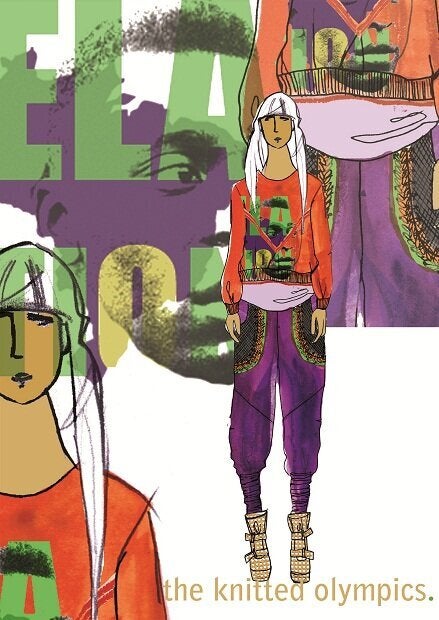 I began my research for the FAD competition by looking into current events and was immediately drawn to the news and extra exposure surrounding the growing economy in Brazil and its increasing influence on the rest of the world. I began to draw inspiration from the vibrant culture and communities with the aim to create a colourful, modern and playful DIY aesthetic. For the collection I took strong influences from sportswear and Brazil's famous football culture (and the numerous up and coming sporting events to be held in Brazil) in combination with traditional knitting and weaving techniques, inspired by my research into the tribes of the Amazon.
I knew that Latin America is fronting the fight for a more sustainable planet and this made it was clear to me that my concept had to have sustainability at its core. With the apparel industry producing an overwhelming amount of waste, I decided that the future of fashion needs to be one which is much more sustainable for our planet. The aim of my collection 'The Knitted Olympics' is to bring back the concept of individual, handmade pieces, in hope for a future away from throwaway fashion and moving forward towards anti mass production. My outfits have a definite 'make do and mend' aesthetic, bringing together different colours and fabrics and connecting them together in interesting ways. I think the bright colours I have used really work well and bring my concept together as a modern celebration of Brazil.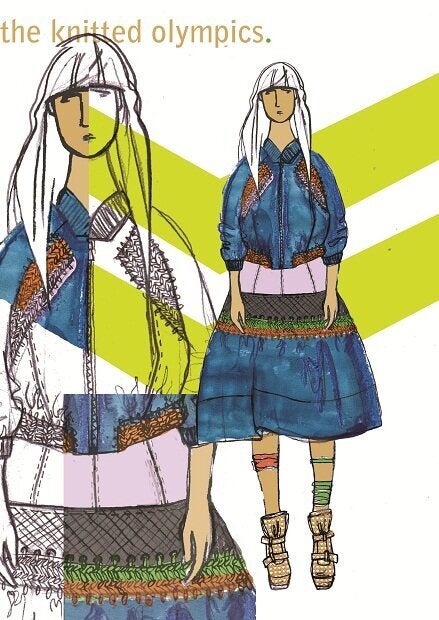 With only a couple of days left until the Vauxhall Fashion Scout showcase I am very excited and eager to see my outfits on the runway for the first time and find out who the lucky winners are!
Now only one more thing for me to do... decide what to wear...!?