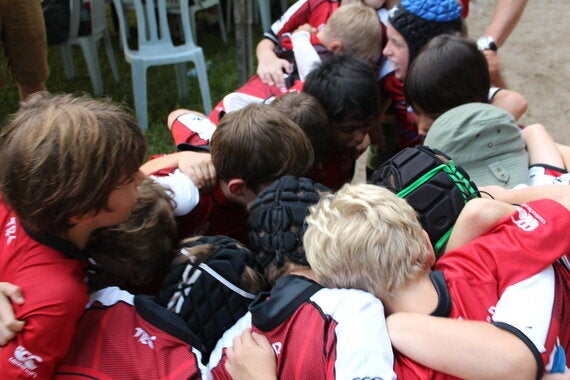 September 2016 was the start of my seventh season as a Rugby Mum. I'm not one of those Mums who lives vicariously through her children, while my sporting days were fun I'm quite glad that they're over. I'm not a fan of rugby. I would never choose to watch a game voluntarily (apart from that one time at Harlequins when I was in a corporate box).
My aversion to the sport is further complicated by the fact that I'm married to a New Zealander. If you've ever met one you'll know that upon leaving NZ they have to pledge allegiance to ANZAC biscuits, The Silver Fern, The All Blacks, and sign a blood oath that all children begat outside of NZ will be raised in Rugby. Imagine my disappointment when my two boys started to play as 6 and 4 year olds in Sydney. They continued to play when we moved to Singapore, and after we returned to the UK. They've always been lucky to have some brilliant coaches and team managers who are passionate about the game. As much as I'm not a fan of the game, in fact, I'm constantly trying to introduce other less dangerous sports, I love the consistency that the sport has provided as we've relocated.
I've always tended to be with my youngest with the basic aim of keeping him alive. On countless occasions I've stopped myself from running onto the pitch to scoop him out of harm's way. I've successfully not vented my opinions at referees or other parents. Okay, there was that one time when a local team renowned for it's aggressiveness decided to start tackling during a tag game and I had to remind the ref of the rules, but apart from that I've been an exemplary parent. For example, each season I try to figure out the new rules of play, and generally by April I usually know what's happening. I make sure that the boys get to training and games. I stand there in rain, hail, fog, snow and humidity (just Singapore, but still). I've sliced oranges, wrote match reports, videoed games and been a pitch marshal. Why? Because my boys love to play.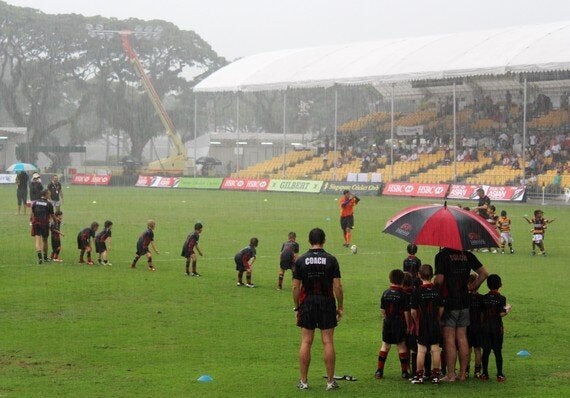 Fast forward to this season with the youngest now in the U11s and the introduction of the RFU's Age Grade Competition Review (for players aged U7-U12) where the game is 'player-centred, development-driven and competition-supported'. http://www.englandrugby.com/my-rugby/players/age-grade-rugby/implementing-action-plan/ No change there then. Oh, apart from not having 'win-focussed competitions'. I'm sorry, what? Two opposing teams will still play against each other, they will both be aiming to score the most tries, and one team will still score more tries (technically known as winning) than the others. However to not focus on the 'winning' aspect there won't be a cup, or a medal. Instead everyone will receive a certificate stating rugby's core values, and in the case of the festival that I attended last Sunday, a couple of teams were randomly selected (from a hat, one was the host!!) to attend the Aviva Premiership Final at Twickenham.
Quick note to the RFU: kids love cups and medals. My 10 year old did not go running into the house to show his Dad the certificate. In his words it was 'lame'. Yes he had fun on Sunday, he always does. He loves rugby. He's the one who doesn't give up, that will still be running hard during the last minute of the final game. He's the slightly annoying kid who's on every school team, who's good at every sport he tries. Sport is what he excels at, and it's important to be brilliant at something. I love how his school makes sure that all of the participants write a match report for the newsletter. Writing is not his favourite thing but his love of sport means that he gives it a go. You would think that the RFU would be keen to keep this kind of sports-mad child motivated and playing.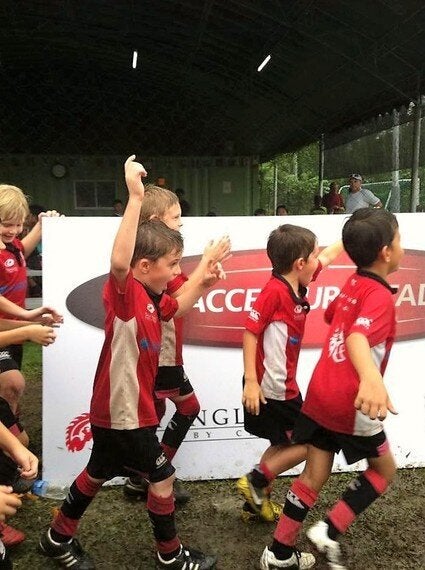 The very idea of non-competitive competitions is somewhat ludicrous. If the RFU want to get more kids involved in rugby they need to invest in introducing rugby to those who don't already play it, not make it less fun for the kids who've been playing for years. Or, they need to embrace the concept of minimum and maximum weights being applicable to each age group (from Under 8s to Under 13s) like in New Zealand. Under 11s that weigh over 49kg (per the regions of Taupo and Queenstown) would play in the next age group up. In this country we wouldn't want to offend the giant children's sensibilities, rather than worry about the smaller children. It's somewhat demoralising and not exactly 'fun' to be at the bottom of a ruck of over-sized 10 year olds. It's also quite dangerous.
Non-competitive competitions will encourage mediocrity, and reward just showing up. It doesn't teach our young people the importance of stepping up to a challenge (because there's no progression to harder games), similarly it doesn't teach graciousness in defeat. An RFU poll found that 32% of children play rugby because it's fun. Newsflash: Winning is fun! Regardless of whether you win a cup, plate, bowl or shield. I know that losing isn't quite so enjoyable but it's part of life. Sometimes even when you try your absolute best it's just not quite good enough on that particular day. Coming back from a losing game teaches so much. It's how we learn resilience and grit. The children know what both winning and losing feel like and they know which feels better. Competitions without winners don't teach this. The England team in the RWC 2027 will fondly reminisce about those years when they didn't play to win, just before they get annihilated by the All Blacks who (sneakily) have always played to win.
The sole glimmer of hope (from a parent's view) is that youth rugby sponsored by Old Mutual means that you don't have to hang around waiting for that pesky final. Although this means that the traffic is horrific as everyone is trying to leave at the same time. Thanks RFU and Old Mutual!
Popular in the Community