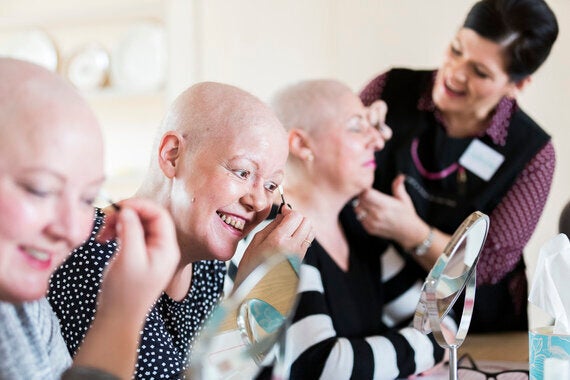 Photo: Philip Durrant for Maggie's
We know that cancer affects body image and a sense of self through physical symptoms like hair loss, skin damage and gaining or losing weight, which can change how you look and feel. But you can also lose your sense of self psychologically, as cancer can take complete control of your life and many people feel that suddenly they are defined by their cancer diagnosis.
Cancer can force you to retreat from life - whether it's through taking time off work, spending big chunks of time at hospital for appointments, or simply because you are not well enough to leave the house. This, in addition to losing your hair, your physique or your normal look creates a sense of loss. And with all losses, people need time to grieve over these changes. So when women do eventually feel ready to reengage with daily life after treatment, like going back to work, seeing their peers out and about and meeting up with friends can make them realise that they have lost a sense of who they are.
As is so often the case with cancer, there is a feeling of guilt. Cancer famously makes people think about their priorities but it can sometimes undermine what we may consider small, irrelevant or trivial. Things such as a new shade of lipstick or getting a new haircut can be important to us, and more importantly they are allowed to be. What we try to help with at Maggie's is for women to learn how to regain their confidence so that they can start feeling like themselves again. After gruelling cancer treatment, some women feel that worrying about their appearance appears vain or shallow. But it's just as important that women realise that small things like make up and clothing can boost a person's confidence in the short term and this, in turn, can help build a positive body image, inside and out.
We were lucky to have fashion designer Roland Mouret, who created the infamous 'Galaxy' dress, visit our Maggie's Edinburgh Centre recently. Roland's visit touched on many of the issues women face. He helped the women he met celebrate themselves through fashion, and encouraged them to present what they want to the world, a face and appearance that is not always imposed by cancer.
Of course it is not only women who feel a loss of self worth to cancer. While female body image is more openly discussed, men also experience feelings of loss when their appearance changes. We need to empathise more with individuals, as while society may easily accept a man turning bald, for the man experiencing hair loss - and sometimes not just on his head, but across his entire body - the impact can be just as harrowing.
Helping people gain the courage to face the world is a key part of what we offer ay Maggie's. Attending support groups or speaking to one of our psychologists allows people to discuss their feelings in a safe environment and to talk to others who understand what you're going through and can support you through your decision making.
People need support from others to feel externally strong and with many of us knowing someone living with cancer, compassion is one small thing we can all share.