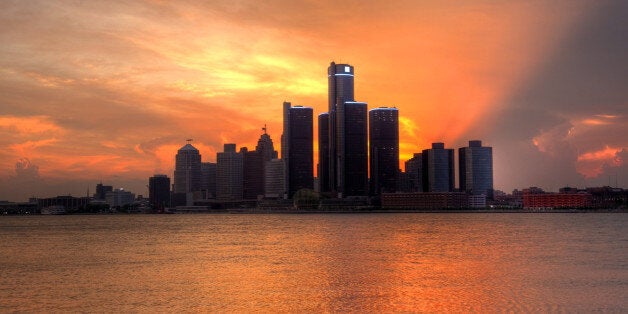 Detroiters don't do themselves any favours by selling tee shirts with slogans like, "Detroit: where the weak are killed and eaten."
Or: "I'm so bad I vacation in Detroit."
Or: "Come back to Detroit. We missed you the first time" (next to the ubiquitous handgun.)
Or simply, menacingly: "Say nice things about Detroit."
Then again, maybe they're onto something.
If it's possible to capitalise on the idea that your city is special because it perennially has one of the highest homicide rates in the Western world (2012's stats: around 400); or because people flock from around the globe to experience its unique brand of 'ruin porn'; or because it's a badge of honour to survive such a notoriously dystopian landscape - then Detroit is setting a new standard for self-promotion.
After all, this is a city that boasts an 8,000-lb statue of boxer Joe Louis's fist as its emblem, swinging purposefully toward Canada. It's a place that demands respect even as it garners pity. Pow! Right between the eyes.
Full disclosure: I'm a Detroit refugee. I wasn't born in the city, but I'm the product of people who sought the gilt-edged promises of Detroit in its glory days, when its jazz and Art Deco architecture made it the 'Paris of the Midwest' and its revolutionary assembly lines were churning out cars and a comfortably well-off middle class.
One of my grandfathers left the Liverpool of his childhood for Canada and, as soon as he could drive, rode a motorbike 2,000 miles to the Motor City where he poured his life into the Arsenal of Democracy. It's the prototypical Detroit story, from the African American mass exodus of the Deep South to immigrants from Mexico, Lebanon, Ireland. Detroit drew them all.
By the time I was born, Detroit was already a national symbol of Rust Belt deterioration, political corruption, poverty, crime, degradation and defeat. My family, like the majority of white folks who could, had long since fled to the fringes of the metro area. They were mortified when, straight after university, I moved to a place they'd steadfastly warned me off as violent and lawless and no place for a woman in her twenties. I spent the better part of a decade there before I retraced my grandfather's journey in reverse, but my love affair with The D continues.
So it's with a mixture of sadness and pride when people ask me where I'm from. Living in rural East Anglia, the response I get is either polite bafflement or a politely expressed desire to visit Detroit. "Is it a good place to take a holiday?" I'm often asked.
I'm the first person to sing the praises of Detroit - of its big-hearted residents who maintain optimism against all odds; of its rich cultural contributions; of its 'green shoots' (both literally and figuratively) of promise amongst almost unimaginable decay.
But Detroit is a riot of contradictions. Where else can a $1 house - that's one dollar - stay on the market for nearly a month? Trees sprout from the tops of abandoned skyscrapers, just blocks from the headquarters of one of the world's biggest corporations. It's the city that gave everyone the affordable car so its own inhabitants could get the hell out of town at 5 p.m., if not for good. The home of Motown Sound still cranks out music, but you're more likely to hear the ghostly rumbling of the elevated train - affectionately known as the People Mugger - than catch any dancing in the streets.
Would I travel there? Sure, I do every chance I get. And I'd certainly recommend it to anyone who is open-minded, curious, empathetic, respectful. But Detroit doesn't need voyeurs to swoop in and swoon, like the German tourist who giddily told Detroit author Mark Binelli, "I came to see the end of the world!" As if it's a museum exhibit of a post-industrial apocalypse instead of an actual city of real people struggling amidst institutional racism, socio-economic disintegration and a myriad other contributing factors.
That said, if visitors bring their money - however fleeting - and gain a perspective beyond ruin porn, that can't be a bad thing. And there's certainly plenty to see, ruins included.
But Detroit isn't for the faint-hearted. And it isn't for non-drivers - it is the Motor City after all - so my first tip is to get sorted with a hire car and get a feel for Detroit's layout within the confines of a locked, non-showy, reliable set of wheels. You haven't lived in Detroit if you haven't had at least an attempted carjacking or theft, but if you try to be inconspicuous whilst keeping your wits about you, you should be fine. And though I wouldn't condone rolling through red lights and stop signs, which is illegal even in Detroit's sparsely policed streets, I will say that most natives know better than to stick around with the engine idling.
Tip two: set your tour to a soundtrack - whether it's jazz, Motown, the punk of the Iggy and MC5 variety, Bob Seger, house and techno, Eminem and lesser-known hip hop and rap acts, or garage rock (the White Stripes were the biggest name, but the Von Bondies, Electric Six and Brenden Benson are also Detroit to the core.)
My perfect Detroit day would start in Corktown (visitors staying at the Hostel Detroit can glean information and even arrange tours with an enthusiastic group of 'ambassadors'), heading to nearby Astro Coffee , which sells produce from urban farmers Brother Nature, and on to Avalon International Bakery. With a detour through ruinous porny Brush Park, I'd head to Eastern Market, arguably the city's greatest asset and success story, a six-block open air market where Saturdays are filled with free live music, bbq smoke and a feast for the eyes.
Well stocked, I'd point northeast up Gratiot Avenue to check out Tyree Guyton's Heidelberg Project, a community art initiative of found objects, then sneak a peek at Indian Village's aspirational mansions on the other end of the housing spectrum. With a stop at Pewabic Pottery, I'd loop down to Belle Isle, America's largest city-owned island park, to while away the afternoon in the shadow of Detroit's skyscrapers or the more muted skyline of Windsor, Canada across the river.
Heading back downtown, a wander amongst the towering Art Deco office buildings inspires further incredulity at how far Detroit has tumbled from its illustrious past. You can almost grow desensitised to the tens of thousands of houses and lots that stand vacant around the city, whose population once approached 2 million but now hovers around 700,000. It's somehow more difficult to reconcile the notion that theaters, hotels, churches and other examples of grand 20th Century architecture are no more than empty shells or, at best, car parks.
Downtown Detroit, especially after the working week, doesn't hold too much interest for visitors, but one thing not to be missed is John K. King Used & Rare books, a four-storey treasure trove and one of the country's largest bookstores.
From there it's a quick dash past the Michigan Central Station - at 18 floors and vacant for decades, it vies with the 3.5 million-square-foot Packard Plant for top billing in the ruin porn stakes - to Mexicantown.
Some stodgy but delicious Latin American fare will set you up well for a night roaming the city's many and varied watering holes - and here it would come in handy to have some form of public transportation, but don't be tempted to either get behind the wheel or chance dodgy taxis or buses; just get someone sober to drive. I have my personal favourite bars around the Cass corridor, Woodward Avenue and Midtown, but for originality try feather bowling at Cadieux Cafe on the east side, the microbrews on tap at Atwater or some of the city's best live music at the Magic Stick, various bars in Hamtramck or the many jazz and blues clubs.
Ain't nothing like the real thing
And that's not even mentioning the Detroit Institute of Arts, galleries, a thriving underground arts scene, sporting events, historical jewels, parks and cemeteries, festivals...
Detroit is so much more than ruin porn. But if the city's abandoned buildings, dubious reputation and exported image as civilisation on the knife-edge take your fancy, you won't be disappointed.
Just be sure you say nice things.
A one-time journalist for the Detroit Free Press, The Associated Press and other news outlets in Michigan, Laura Potts moved with her British husband and children to England in 2005, where she is a writer and editor. She travels with them back to The D at least once a year.