Connie Birdsall leads the design practice at Lippincott and is a member of the Lippincott Management Team. Her experience encompasses over 20 years of directing and designing global corporate and brand identity, marketing communications, information design, launch and implementation programs and developing the tools and processes for successful brand management.
She has directed programs for Ameriprise, AT&T, Coca-Cola, Comcast, DaimlerChrysler, Delta Airlines, Earth Pledge, eBay, FedEx Services, Goldman Sachs, The Hershey Company, IBM, Lighthouse International, Loeb, Samsung Group, Signature Flight Support, SK Group, Sprint, Starbucks, Time Warner, UPS and USG.
Su Mathews Hale is a senior partner in design based in Lippincott's New York office.
For over two decades, Su has thrived at the intersection of graphic design and brand strategy. Using the power of design to develop inspiring creations while solving business problems, Su has worked with a broad range of notable clients including Chick-fil-A, eBay, Hayneedle, Hershey's, Hyatt, IHG, Liz Claiborne, New York Public Library, RadioShack, Red Robin, Samsung, Shutterstock, the U.S. Department of State, and Walmart.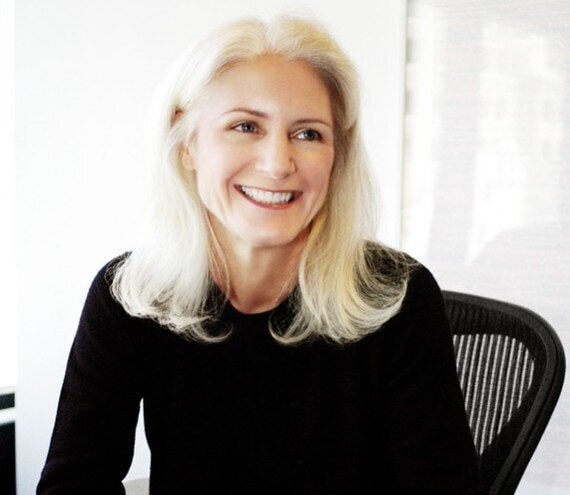 Connie Birdsall, Creative Director, Lippincott
How has your life experience made you the leader you are today?
I'm not sure if there was any one moment that really stands out. My interest in competitive sports growing up afforded me certain leadership skills. My parents were able to offer me a wonderful upbringing full of opportunities to explore things I was interested in and supported me -- and at times pushed me -- to excel in those endeavors. One of my graduate school professors was also influential; she had a light touch management approach -- basically forcing you to take responsibility for yourself and even letting you fail in order for you to learn. I try to be like her, as I believe that people don't grow if they don't have to take the full responsibility to fulfill their part of whatever they have been asked or volunteered to do. Losing my parents in my early 40's was probably the single event that forced me to look at the world differently and take fuller responsibility for myself and those around me -- primarily my family but also my close friends and business associates. My ability to be adaptable to change and changing circumstances dramatically improved -- nowhere to go but forward, and I don't look back often.
How has your previous employment experience aided your positions at Lippincott?
Before Lippincott, I spent five years at a firm that was very established with a very strong creative reputation in the industry. I started at the bottom, and it was like a second graduate school education. The creative director was a little bit like the teacher in the film Whiplash -- not physically abusive but mentally for sure. It was highly competitive. What I learned was to stand up for myself and my ideas. I also learned that for me to thrive creatively I needed a different kind of place: one focused more on respect and nurturing and not on fear.
What have the highlights and challenges been during your tenures at Lippincott?
There are hundreds of highlights as I have been here going on 27 years now, which is something that gives me great pride in and of itself. I have had the opportunity to travel all over the world, meet and present to some very senior people and work with a group of exceptionally talented people -- all focused on doing great work for our clients. Specific highlights would be the success of the Delta Airlines rebrand, evolving the Starbucks identity, designing the Samsung logo, working with IBM during the Lou Gerstner days -- there are so many. I know this may sound a bit cliché -- but the challenges have all really been more like opportunities for me here -- I have had so many different roles. And, now as the creative director, the biggest challenge is waking up everyday and worrying about keeping the team inspired and fulfilled by the work. Keeping the big opportunities coming in the door so they to will be able to say in 27 years that this was the best place they worked. A place where they were able to have a real impact on the companies and people they worked for and with.
What advice can you offer women who are seeking a career in your industry?
It is hard work -- I would say that to both men and women -- this is a career that takes a lot out of you personally. You have to be bold, you have to raise your hand, and you have to face your inner creative fears on a regular basis. It is not a 9-to-5 job.
How do you maintain a work/life balance?
I try to not work on weekends anymore -- I did for many years -- but now I hold weekend time very close to my heart. My husband and I have a farm in upstate New York where we go almost every weekend - and we have so much fun there - a big garden, cooking in a big open kitchen, motorcycles, campfires with marshmallows. The quiet of nature inspires me.
What do you think is the biggest issue for women in the workplace?
I imagine this would depend on the place. In many places women just aren't treated equally -- they aren't promoted the same as their male peers and their more nurturing approaches are not welcome. I don't feel that so much at Lippincott. In general, I think it is women who can sometimes hold themselves back. When opportunity for a promotion knocks, they don't think they are as qualified. A woman will rationalize all the reasons why she isn't right for the job and a man will just assume they are ready for it. I am a perfect example -- when our CEO retired several years ago all of the senior people, myself included, were asked it they would like to take a shot at competing for the next CEO role. I immediately said no -- I had a thousand reasons why -- I don't have a business background, I don't understand the financial operational side of the business, etc. But, interestingly, all of the men who were asked jumped at the opportunity.
How has mentorship made a difference in your professional and personal lives?
I think mentors matter a lot. For me, my mother and both my grandmothers were very important in helping me look at the world as a place where I could have a professional career of my choice. They encouraged me to follow my passion and weren't upset when I didn't marry early and that I never had children -- both of which were my choices. They were there however to support me when I was discouraged. My mother encouraged me to find a business coach to help me begin to navigate the professional world when my role and responsibility began to increase. But I have had mentors and people who believed in me throughout my career -- sometimes even clients -- other women who I watched and tried to emulate because they had effective styles and successes with their teams and projects.
Which other female leaders do you admire and why?
I admire Hilary Clinton. She is smart and tough and strong enough to know and trust herself in the face of so much political complexity and sometimes very direct adversity.
What do you want Lippincott to accomplish in the next year?
To have another stellar year both creatively and as a business. We are growing our San Francisco presence and have a big event planned in London for the fall. I want these efforts to be seen as pivotal and to continue to raise our visibility and reputation as the most admired creative branding consultancy.
Su Mathews Hale, Senior Partner, Design
How has your life experience made you the leader you are today?
I was adopted from Korea by an American family in the 70's, and grew up in a small town where I was the only Asian person in my school. Growing up, people would always ask "what are you?" and for the longest time I was confused, because I thought the answer was obvious: an Irish-American girl from upstate New York. I couldn't wait to move someplace where there were more people like me. So when I moved to New York City in the early 90's I thought people would stop asking me that question, but they didn't. It taught me that whether you're in a small town or a cosmopolitan city, humans generally have biases and you have to go deeper than surface level. So as a creative director, I try to push designers to dig deeper, to not take anything at face value. When we do that, we have a greater chance at arriving at a more meaningful solution and making connections that others might not make.
How has your previous employment experience aided your positions at Lippincott?
I believe that in order to really understand how to create, manage and build a successful brand, you have to experience being "in the trenches". For 10 years of my career, I worked at Pentagram, a multi-disciplinary design firm, and I got to do just that. The teams were small and nimble and I was able to touch every part of the project from start to finish. I also worked on a wide range of projects, which gave me exposure to solving many different kinds of design problems - one minute I'd be designing an identity for Liz Claiborne, and the next, a multi-cultural signage system for the U.S Department of State. Being a part of that experience from start to finish, multiple times, across multiple industries gave me invaluable insight and experience that I've applied to the clients I work with today.
What have the highlights and challenges been during your tenures at Lippincott?
The opportunity to work on brands that are so well known, and see your work really out there, wherever you go, is an amazing feeling. Working with big brands and large global companies can have its challenges though. The stakes are much higher, the approval processes can be challenging, and having the end result be close to what you envisioned is harder then people think. And of course, when you work on such well-known, visible brands, everyone in the blogosphere has an opinion on your work. But I try not to read them as much as possible.
What advice can you offer women who are seeking a career in your industry?
In general, I don't think I'd have different advice for men and women as far as seeking a career in design. Work someplace that inspires you, and gives you the opportunity to learn from inspiring people. It's better to start off as a junior designer in a place where you'll learn a lot, versus being someplace where you are the "creative director" and the only talented person in the room. For women specifically, I'd say try and find a woman mentor immediately. It's not to say that you can't have male mentors (I've had a lot of them myself), but a woman will be able to offer insights and challenges that many male colleagues just don't face.
How do you maintain a work/life balance?
I maintain my balance by knowing my limits, prioritizing, and being okay with the fact that I'm not going to be the best at everything, everyday. Some days I'm going to be a great employee, a good mom, an average wife and a not so great friend. But the next day or week that might totally shift; if it doesn't, I look at how to reprioritize things to make sure it does. In my opinion, an interesting question to consider is why this question is often asked of women, but rarely of men. Do men not seek work-life balance, or is something else happening in the business world that causes us to mostly ask women this question?
What do you think is the biggest issue for women in the workplace?
I think the biggest issue is that both men and women have difficulty admitting and openly talking about the differences and challenges we face. Oftentimes the issues are more implicit rather than explicit, and often not intentional, but they still exist. The fact that there are still so few women in senior positions, serving on executive boards, speaking on panels, and being recognized as creative leaders in an industry with so many women, is proof that change needs to happen. And I believe both men and women need to want to that change in order for it to take shape.
How has mentorship made a difference in your professional and personal lives?
There have been a lot of people who have given me advice throughout my life, but finding someone who can really be your mentor is much harder to find. My bosses have been predominately men, and some of them were great mentors. However, as a young designer, I always longed for more female mentors professionally, because in my personal life I have so many, and grew up surrounded by very strong women. As a result, I go out of my way to mentor women.
Which other female leaders do you admire and why?
There are way too many to name, but in the design industry, one that I am in complete awe of is Lucia DeRespinis. She's had an incredible career in design, and at 87 years old continues to lead by trekking to Brooklyn to teach at the Pratt Institute. Trained as an industrial designer, in 1952 she was among only six female students to graduate from Pratt, in a class of 106 men. Sadly, in the design industry (and frankly a lot of others for that matter) it's so much harder for people to identify female leaders because historically they aren't acknowledged or celebrated as much as men. This year I'll be inducted as the fifth female President in AIGA's 100-year history. In my role I will continue to push the Women's Leadership Initiative with co-chair Deborah Adler, an initiative created to foster and celebrate women's achievements throughout the design industry and advance the vital discourse on issues facing professional women today. Other women I admire for their pioneering thinking and leadership in design are Lella Vignelli, Elaine Lustig Cohen, Paula Scher, Ann Willoughby, Gael Towey, Lucille Tenazas, Louise Fili, Jennifer Morla, Debbie Millman, Cheryl Heller, Zaha Hadid, Deborah Sussman, Connie Birdsall, Bonnie Siegler, Leslie Smolan, April Greiman, Jessica Helfand, Carla Frank, Pum Lefebure, Susana Torre, Ti Chang and Deborah Adler just to name a few...
What do you want Lippincott to accomplish in the next year?
To continue to push the boundaries of the role that design plays in large organizations as a powerful force of change.