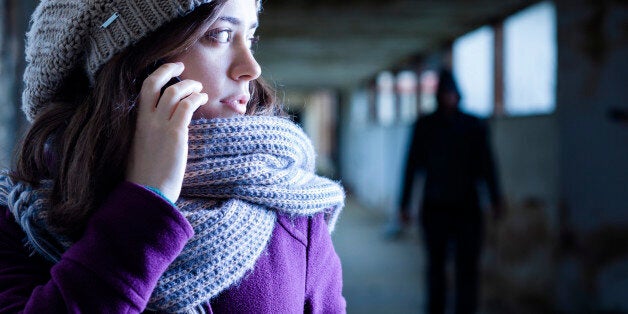 Clare Bernal was stalked and murdered in Harvey Nichols on September 13th 2005. I reviewed this case on behalf of the Metropolitan Police Service in my role as Head of the Homicide Prevention Unit.
I promised Clare's family that I would do what I could to help them campaign for change and raise awareness about this pernicious and insidious behaviour called stalking - a term that does it no real justice; they wanted to ensure that other families would not go through what they have.
We campaigned for the Helpline in 2010, co-ordinated the first National Stalking Awareness Week in 2011 in partnership with ACPO and the Home Office and spearheaded a highly successful campaign to change the law on stalking in 2012.
November 25 2016 will mark four years of the stalking law following the successful All Party Parliamentary Stalking Law Reform Inquiry. Paladin, the world's first National Stalking Advocacy Service was then launched in July 2013 to assist all the victims of stalking that need specialist advocacy, advice and support.
Both are heralded as significant steps forward for victims of stalking. However, there is still much more to do to keep victims safe. To this end Paladin is involved campaigning for change, scrutinising the law, as well as training and raising awareness of the risks and dangers of stalking.
In 2012 I met with the Home Office lawyers to discuss the new draft stalking law. I lobbied for one single offence of stalking with a maximum sentence of ten years. However, due to the new offences being inserted into the harassment legislation despite this law coming in for a stalking case in 1997, I was told that it needed to mirror the Section 2 and 4 harassment offences thus creating a higher and a lower test. Therefore, the sentences would reflect that of harassment, they said.
This was very concerning and so I underlined my concerns; namely that cases would be dropped down to the lesser offence and heard in magistrates courts (as it's cheaper and quicker) and light touch sentences would result. And lo and behold that is exactly what we have seen through Paladin's case work and here I am campaigning again and making the case four years on.
It is, of course, important to focus on the reality of what happens once stalking cases get to court. However, I should also highlight few stalking cases even get that far. In April 2016 that less than 1% of cases are even crimed as stalking and we have been working with brave Lily Allen who spoke out about her own terrifying stalking ordeal.
Paladin's report 'Stalking Law Two Years On' was published last year and highlighted that only 1% of stalking cases are being prosecuted by the Crown Prosecution Service (and 16% for harassment - so it's not being crimed as harassment either). In those few cases that are prosecuted, Paladin's evidence shows that unduly lenient sentences result. In fact only 11% (35/293) of stalkers received an immediate custodial sentence for a section 2a stalking offence and 9% (14/154) for a section 4a offence.
36% of offenders had a previous history for 'harassment' (no doubt stalking) and 55% re-offended. These are the ones we know about and would no doubt be much higher in reality. We know that pieces of paper do not protect victims and many of them are serial stalkers hence our campaign for a register and an order that places a positive obligation on the perpetrator (more akin to the orders for sex offenders - as that's what stalkers are much more akin to are much more appropriate) and Lily Allen and the Women's Equality Party are supporting our campaign.
Caroline met the stalker on an on-line dating site. She dated him for four months. During this time he was jealous and coercively controlling. When she ended the relationship because of his behaviour he sent her over 60 emails and texts and deposited some money in her account. How creative.
He turned up at her place of work - she was a Probation officer - and would only leave when threatened with the police. Caroline was suicidal. There seemed no end to his behaviour. He had been sentenced to three months after attacking his ex and on this occasion the Magistrate gave him a ten week suspended prison sentence, a restraining order and a compensation order - ensuring further contact between them.
Then there's Kristine Carlson, an American author who was stalked for seven years by a man she met on a flight from LA to London. Mark Jury sent her thousands of emails and hacked her social media. He sent flowers, chocolates and abusive messages to friends and work colleagues.
He targeted her daughter Kenna and tweeted he was going 'to rape her every day for the rest of her life'. Jury made it clear he would visit them and in 2011 he flew to California. He used the internet to attack her about her work, her role as a mother and her business.
He set up false Twitter accounts pretending to be Kristine in order to make detrimental comments on her behalf. Jury demanded £150,000 to stop his targeted campaign. Kristine was terrified for her own personal safety and that of her daughter and hired a private detective for protection.
Kristine likened her ordeal to 'emotional rape', a term which resonates and one which victims repeatedly use for good reason. It can also be murder in slow motion.
Jury was sentenced to four and a half years at Crown Court. So for the seven years that he terrorised her and her daughter and the devastating impact his campaign had on them- he received four and a half. This is one of the better sentences for stalking. However, it is still not enough for the psychological damage and fear and the sentence needs to reflect the crime and also allow for appropriate treatment - and some stalkers are not safe to be in the community and they need treatment and a robust criminal justice outcome.
Stalkers do not just wake up one day and start behaving like this. Stalking is about fixation and obsession. It is a long-term pattern of behaviour. It is persistent, intrusive and engenders fear, alarm or distress. It results in long-term psychological harm and can escalate to violence and murder.
Dr Eleanor Aston's was stalked for eight years. Restraining orders were issued, breached and not enforced. Knight served half a prison sentence, came out and breached again. Restraining orders do not work for stalkers. Restraining orders only work for those who are prepared to play by the rules.
The second time Knight was put before a court, Judge Jamie Tabor expressed frustration that the sentence could not be for longer. Knight was put before the court in May 2013 where he was jailed for harassment (why was it not stalking?) but soon after being paroled, at the half way stage of his sentence, he sent threatening messages to Eleanor's home and surgery.
He was then arrested and returned to prison to complete his sentence. Passing a five year jail term (this is the first case where I have seen the maximum sentence handed out) Judge Tabor said he wished it could be longer but current legislation did not permit it.
The maximum sentence for criminal damage and offence against property is ten years. The maximum sentence for burglary is ten years. Both crimes are acute and 'one-offs'.
Anne Marie Birch and Natalie Esack were stalked and murdered in Kent
Hollie Gazzard in Gloucester
Jane Clough in Lancashire
Rachel Slack in Derbyshire
Kirsty Trelor, Clare Bernal, Alison Morrison, Nordel Turner and Arsema Dawit in London
Clare Wood, Katie Boardman, Tracey Jones, Sabina Akhtar in Manchester
Jeanette Goodwin, Christine and Shania Chambers, Maria Stubbings in Essex
Julia and Will Pemberton and Rania Faruqui in Thames Valley
Shania Grice in Sussex just recently.
All paid with their lives and sadly the roll call continues. In these cases all of them reported many times to police. All were terrified. In most cases a threat to kill was made. The pattern was missed and all lacked robust investigation, risk assessment and management and robust action by the Criminal Justice system.
They were all murders in slow motion and there was an opportunity to intervene and prevent the escalation to murder in each case.
Stalking is enduring causing long-term serious psychological harm. It is one of the few crimes where early intervention can prevent violence and death and yet the sentence is much less. Help us protect future victims and increase the sentence for stalkers from 5 years to 10 years. Paladin National Stalking Advocacy Service and our team of specialist case workers play a key role in working with professionals to keep victims safe.
We have been working closely with Dr Eleanor Aston and we are proud that she is an Ambassador for Paladin. We are also working alongside Alex Chalk, MP and Richard Graham MP to campaign for longer sentences and new orders for stalkers along with a register for serial stalkers and domestic violence offenders.
I thank them on behalf of all the clients that we support and those who have been silenced and no longer have a voice, for raising this important issue.
I hope the Minister and government are listening to this evidence base for change that will save both lives and money.