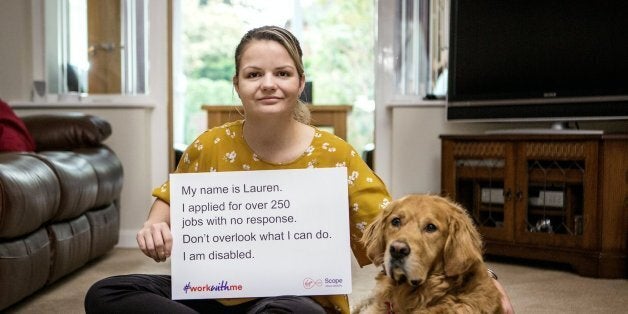 When I graduated from university in 2015, I was under the illusion that with a good degree and a strong CV due to all the volunteering that I'd done, I would find a job pretty quickly. This couldn't have been further from the truth.
I made the decision to disclose that I was visually impaired on my applications and my CV. It's nothing to be ashamed of and I wanted to be open from the start. I applied for over 250 jobs in a variety of roles but I had no response from most of them. I had some interviews but I didn't get any further despite getting positive feedback.
I've since learned that it's not just me. In a new campaign #WorkWithMe by disability charity Scope and Virgin Media, new research found that when applying for jobs only 51% of disabled people's applications result in an interview compared with 69% for non-disabled applicants.
On average, disabled people have to apply for 60% more jobs than non-disabled people before finding a job.
So why is this? For me, I feel like people underestimated what I could do because I was blind. The interviewers were generally very negative about disability so I often spent most of my time explaining that, although I was blind, I could do the job just as well as anyone else who had applied.
In phone interviews, when I mentioned that I was disabled their attitudes changed. They were suddenly less interested in what I had to say. They'd ask "How are you going to be able to do this job?" and I'd think "Well I can, otherwise I wouldn't have applied". It's difficult if you're not being given the chance.
Towards the end of my job hunt I wanted to give up. I just didn't think I was ever going to get a job. I knew I could do it but by the end it was like "Can I?"
Scope's new research shows how this feeling is shared by many disabled people. Over a third (37%) of respondents who don't feel confident in getting a job believe employers won't hire them because of their impairment or condition.
Eventually I was given a chance, and my employer was supportive right from the start. I want to see that happen for more disabled people. Latest Government figures show there are one million disabled people in the UK who want to work but are currently unemployed. It's really unfair.
So let's change this. The world is not an easy place to live if you're disabled - you're faced with barriers left, right and centre - but there are also ways to overcome those barriers. Work With Me is a three-year initiative by Scope and Virgin Media aiming to do exactly that.
The campaign is inviting members of the public, employers and the Government to work together to understand and tackle the barriers disabled people face getting into and staying in work.
Sometimes people say it's amazing that I'm working. Well, it's not really that amazing, and they wouldn't say that to my brother, who's sighted. I want to contribute just as much as anyone else - and I can. A lot of the time it's just about being given a chance and the right support.
Having the right equipment ensures that I can do my job as well as my sighted colleagues and that's provided through Access to Work. It doesn't cost my employer anything.
Attitudes need to change too. I feel that often employers don't look beyond a person's impairment and focus on their limitations rather than the unique advantages that disabled employees can bring. For example, when faced with so many barriers, we become incredible problem solvers, we're determined, resilient and we really want to work.
So please join me in supporting Scope and Virgin Media's Work With Me campaign, and let's make equality a reality.