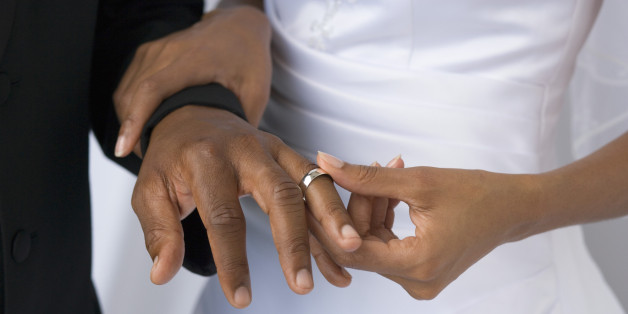 Jupiterimages via Getty Images
Thanks for all the positive feedback from our Best Man speech post The groom speech is more problematic. Yes, the audience are on your side, and no, you don't need to be hilarious. But you risk reactions like this:
"He sounded less like a man in love and more like someone reading a shopping list."
"If he'd thanked anyone else I swear I'd have fallen asleep."
"I got the distinct impression that he should have married his best man."
So here are 10 suggestions to make sure you deliver something truly exceptional:
1. Don't forget what it's like to be a wedding guest! Yes it's your wedding day, but don't get too self-indulgent. We've all been to weddings where the groom made you wish you were listening to an Oscar acceptance speech on loop (and without the Oscar)! Try to keep it light, fast-moving and interesting with just enough sentiment to prove they sacrificed their weekend in a good cause!
2. Olden can be golden. I'm constantly warning clients not to use cut and pasted lines from the internet. However, an early use of "My wife and I....." gets everyone onside and gives a nod to tradition too. This one-liner is part of the wedding tradition fabric. It doesn't matter how many times guests have heard it before, it will always receive a warm cheer and set your nerves at rest.
3. Be magnanimous. The one thank you that is quite definitely required is to your hosts. Especially if they are your new in-laws. Thank them for their help, organisation ad generosity. This isn't a time for snide jokes or long-standing grudges.
4. Be thoughtful. Add a brief mention of those who couldn't be with you on the day. It allows for a sentimental moment to reflect on and remember loved ones not there. This can cover those who haven't travelled and those who are no longer with us. But don't dwell too long on this - it is a day of celebration after all. You can create closure by toasting 'absent friends'.
5. Be self-deprecating. You are marrying the love of your life (we hope). You're looking good, surrounded by your family and friends. So don't give yourself too much credit for your lavish marriage proposal or your flawless courtship. Strike the right balance between talking about how wonderful your new wife is against the more self-deprecating effect she's had on you and how you've changed for the better as a result. Too much self-promotion can create general nausea. Too much slush can leave your audience wilting.
6. Don't forget to mention your own parents. And not just for their contribution to the wedding. Thank them for those things you always took for granted: lifts to school when you were ten, freezing afternoons on the side of a muddy sports field watching you make a fool of yourself, or for helping you learn to drive; anything that demonstrates the love and support they have provided for so long. Unless they haven't of course.
7. Don't include too much about the Best Man. In-jokes on this front are strictly discouraged.
8. Include a heartfelt toast to the Bridesmaids. These are quite likely your Bride's best friends so mention how beautiful they are and what supportive mates they've been to your new wife. The guests will love it as much as they will.
9. Keep it balanced. The balance between sincerity and humour in the speech is a difficult one for the Groom. It doesn't provide as much opportunity for raucous laughter as the Best Man's speech. And nor should it.
10. Have some fun. Ultimately it is a chance to celebrate your love for your new wife, whilst thanking her and others for helping you reach this point in your life. But that doesn't mean there isn't plenty of excuses for getting the guests to laugh, clap and generally feel good through your speech.
I hope these tips help. If you have any concerns about creating your own speech, we would be delighted to chat, edit your draft or even write it for you. Please just get in touch with Great Speech Writing!
You can read more articles onour site.
Or you can reach us via our Twitter, Instagram, or Facebook.