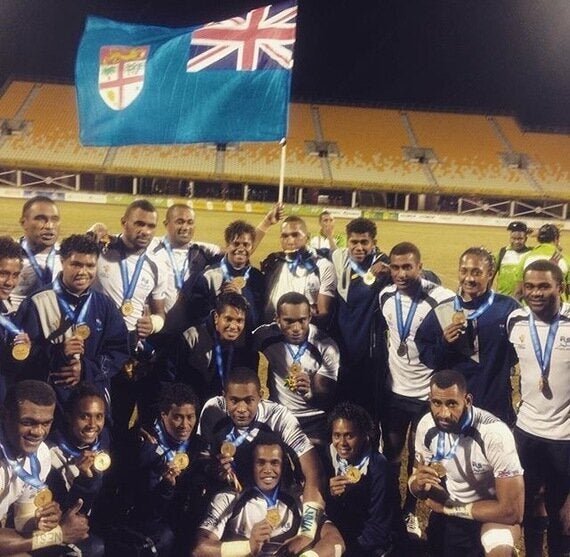 The 2016 Olympics in Brazil marks the debut of rugby 7's in the competition. As a football obsessed nation gets to grips with the fairly novel idea of actually picking up the ball, the more experienced rugby nations are enthusiastically celebrating this new addition to the Olympics. An accelerated version of rugby union, the introduction of rugby 7's will massively widen its audience. So for those of us who haven't yet been formally introduced to rugby 7's and for those of you who are hardened fans of the sport I spoke to Ben Ryan, coach of the world's number one ranked rugby 7's team Fiji, to find out exactly how he feels about the upcoming Olympic games.
Fiji are ranked number 1 in the world, what would it mean to add an Olympic gold medal to your trophy cabinet?
Think Brazil and Football and that's how Fiji and the Fijian people see rugby 7s. It's front and back page news every day and the country came to a standstill when the team flew back in May as World Champions. For a country made up of 300+ islands and a population of under 1m people, it's their chance to stand in the sunshine in Rio. Fiji has never won a medal in the Olympics and a pacific island nation has never claimed gold either. The team plays with a completely different style to all the other teams, playing with a flair and risk other teams won't dare to do. The carnival atmosphere of Rio could well be perfect to bring the very best out in them.
The 2016 Olympics in Brazil marks the debut of rugby 7's in the competition - how important is it to have rugby 7's showcased at such a massive event?
It's our chance to truly hit a global audience and show how exciting the sport of rugby 7s is. Unlike the XV's game, there is so much competition at the top end and smaller nations like Fiji go toe to toe with the biggest rugby nations in the world. I think for both the men's and women's game, Rio will give us a huge boost in participation numbers across the globe and interest, commercially as well as for the pure sporting thrill.
For Olympics fans who have never watched rugby 7's before, what can they expect?
It's a simple game to quickly get to viewing grips with. It's very fast and certainly has similar handling and footwork to basketball but on a football size field. The collisions can be big and the commitment needed to fitness has to be as high as any sport. Players can sprint over 35kph, cover 15-20k over the two days and be involved in over 100 collisions too! You want a fast, skilful, brave, exciting sport where over 90% of all the games still have the result in the balance in the last 60 seconds - you got it with sevens.
Who do you think will be your biggest rivals in Brazil?
Our biggest rivals over the years has been rugby powerhouse New Zealand. We have had some great battles with them. South Africa, Great Britain, Australia, Argentina, France and Samoa will all be huge threats too I am sure. Anyone can beat anyone in sevens.
Ben Ryan - Head Coach Fiji 7's Rugby