Cinco de Mayo, which is Spanish for the "fifth of May" is celebrated in the U.S. and Mexico on 5 May to commemorate the Mexican army's victory over French forces at the Battle of Puebla on May 5, 1862. Unfortunately, the French eventually overran the Mexicans in subsequent battles, but the Mexican victory at Puebla was a significant morale boost to the Mexican army and also helped slow the French army's advance towards Mexico City. Cinco de Mayo should not to be mistaken as Mexico's Independence Day, which is celebrated on September 16th to commemorate independence from Spain on September 16, 1810.
In celebration of Mexico and Mexican cuisine, try this yummy gluten-free vegetarian burrito recipe made with tofu, black beans, salad greens, salsa and corn tortillas. To add even more delicious-ness, add 1-cup of diced avocado to the mixed baby greens.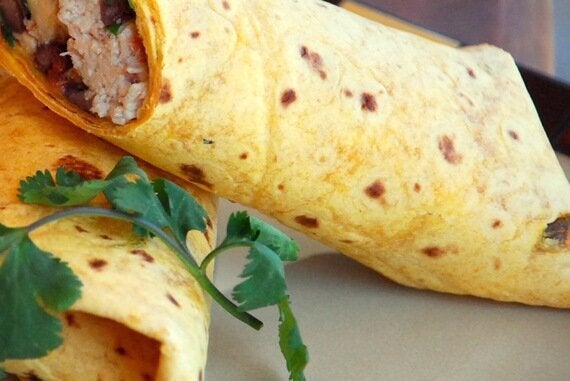 Gluten-Free Vegetarian Burrito Recipe
Choose organic ingredients when available:
2 cups extra-firm tofu, drained and diced
1 can (15 ounce) organic black beans, drained and rinsed
1 cup organic mild salsa
1 teaspoon chili powder
2 cups mixed baby greens
1/4 cup fresh cilantro or flat-leaf parsley, chopped
2 tablespoons lime juice
8 low fat gluten-free corn tortillas (about 6-inches each)
1 cup reduced fat cheddar cheese, shredded
In a medium microwavable bowl, mix tofu, beans, salsa and chili powder. Microwave for 3 minutes then stir and set aside.
Place mixed greens in a large bowl and stir in cilantro (or parsley) and limejuice until combined. Set aside.
Heat tortillas as directed on package. Spread tortillas on a large surface and then spoon about 1/2 cup tofu mixture down the center of each tortilla. Top with about 1/4-cup salad and 2 tablespoons cheese. Fold sides of tortilla toward center then fold ends over.
If desired, serve with additional salsa. Makes 8 burritos.
Nutrition Facts per burrito (211 grams): 332 calories, 7.2 grams fat, 294 milligrams sodium, 967 milligrams potassium, 47.9 grams carbohydrates, 10.5 grams dietary fiber, 22.5 grams protein, 34 percent Daily Value calcium, 10 percent Daily Value vitamin C, 25 percent Daily Value iron.
For more nutritious and delicious recipes with a practical approach to a healthy and wholesome diet, pick up a copy of Layne's book: Beyond The Mediterranean Diet: European Secrets Of The Super-Healthy.
Related