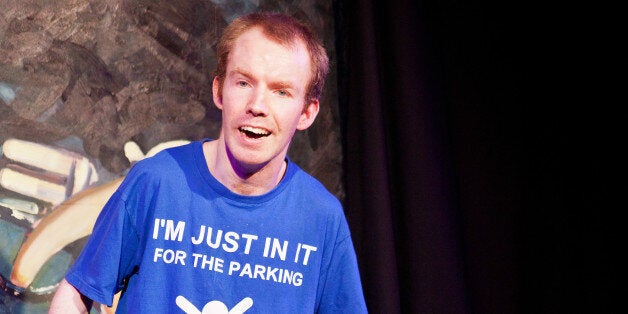 When I first decided to try my hand at stand up comedy just over five years ago, I certainly didn't know what to expect. My family and friends thought I was crazy for trying. And I have to admit that I was inclined to agree with them. Mainly because I have no speech (as a result of having Cerebral Palsy) and I use a communication aid to speak with.
A comedian who couldn't speak would never work, would it?
A friend suggested I give it a shot though, and the thought got stuck in the back of my mind. Eventually, I decided to give it a try because I knew I'd regret it if I didn't. It was only meant to be a bit of fun though. An experiment to see if I could do it and what the reaction would be? I never meant for it to take over my life.
That was in 2012, and the things that have happened to me since have exceeded my wildest dreams. I've quit my day job to take up comedy full time, taken four shows up to the Edinburgh Fringe, won the BBC New Comedy Award, had a sitcom commissioned for Radio 4 ...and, my favourite thing of all, I've supported my comedy idol, Ross Noble, on his warm up tour.
Another thing that I didn't expect to happen to me when I stepped up on stage for the first time is the fact that I would become an inspiration to other people. Now, don't get me wrong, it's not that I mind if other people are inspired by me. And, if it helps other people follow their dreams, then it can only be the good thing. The thing is though, I don't feel like I should be an inspiration. Take away my disability, and I'm just a bloke who gets paid to mess about on stage for a living.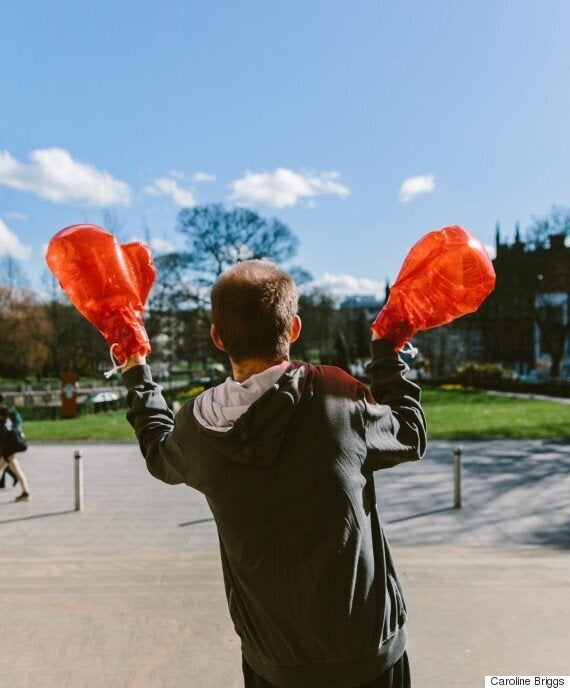 But today's society seems to be in love with inspirational disabled people or, to use the proper term, 'inspiration porn'. The Rio Paralympic games was a great example of this. Even the Channel 4 advert painted us as 'super humans'. There's nothing I like better than turning on the television and being reminded that I'm not even one of the best disabled people. I'm distinctly average at most.
That's right, I'm one of these regular disabled people without any super abilities. In fact, the only impressive ability I do have is the fact that I'm the best passenger in the quiet coach on the train. Let's face it, I don't earn the title of being super just because I get to park closer to Tesco.
Of course, I loved the Paralympics advert and everything that Channel 4 did to portray disabled people in such a positive light. It made such a refreshing change.
During the Paralympics there were more disabled people than ever before on TV but this shouldn't be something that just happens every 4 years.
Disabled people need to be more visible in the media
Research by the disability charity Scope, highlights that more disabled people on TV would improve attitudes towards disability with the majority (61%) of disabled people believing more disabled people on TV increases awareness of disability among members of the public.
Representation of disability in the media and on TV is hugely important and the affect this has on improving attitudes towards disability should not be underestimated.
We are either super human or some sort of burden
It would seem that our society has a very weird relationship with disabled people. We are either seen as super human or as some sort of burden. There just isn't any middle ground at all. We are encouraged to go out and do our best to succeed on the one hand, while the other hand takes away the ability for us to live independently.
Not all disabled people are sporting athletes or TV stars, the majority struggle with the additional day to day challenges that exist for disabled people in society. There's still a huge employment gap between disabled and non-disabled people and with more disabled people living in poverty, many are clearly not getting the financial support they need from our welfare system. Something has to change.
And that is why I have decided to explore these issues in my Edinburgh Fringe show this year, which is appropriately called 'Inspiration Porn'. My show is an amusing true story of laughter, love and loss from a guy who struggles to live in this society. I ponder if I'm good enough. After all, what exactly is so super about walking like a zombie, sounding like a posh version of Robocop and literally not being able to use Siri?
I have one request though. Please don't just come and see the show just to be inspired by me. The fact of the matter is that I'm just a regular human being. Just like every other disabled person is as well. And we all deserve to be treated equally. Maybe one day the rest of society will realise that too.
Lee Ridley supports the disability charity Scope. Find out more about how the charity drives everyday equality, so that disabled people have the same opportunities as everyone else.
HuffPost UK Lifestyle has launched EveryBody, a new section calling for better equality and inclusivity for people living with disability and invisible illness. The aim is to empower those whose voices are not always heard and redefine attitudes to identity, lifestyle and ability in 2017. We'll be covering all manner of lifestyle topics - from health and fitness to dating, sex and relationships.
We'd love to hear your stories. To blog for the section, please email ukblogteam@huffingtonpost.com with the subject line 'EveryBody'. To flag any issues that are close to your heart, please email natasha.hinde@huffingtonpost.com, again with the subject line 'EveryBody'.
Join in the conversation with #HPEveryBody on Twitter and Instagram.