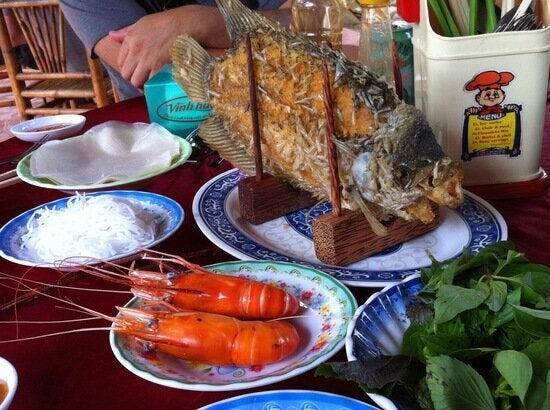 Flashback to sitting on a cheap plastic stool no more than a foot high, next to a dusty main road, being handed a portion of unidentifiable food in a bowl that had probably never before seen washing up liquid. And fondly remembering this as one of the most memorable moments of my recent trip to Vietnam.
It wasn't until the walk back to our hotel, after a delicious dinner for two that my girlfriend and I later calculated had cost us the equivalent of £1.18, that we realised what we had thought was Hue's famous food market was actually on the other side of the river and instead we had somehow managed to stumble across one of the local's evening dining spots. But it was discovering hidden gems like this that formed the defining highlights of our holiday, with food a central and recurring theme.
If you're into fine dining then I don't want to mislead you. I've had better food. I've even had better food in South East Asia, with Cambodia and Laos serving up some of the most unexpectedly impressive dishes I can remember from previous visits to this part of the world. But there's something uniquely satisfying about sitting down with people from the local community and eating at places where they choose to dine, that really adds to the sense of occasion and mild adventure at meal times. Particularly in places like Vietnam, where a two tier dining culture exists. A stark wealth divide separating the local populace from restaurants in which only tourists can afford to eat.
I'm not trying to paint myself as some kind of Ray Mears type frontier diner, eating food other westerners wouldn't dare to try. There were plenty of things in Vietnam I wouldn't have touched with a barge-pole sized chopstick, including dog (a northern delicacy) and duck embryo, fresh from the shell. But if you listen to the official advice from the Foreign and Commonwealth Office, when travelling in Vietnam you should "beware of food from street side vendors', citing "120 unverified cases of diarrhoea and vomiting reported by tourists" in June 2010. Though without any kind of context or comparison that number is fairly meaningless and I'm sure it wouldn't be hard to dig up stats that showed large numbers of people suffer from similar food related symptoms in the UK each month without leaving their own home town.
Here in the UK, where hygiene certificates are genuine requirements for running a food outlet rather than just window decoration, we've become accustomed to associating a well presented restaurant or shop front with a clean kitchen. But in other parts of the world this façade can be dangerously misleading and you can often be far better off when the food and chef are on full view, giving you the opportunity to make a well informed decision on whether or not to trust what's on offer, rather than putting blind faith in what may be going on behind closed doors.
However, you don't have to take part in what some people would consider a gamble with their health. If western food is what you're looking for, then you won't struggle to find it. By choosing to stay at any of the hundreds of three star and above hotels and lodgings on offer (which given the low prices in Vietnam it would be difficult to understand why anyone but the most thrifty backpacker would opt for anything cheaper) you'll never be far away from an omelette or sandwich.
But then you'd be missing out on one of the most rewarding experiences Vietnam has to offer. Our best meal in the crazy motorbike infested capital of Hanoi was a street stall that we'd passed a number of times and noticed was always packed with locals. Without a word of shared language between us, we managed to place our order through a combination of mime and gesturing at things that others around us seemed to be opting for, much to the gentle amusement of all the Vietnamese nearby. Although we're still not quite sure what it was they gave us, it turned out to be one of the best things we ate, made all the more tasty by the fact we'd made an effort to step away from the safety of the tourist strip.
And it's that sense of accomplishment that we'll take away most from our time in Vietnam. With other culinary highlights including sampling Elephant Ear Fish, plucked from the Mekong Delta in the south west corner of the country. A fish so named after its stunning good looks.
Then there was a fun and informative cooking class in the historic town of Hoi An, followed by a fantastic six night stay at a friendly commune called Freedomland on the island of Phu Quoc, where each night the Vietnamese owner and his hard-working staff would whip up a delicious five course meal with the best of what the town's market had to offer each morning.
To cap things off, on our last night in Ho Chi Minh City at the end of our time in Vietnam, we booked ourselves onto a guided tour of the city's hidden street food gems with Back of the Bike Tours. It's not long after arriving in the sprawling jungle of a city most of the country still refers to as Saigon, that you come to terms with the fact you could spend a year there and still only unearth a fraction of what it has to offer. So with only a few hours left we decided to just behave like the tourists we were and allow ourselves to be shown around.
Zipping around on the back of a motorbike (which despite having rented our own elsewhere in the country, we'd never have had the courage to do in a city where traffic rules barely exist) we were taken to places we never would have found by ourselves, or even if we had, would have lacked the courage, knowledge or language to order from. Some dishes were incredible, others not so much, but there's still a greater satisfaction gained from discovering you don't like something, than declining to find out at all. Though having said that, if someone offers you Durian, a firm favourite of virtually every native Vietnamese you'll speak to, my advice would be to politely decline.
Of course this isn't the only way to experience Vietnam. The country is packed with history, culture, fantastic hotels, superb coastline, beautiful countryside and incredibly friendly people. And we made sure we immersed ourselves in as much as possible, from HCMC's bold and no holds barred War Remnants Museum to the ornate remains of the Hue's once grandiose Imperial City.
Despite going through a period of rapid economic growth, driven by a capitalist mentality thriving within the Communist state, Vietnam is still a poor country, evident in the age and state of the repair of many of the buildings and streets. So while opulence is available in upper class hotels across the country, the urban landscapes are characterised by clutter and varying degrees of a type of civilised chaos.
But enter Vietnam with eyes wide open and a willingness to embrace doing things the Vietnamese way, and the experiences in store will stay with you forever.