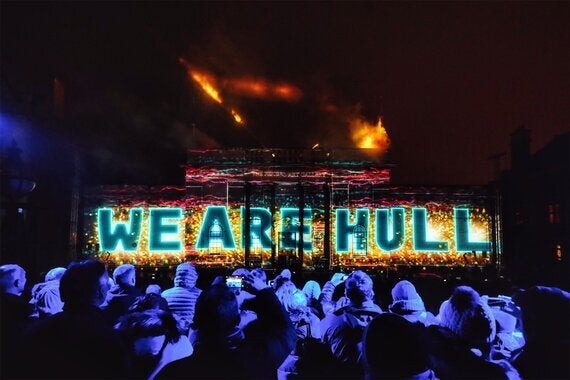 Photograph by Andy Houghton
2017 has finally arrived and in Hull, it's a year much anticipated since we were awarded City of Culture status back in 2013. The news that the year was going to be launched with a fireworks display was met with mixed reviews, "Nothing cultured about a bunch of fireworks." Moaned one woman. "How can Hull waste money on fireworks when my external gas pipes have needed lagging for months?" Groaned another resident, completely missing the point. But the fireworks came and they went with a bang and a blast and they brought with them a surge of appreciation and sentimentality for this big old mother of a city.
Made in Hull, the first major installation of the year began on New Year's Day. We Are Hull opened the big red This is Your Life book on the city with a series of perfectly orchestrated sounds and images projected onto buildings in the city centre that not only highlighted the magnificent architecture but revealed just how much Hull had been through and how savagely rejected it had been in favour of other cities. The visceral 15 minute light-show made you stop and think about all that the often neglected city has quietly done for the world. The crowd were united in the immersive display, shuddering with every dropped bomb, sailing on every wave and bouncing with pride to the Hull-centric sounds of Fine Young Cannibals, The Housemartins and the familiar riff of Mick Ronson's guitar. It was a collective emotional experience, one that brought with it goosebumps, tears and an enormous sense of pride.
But that wasn't all, there were further installations all over the city including Arrivals and Departures, a projection onto The Deep that showed Hull's cultural diversity and demonstrated how the city was built on a blend of nationalities, slipping in and out of the city's ports. Empty shop fronts were revitalised with stories from the past, celebrations of sport and industry and tongue in cheek humour. A projection of Hullywood Icons showed local people reinvented as their favourite film stars, making it big in their own photogenic back yard. Artist Jesse Kanda, famous for his work with Bjork and FKA Twigs, took over the underpass with distorted footage of nineties clubbers and a disturbing soundtrack creating a hypnotic experience that recalled the city's nightclub scene and simultaneously dragged you reluctantly into a quasi K-hole. All this and we're not even half-way through the first month.
Then this week, The Blade, a 75 meter wind turbine blade, (made by Siemens which is one of the first big companies to invest in Hull with its £300m plant), was brought into the city centre at 2am, much to everyone's surprise and still to come we have the opening of the newly refurbished Ferens Art Gallery, the host of this year's Turner Prize. It launches with an open exhibition which gives local artists the opportunity to display their work. However, another exhibition at the independent, Kingston Art Gallery called 'Salon des Refusés' proudly features work rejected by the Ferens. This is a prime example of the optimism that is almost palpable in the Hull at the moment and the unwavering determination of its residents. It's true that in less than a fortnight Hull's people are feeling truly inspired. Perhaps the most poignant piece to rear its head, beyond the official City of Culture offerings, is this heartfelt poem that I'll leave you with, from local actor Josh Meredith, it captures the spirit of Hull so vividly and wholly deserves to be utilised in an official capacity.