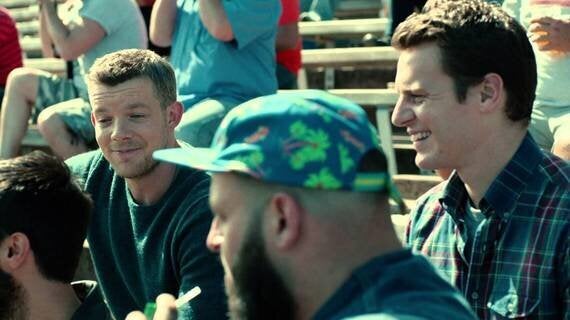 Currently airing on Sky Atlantic in the UK, is an American drama series about a small group of gay friends living in San Francisco. Its second series ends this week and, as yet, there is no news of a third season being confirmed. Looking (Sky Atlantic, Thurs, 11.50pm) is not only entertaining and engrossing but it is the most revolutionary show currently on television, yet it seems hardly anyone is watching it.
On paper the premise sounds a bit like Sex and the City featuring the Village People or Girls for gays. But thanks to the artful production of David Marshall Grant, Sarah Condon and Great British Export Andrew Haigh, it is much, much more than that. Based on Lorimer by Michael Lannan who also created the show, Looking is a slow-burner of a series, the first season of which acted as an introduction to the main players. Patrick Murray (Jonathan Groff) a video game designer and his friends Dom (Murray Bartlett) an aspiring, yet skint restauranteur, his roommate Doris (Lauren Weedman) and artist Agustin (Frankie J Alvarez). This seemingly incongruous friend combo contemplate relationship, family, career and identity issues against the backdrop of a San Francisco built on the legacy of Anna Madrigal and co.
The strength of the show lies in its approach to character and circumstance. It is very easy for a series that focuses on the gay community to generalise when it comes to storytelling particularly when it is attempting to portray the community at large, but Looking hits all of its marks at a different pace. Shot in ethereal, indie cinema style, the drama is ingrained in each character which gives the show its unique naturalistic edge, making it authentic, believable and all-consuming. The friendship between the protagonists are initially confusing. What drew these seemingly incompatible characters together? We are so used to stereotypes in all forms of entertainment that it strikes you as odd to see a convincing bunch of well defined characters thrown together without reason or explanation. But whatever your gender or sexuality, that's life.
In the first season, the dominating series arc consisted of Patrick's relationship with his partner Richie (Raul Castillo) and the turbulent affair with his boss, Kevin played by another Brit export, the brilliant Russell Tovey. Dom had struck up a relationship with Lynn, a wealthy businessman played by Quantum Leap star Scott Bakula and Agustin was becoming hard to bare. Building on the strengths of the first, season two arrived with a confident attitude, the characters were further refined and the artistic pretensions of Agustin exploded during a short-lived identity crisis that thankfully quashed his narcisism, revealed his amiable side and marked the introduction of Eddie (Daniel Franzese), the "Big Pos Queer", who steals Agustin's heart as well as every scene he's in.
So well constructed are the characters that they can be removed from their reliable city backdrop and (unlike in other city-set TV shows) still continue to thrive. Indeed the greatest episodes of season two are when characters have the opportunity to leave the city, whether it be for the Redwoods, the setting for the best "coming-up" scene ever filmed, or to Doris's dad's funeral. The latter of which gave much needed screen time to Lauren Weedman's credible portrayal of the "hag" of former lover Dom. The return to their hometown was the perfect place to reveal details of their past without gratuity or contrivance. Bashir Salahuddin makes a welcome new addition to the cast as Malik, Doris's new boyfriend. His appearances are short, sweet, hilarious and add complexities to Doris and Dom's companionship that this season barely has time to explore. Will Dom's chimeric chicken shack ever open its doors?
In the majority of drama serials, secondary characters often act as vehicles to manoeuvre the main players. They're often chewed up and spat out, however, with the emphasis on "community", secondary characters often reappear. Patrick's ex Richie re-enters the show after rescuing an inebriated Agustin. He's back with a new partner and no ulterior motive other than to just get along with everyone and it serves wonderfully, emphasising the show's universal and all inclusive theme of friendship.
Talking of "Friends", all good shows have a Ross and Rachel will they/won't they plot thread and Looking is no different. Throughout the series Patrick has grown in confidence becoming more headstrong and self-assured. His on/off affair with Kevin provides viewers with an agonising conundrum. Moralistically, the affair should be a hard pill to swallow, particularly as the couples were knowingly involved in other relationships (one with a familiar and genial character). But Groff and Tovey are so convincing in their intimation that they leave you rooting for them to pack in their partners and get it on. Anyone who has seen Tovey as Steve in BBC's Him and Her (and if you haven't , you must!), will be aware of his remarkable ability to evoke convincing on-screen chemistry. That same skill is utilised in Kevin's relationship with Patrick, creating one of the most realistic and emotive TV couplings seen for quite some time.
I've yet to see the last episode of the current season, but thus far Looking has delivered more than one would expect from your average 30 min TV show. It's given us a gang of intriguing and believable characters and a series of compelling scenarios to which anyone, regardless of sexuality and gender can relate. Its sober and refreshing take on friendship, love and humanity are presented authentically and without unnecessary fabrication. The series portrays an often poorly represented section of society without resorting to threadbare stereotypes or high-camp histrionics. Looking is not just a show for those it represents, just as Breaking Bad wasn't just a show for Crystal Meth cooking chemistry teachers. It's a comprehensive, entertaining, and honest depiction of everyday life and it deserves way more viewers. It's not too late to get on-board and save this show before it is gone for good. Buy the box-set of the first season, Sky+ the second season and binge watch to your heart's content. Looking for all of the above reasons, is the most progressive show on television. Hopefully, HBO will come to their senses and grant a third season. To drop the series now would be an absolute travesty, not only for fans of the show but also for the future of television.
Popular in the Community