It started with a bang. There was a week of buzz and press coverage that meant you couldn't be involved with live music in London in any capacity without being aware of The Purple One's imminent arrival. But when Prince's run of guerrilla gigs in the UK came to an end, there was barely a faint hollow of a whisper of press coverage.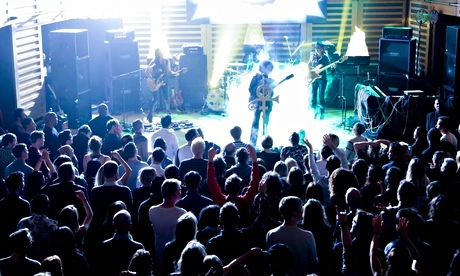 Marketing and PR isn't about selling things, it's about storytelling. But what was the story being told by Prince's management?
Prince arrived and held a press conference (with only three journalists) and an impromptu gig with his new band, 3rdeyegirl, at singer-songwriter Lianne La Havas' living room in East London. With Prince saying that he wanted to charge "about $10" for tickets to his shows in different London venues, the story so far was straightforward enough. Prince and 3rdeyegirl were playing the modesty card.
The main narrative being presented is that this was a new rock 'n' roll band paying their dues in smaller venues. The truth to fans, however, is that this was an opportunity to see a pop icon up close and personal in different intimate venues. After Prince's now legendary performance at last year's SXSW with multiple encores until the small hours, you'd have to be some kind of emotional vacuum to not be even slightly excited.
After a late night "open sound check" at Camden's Electric Ballroom, the whole Internet (in London, at least) was awash with anticipation for the next night's performance. Even by 2pm the next day, the line outside the venue was longer than a Spanish dole queue. Prince's management showed this to reaffirm the fact that this was indeed the hottest ticket in town.
Not long after this, it became apparent that Prince's management had no idea what story they were trying to tell, or even what the plan of action was.
After originally saying that tickets would be £10, Prince's manager tweeted asking if anyone would pay £70 to see Prince. Of course, people will always be willing to pay that much to see a legendary performer in an intimate venue - but where's the consistency in the message? Where's the modesty of the new band paying their dues? If my band charged £70 per ticket I'd imagine the gig would end up being a very closed sound check.
When Prince ventured North to Manchester, we were shown a lesson in exactly how to treat faithful fans like shit. The two shows at Manchester's Academy 1 were the only shows to have tickets on sale in advance. With two days' notice, these both sold out immediately. Even Northerners were willing to pay £70 to see Prince, apparently.
A second hand market for tickets quickly appeared with some people paying hundreds of pounds. This is to be expected - it's the hottest ticket in town. But as soon as this show began, Prince's management announced another show immediately afterwards.
What this did is exploit the most dedicated of fans that had already paid hundreds of pounds, and rewarded those that hesitated to buy tickets. This is hardly a way to treat a fan base as dedicated and loyal as Prince's (who I'm sure will have an opinion on this piece whether I'm right or wrong). If the backlash caused by Prince suing his own fans was enough to send the singer into retreat, why do this with ticket prices?
After Prince and 3rdeyegirl's appearance at the BRIT Awards, and the following Manchester shows, the whole Hit and Run tour seemed to fizzle out and disappear pretty quickly from everybody's consciousness. Why?
The tour was badly planned. On the day of one show, a venue announcement was promised at 3pm. At 1pm, friends of mine at different venues were getting phone calls from a frantic management trying to secure a place to play that night. With the original £10 ticket price being inflated pretty quickly to £70, and venue capacities also escalating, it seemed that at best, the plan had changed and was being dealt with clumsily, or at worst - the whole thing was engineered in the way that it was to smash and grab music lovers' pockets with maximum financial gain for Prince.
The story was inconsistent, the most loyal customers were exploited, and Prince was back in the US playing shows before you could say "The Artist formerly known as...". Hit & Run seems to be the perfect name for a tour where loyal fans and music lovers' wallets were purloined in such a fashion.