In case you haven't noticed, the UK's rooftop game is stronger than ever and to ensure you're up to date with all the coolest sky-high hangouts, DesignMyNight have handed over their top 10 picks across the UK. Whether you're having bottomless brunch at a rooftop beach or drinking Pimms on a sun-drenched terrace in Cambridge, start layering on your factor 50 'cause here are the best places to soak up some vitamin D this summer.
Aviary - London
Aviary isn't your average rooftop, ladies and gents. Sat at the top of the Montcalm Royal London House Hotel, this stylish hotspot offers jaw-dropping views of London's skyline and its iconic buildings. Featuring a sea of exuberant furniture, it's the perfect place to settle down and gawp at The Gherkin and The Shard, with a cocktail in hand.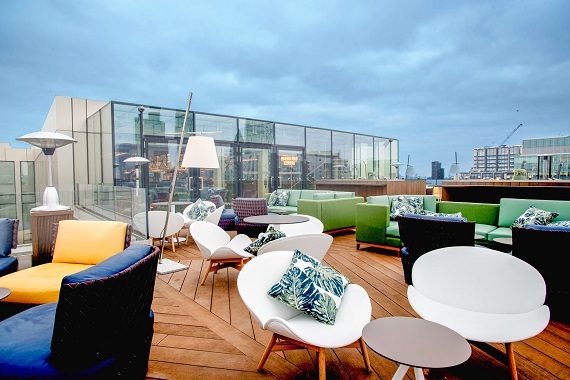 IMAGE PROVIDED BY AVIARY
Goodness Gracious - Liverpool
Can you keep a secret? There's a hidden rooftop at the very top of Oh Me Oh My, and it's the best place to drink in views of Liverpool. The standalone space is decorated with simple greenery and wooden seating, letting the dreamy city views do all the talking and schmoozing. If gin is your go-to drink, you're in luck. They have a cracking selection of G&T cocktails that will make you go weak at the knees.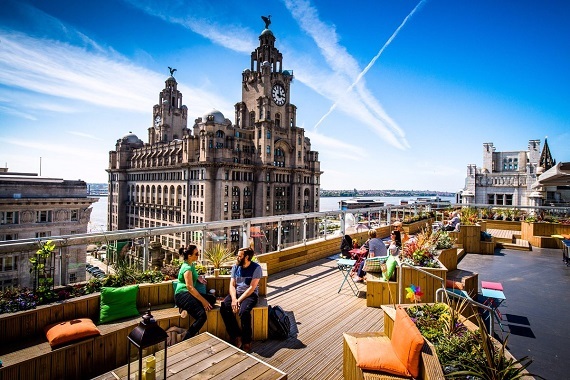 IMAGE PROVIDED BY GOODNESS GRACIOUS
Madison - London
Get your sandals on and make a beeline for Madison this summer. This snazzy city hotspot boasts one of Europe's largest open-air roof terraces and it has tremendous views of St Paul's Cathedral. With a killer selection of cocktails and champagnes winking from the menu, you'll be planning your next visit the second you hit ground level.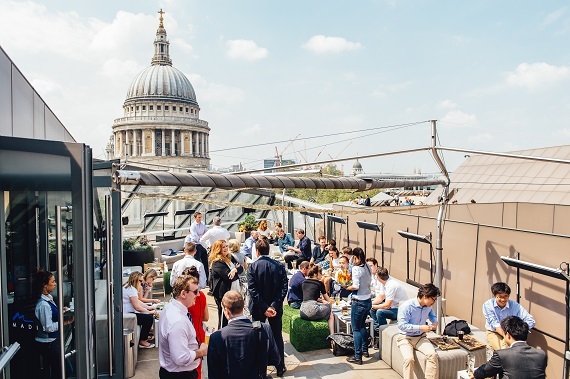 IMAGE PROVIDED BY MADISON
Epernay - Manchester
Ditch the hustle and bustle of Manchester's busy streets this summer and take refuge at Epernay. This luxurious spot has an impressive selection of champagne and a beautiful balcony decorated with candlelit tables and dozens of twinkling fairy lights. The view at this glam spot ain't too shabby either, making it the ideal place for date night.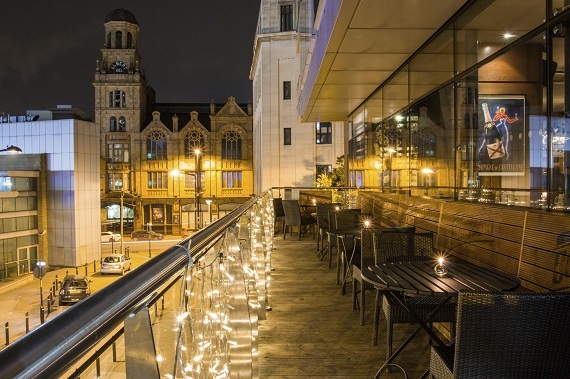 IMAGE PROVIDED BY EPERNAY
The Varsity Rooftop - Cambridge
There are a billion and one reasons to visit Cambridge - and The Varsity Roof Terrace happens to be one of them. Overlooking the city's historic buildings, you'll struggle to find a better vantage point to take in postcard views of Cambridge. This spot might only be open until 8pm, but it's a winner for watching the sun go down.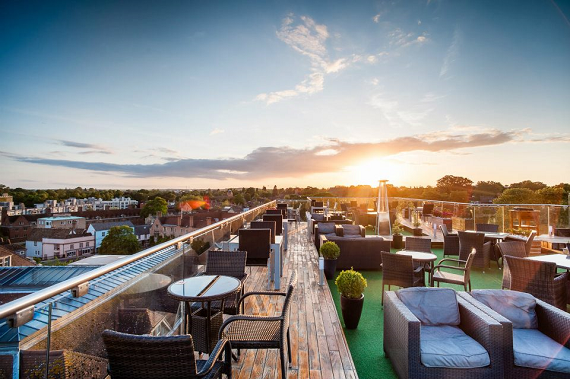 IMAGE PROVIDED BY THE VARSITY ROOFTOP
Bohemia - Brighton
Bohemia's roof terrace has somehow managed to stay under the radar, so take our advice and soar to the sky before word gets out. The intimate terrace is home to a Veuve Clicquot theme, so expect plenty of fizz-fuelled nights at this Brighton gem.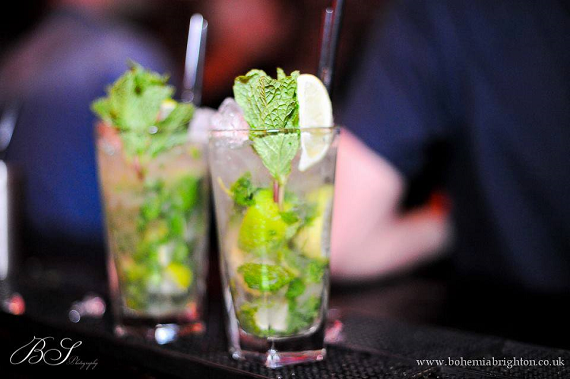 IMAGE PROVIDED BY BOHEMIA FACEBOOK PAGE
Tower Restaurant - Glasgow
If you want to get high this summer, there's only one place for it: Tower Restaurant. Sitting pretty on top of the National Museum of Scotland, it's Scotland's first ever rooftop restaurant and it has grand views of Edinburgh Castle and Old Town. If that's not enough to prompt you to visit, their award-winning grub should do the trick.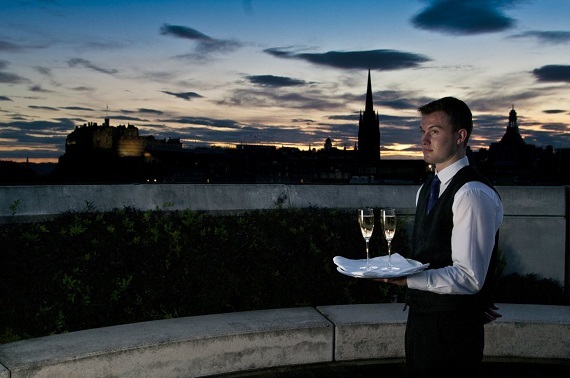 IMAGE PROVIDED BY TOWER RESTAURANT WEBSITE
Roof East - London
Growing-up isn't all it's cracked up to be, is it? That's why Roof East have thrown all responsibility out the window this summer, in a bid to bring you a sky-high adult playground. Home to crazy golf, American-style batting cages and a roller disco, this pop-up is all about fun and games. If you want something a little less strenuous, settle down with a bag of popcorn at the Rooftop Film Club.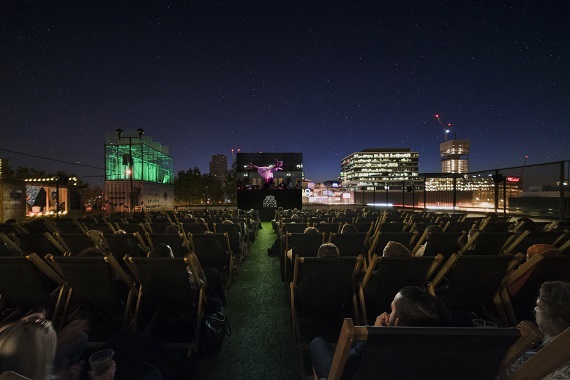 IMAGE PROVIDED BY ROOF EAST
Brixton Beach - London
We all want a holiday minus the hefty price tag, but finding one is a different story. Cue Brixton Beach; London's coolest summer pop-up. Throw on your shades and head Brixton way for a rooftop that's sure to whisk you off your feet. Like any beach, expect to see tonnes of golden sand and plenty of deckchairs. Although the scenery is pretty great, it's the event line up that makes this place stand out from the crowd. From bottomless brunches to Ministry of Sound fitness classes, this unique plot has your summer well and truly covered.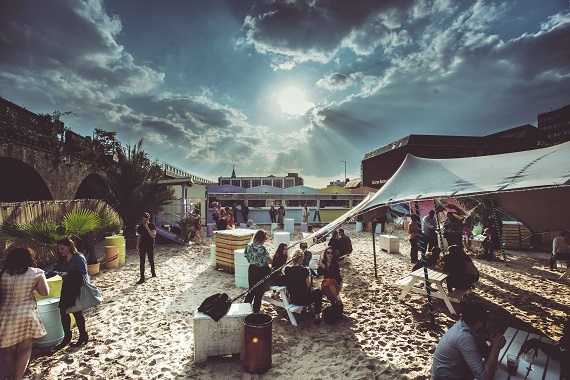 IMAGE PROVIDED BY BRIXTON BEACH
Rooftop Gardens - Norwich
Norwich gained its first ever rooftop bar last year and we're giving it a massive thumbs up. The sun-soaked space has plenty of wicker seats to plonk your bum on and a panoramic view so pretty you'll be glued to your seat all night long. Cocktails here start at £6.95 too, so you don't have to fret about dipping into your overdraft (again).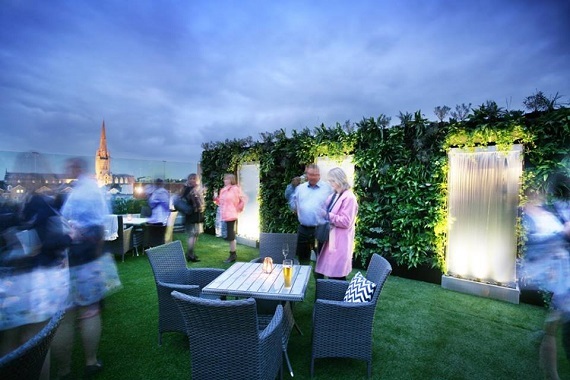 CREDIT: Paul Winch-Furness
For more info on the best rooftop bars in London and across the UK, visit DesignMyNight and follow them on Instagram and Twitter @DesignMyNight.
This post has been published on HuffPost's blogging platform. The views and opinions expressed in this blog are those of the author and should not be taken as those of HuffPost. HuffPost does not allow bloggers to acquire products, access or accommodation for review in the site's name.