Believe it or not, but afternoon tea originates all the way back to the 1840s, and we have a wonderful woman called Anna (the 7th Duchess of Bedford don't you know), to thank for its existence. To celebrate Afternoon Tea Week, DesignMyNight have rounded up the best tiers around London. From Aladdin-themed caves dishing out peanut butter macaroons to afternoon tea on a vintage double decker bus, it's time to get those pinkies up.
Disney fans are going to go nuts for the afternoon tea at Cutter & Squidge. These guys have transformed their space into a Genie's Cave for a limited time only, enticing guests for an Aladdin-themed afternoon tea. The walls are adorned with gold coins, stalactites hang from the ceiling and you can expect all type of unique bites, from magic carpet cookies and hidden gem macaroons to a golden treasure biskie.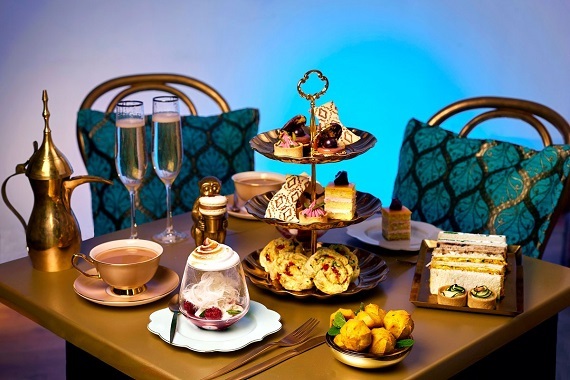 Image provided by Cutter & Squidge
The Roof Gardens was London's first ever rooftop bar, and you can now indulge in a luxurious afternoon tea at the sky-high plot. When you stop chasing the venue's resident flamingos, find their secret garden and nibble on golden scones, dainty finger sandwiches, eclairs and a cherry and pistachio sponge cake.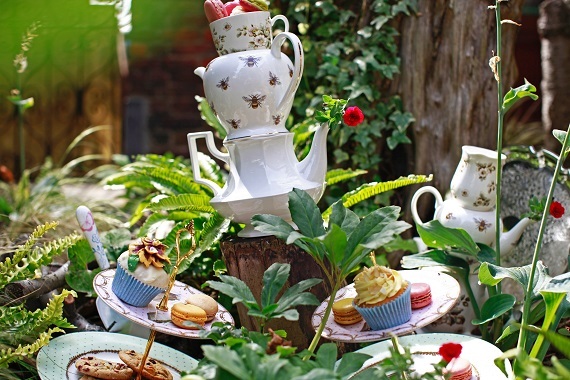 Image provided by The Roof Gardens
Afternoon tea comes in many different shapes and sizes, but none quite live up to that at London's Sanderson Hotel. Their afternoon tea invites you to fall down the rabbit hole with tiers of treats inspired by Lewis Carroll's Alice in Wonderland. Hosted in their secret garden, you'll get to nibble on pocket watch macaroons and chocolate and pistachio caterpillars alongside a mini flight of themed cocktails to help you wash everything down.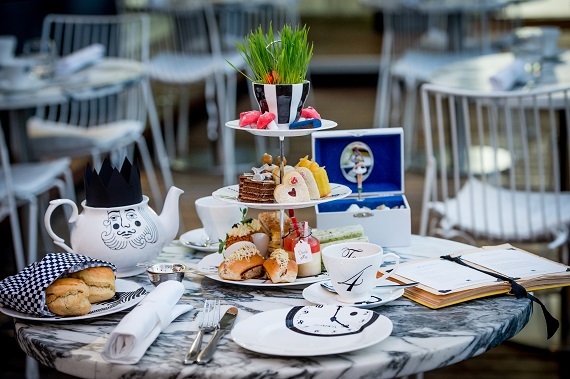 Image provided by Sanderson Hotel
Dalloway Terrace is one of the prettiest alfresco spots in the city. Their intimate terrace is packed with blossoming flowers and has snug tables for two, making it the perfect date night destination. Their afternoon tea features lemon éclairs, sultana buttermilk scones and corn-fed chicken in brioche. If you're feeling something a little stronger than tea, you can always upgrade your pot for a cheeky glass of Champagne.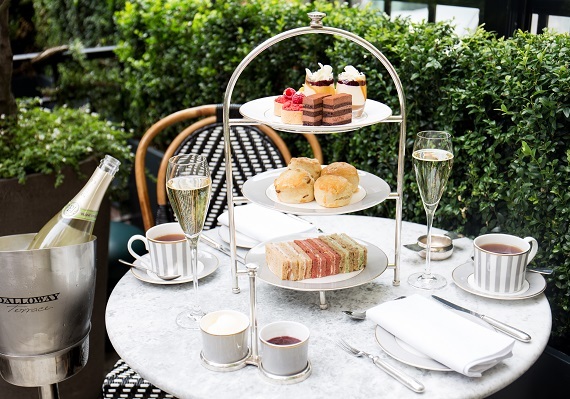 Image provided by Dalloway Terrace
Brigit's Bakery Afternoon Tea Bus
London is full of surprises, and being able to have afternoon tea on a bus just happens to be one of them. Hop aboard Brigit's vintage double decker bus from Victoria Coach Station and tuck into all manner of sweet treats as you swoop past some of the capital's most iconic sights; we're talking Big Ben, The Houses of Parliament and The Royal Albert Hall.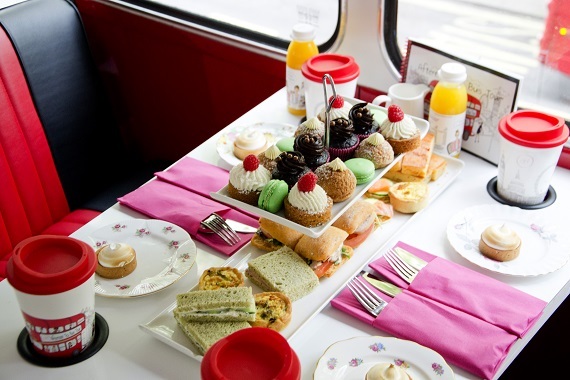 Image provided by Brigit's Bakery
Sketch is penned as one of London's most Instagrammable spots, and for bloody good reason. They bring the term 'pretty in pink' to a whole new level with their candy floss coloured velvet booths and furnishings. This year, they've injected some French influence to their afternoon tea. It now features delicate sandwiches with bold flavours, strawberry battenberg cake and you can pick from some of the best tea infusions from around the globe.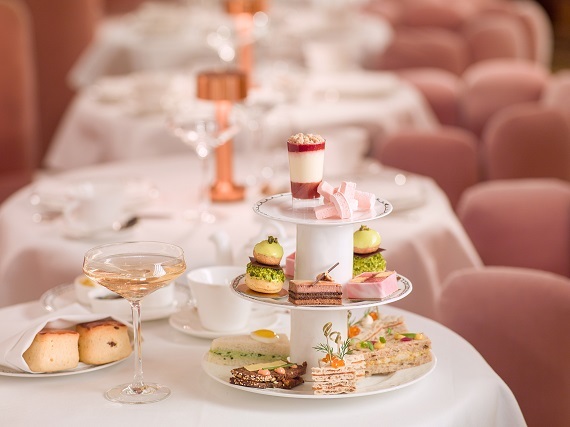 Image provided by Sketch
If you want a show-stopping afternoon tea production - The Churchill Afternoon Tea at The Wellesley is where you need to go. If you haven't already guessed, it pays tribute to one of the most influential British leaders of all time. Sink your teeth into cheesecake tartelette and mandarin domes, bowler-hat shaped tiramisu cups, and rum and coffee flavoured lollipops. Coming with a flute of ice-cold prosecco, it's an absolute steal at just £25 per person.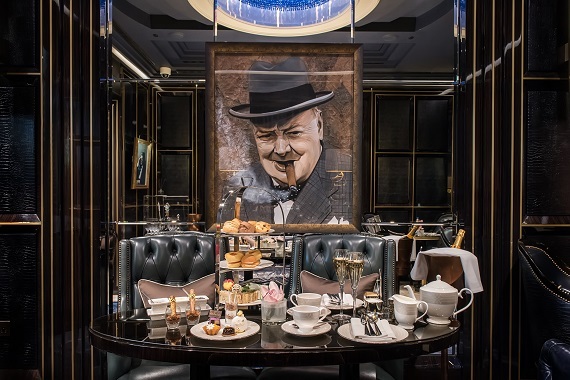 Image provided by The Wellesley
With a lot of things, experience is key; and if there's one place in London with experience in the afternoon tea department - it's The Dorchester. They have been serving their tiers for over 80 years, and for the month that's in it - they're serving a special ice-cream and Champagne edition. Served with a flute of Laurent Perrier, there are three different flavours of ice-cream and sorbet to dig your silver spoon into.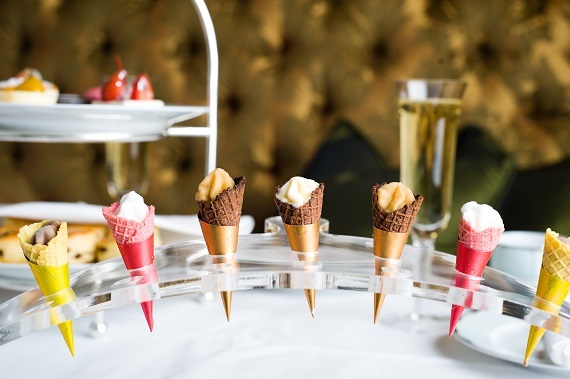 Image provided by The Dorchester
Punch Room at The London Edition
'Scandal water' is 19th century slang for tea, and back in the day it was the highlight for the upper echelons of London society. Today, it's known as the title for the afternoon tea offering at London Edition's Punch Room. Offering five different teas with five paired foods, it's one of the city's most exquisite afternoon tea picks, with palate-pleasing miso-cured salmon with caviar and iced gem shortbread biscuits.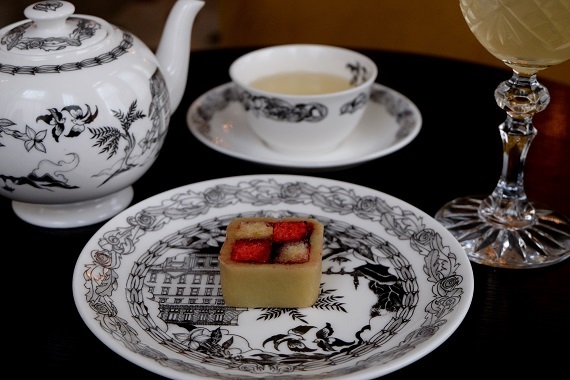 Image provided by London Edition
Dandelyan was recently crowned the world's best bar. Yup - the world's best, and it's right here in London. Aside from serving some of the best cocktails around, they also dabble in Wyld Tea. This twist on the classic comes paired with botanical cocktails, and you'll be treated to stunning views of the Thames while you dine. You'll have some serious savoury bites to look forward to as well. Keep an eye out for the elderflower compressed cucumber and burnt herb cream sandwich - it's to die for.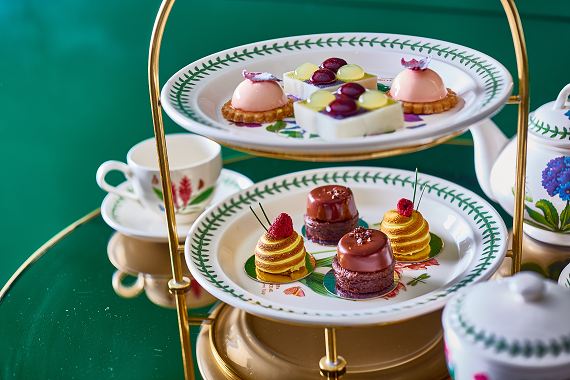 Image provided by Dandelyan
For more info on the best afternoon teas in London, visit DesignMyNight and follow them on Twitter and Instagram; @DesignMyNight.
This post has been published on HuffPost's blogging platform. The views and opinions expressed in this blog are those of the author and should not be taken as those of HuffPost. HuffPost does not allow bloggers to acquire products, access or accommodation for review in the site's name.