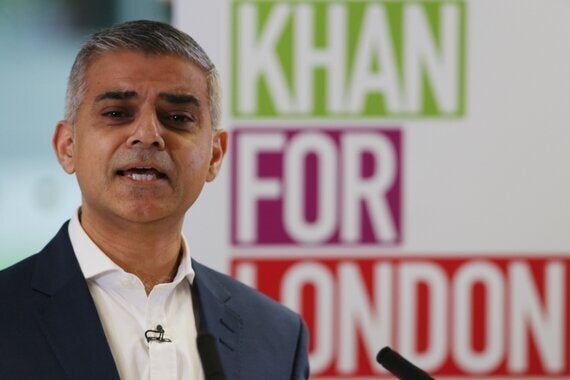 Today I will wear my favourite boots, that most sturdy, well-worn and comfortable pair. Though their once crimson leather is now faded to a dusty brick-red, today only they will do the trick. I'll slap on the sun-cream if there is a hint of sun in the sky; I'll toss my mac into a rucksack just in case, this is England, after all. I'll dress in something comfortable but I'll try and be smart. I'll need a splash of colour too, something red of course. Maybe I'll wear a pin? Or simply smother myself with stickers, isn't that the standard thing to do?
Leaflets in hand, I'll spend my day pounding the streets of South London and knocking on doors. I'll be canvassing for the Labour Party today. I will be urging people to get out, walk down the road, and back Sadiq Khan to become our Mayor of London. Normally polling day is a great day of pride for any Party activist, it's the day we really give our all for the Party closest to our ideals and hearts. It's a day where we really feel we can make a difference.
Sadiq Khan to me sums up everything that is great about the Labour Party. The son of Pakistani immigrants, raised on a council estate in South London. His life chances belong in part to the Labour Party, from the social housing where he was raised, to his comprehensive education that led him to the University of North London. He found inspiration from the BME politicians such as Diane Abbott, Bernie Grant, Paul Boateng and Keith Vaz -- who were then changing the face of Labour.
Sadiq Khan to me represents the very best of Labour values. A Muslim man who has stared down death-threats to vote in favour of gay-marriage. A progressive who has backed women's right to abortion, has stood up for transgender rights and been proactive in banning discrimination against gay people by corporate bodies. When Muslim's are stereotyped by both the Left and Right as being inherently conservative and reactionary, Sadiq Khan has been a life-long champion of progressive values.
The term 'smear' gets thrown around far too much nowadays. Often legitimate criticism and questioning is dismissed in such a way. Throw someone's quote back in their face and it will be called a smear and a lie and the shutters will come down. Yet, the campaign run by Zac 'nice guy' Goldsmith has been of a kind pulled up from the gutter. He has employed the type of dog-whistle campaigning that I naively thought was resigned to the history books of mainstream politics. In a newspaper article at the weekend, Goldsmith asked: "Are we really going to hand the world's greatest city to a Labour Party that thinks terrorists are its friends?". Time and time again he has used Sadiq Khan's faith to attack him, and has played games of divide and rule with London's other South Asian minorities.
The charge of extremism stems from Sadiq Khan sharing a platform with the imam of his local mosque Suliman Gani. This is common practice, MPs will often meet with the imam of a local mosque in the course of their constituency duties. Local Conservative MP Jane Ellison and the Tory candidate for Khan's seat also shared platforms with Suliman Gani. Here's a nice photo of Zac Goldsmith with the guy.
To attack Sadiq Khan as an extremist is a smear in the purest sense of the word. Here is a man who has been declared an 'apostate' and had a fatwa put on his head, for standing up for liberal principles. Khan has been brave enough to speak some uncomfortable truths to those who deny that political extremism is a problem. His election would be two-fingers up to those on the far-right and Islamist-right who want us to think that western civilisation and Islam are inherently in opposition to each other. As Yasmin Alibhai-Brown argued in the Guardian: "This victory could do more to combat radicalisation than any number of government strategies".
I am proud of how Khan has reached out to London's other minorities and attempted to build bridges. The London I know and love is a place of liberal tolerance of people of all faiths, colour and sexuality. If Goldsmith's tactics can win here, it will be a damning blow for us all. I want to fight for Sadiq today to show the Conservative's that racially-charged campaigning will never work in this city. And I don't just want Sadiq to beat Zac. I want him to crush him.
Popular in the Community