Ever since Pan Am debuted its 1960s pillbox hats, the uniforms that cabin crew wear have been as memorable a part of the flying experience as in-flight meals and the fight over the window seat. But at what point does a uniform define an airline - and when it does, how does an airline ensure it remains both stylish and safe to wear at 30,000 feet?
Virgin Atlantic crew have long been identified by their signature red uniforms: our cabin crew wear their scarlet outfits like a badge of honour. But one of the reasons our uniform has always been heralded amongst customers and - dare we say it - other airlines, is because we've always ensure that the design of our uniforms is at the cutting edge of fashion.
Our current uniform was designed back in 1998 by John Rocha - the third iteration of the design. A pencil skirt and blazer have become our signature style for female cabin crew, but the cut and shape of the items, along with the shirt, has been updated every time we've reworked the design. In 2013, we felt it was time for a change. We could see other airlines beginning to copy its style, and we were conscious that our customers today have renewed priorities when it comes to flying sustainably. We wanted our uniform to form a part of our sustainability mission.
To herald this change, we needed a design team who shared our spirit of adventure. One which believes in challenging the status quo and creating something truly memorable, and at the same time shared our beliefs in making the uniforms as eco-friendly as possible.
Our new partnership with Vivienne Westwood was therefore the perfect match. Vivienne has long been at the forefront of innovative and stylish designs, and we knew her approach to our uniform would be no different. "My clothes have always got a very strong dynamic rapport with the body", said Vivienne. "They are very body conscious, they help you to look glamorous, more hourglass, more woman. I design things to help people to hopefully express their personality. I am always trying to find fabrics that are more friendly to the environment - working with Virgin Atlantic they managed to research into this and find more eco fabrics."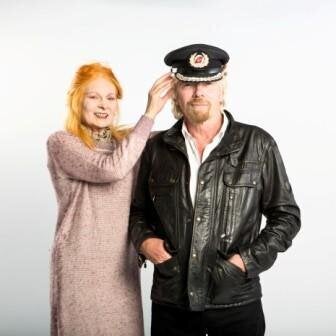 When we explained that designing a cabin crew uniform would be completely different from a catwalk piece to Vivienne, she wasn't fazed. While we absolutely needed the uniform to reflect her signature style, from a practicality sense, our uniform also needs to be wearable at 30,000 feet, where crew can be on board for up to fourteen hours. Cabin crew need to be able to walk the 7 miles on average they walk on a transatlantic flight, as well as feeling comfortable to deal with any situation thrown at them. This means wearer trials are a key part of uniform design - from July 2013, you may spot our crew wearing some parts of the new uniform to test out their practicality onboard. They will then provide feedback on the design, practicality and wearability so tweaks can be made before the design is finalised and rolled out to all crew in 2014.
Fortunately, Vivienne is equally as passionate about sustainability as we are. Many items of the new uniform will be produced using recycled materials - in particular working with recycled polyester yarn made from used plastic bottles. The suiting fabrics will also have a nano finish applied which extends the life of garments and enables clothing to retain its colour and finish for longer. We are also developing all items with Closed Loop Recycling in mind. This new technology takes worn polyester clothing and turns it back into fibres that can be woven again into new fabrics and in turn new clothing.
One thing that won't change, however, is the signature scarlet of our uniforms - customers can rest assured we'll continue to bring a splash of red to a weary world of grey.