"The Cicada sing an endless song in the long grass, smells run along the earth and falling stars run over the sky, like tears over a cheek". Karen Blixen, Out Of Africa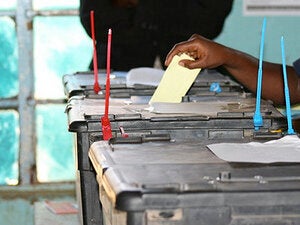 Straddling the equator, the snow topped peak of Mount Kenya stands sentinel, the country it lends its name to unfolding at its feet. A place of contrasting landscapes, Kenya spans from the bleached sands that melt into the Indian Ocean in the East, to the soft grasslands of the Masai Mara in the West, the Rift Valley tearing a chasm between the two.
Clinging to the periphery of Rift Valley town Nakuru, a makeshift camp has been assembled to provide temporary shelter for a group of internally displaced people. Following the disputed presidential elections of December 2007 a wave of violence and killing forced an estimated 600,000 people to flee their homes during two months of intense inter-ethnic violence. This community and many others like it are still waiting to be re-homed, more than five years later. With the next general election taking place on 4 March, fear and tension are building as the threat of renewed violence draws closer.
The problems that face most African countries today are well known to Kenya: overpopulation, poverty, unemployment and lack of water and health care to name a few. Despite steady growth of the economy, 46 per cent of the country's population lives below the poverty line, on less than $1 a day and access to clean water and sanitation facilities is limited.
More than 14 million people are expected to go to the polls on 4 March in one of the most contentious elections since Kenya gained independence in 1963. The vote is predicted to be close and a run-off will be conducted if no candidate secures an overall majority. The two favourites in the poll are current prime minister Raila Odinga (Orange Democratic Movement) and Uhuru Kenyatta (Jubilee Alliance).
The significance of these two names reappearing in Kenya's political agenda is not a coincidence. The two men are members of Kenya's major political dynasties and their rivalry echoes the relationship between their fathers - Jomo Kenyatta (the first prime minister and President of Kenya) and Jaramogi Oginga Odinga (first vice president).
In 2007, Raila Odinga's rival, incumbent President Mwai Kibaki was controversially declared the winner of the presidential election by the (now discredited and defunct) Kenyan Election Commission. Raila subsequently disputed the results, claiming fraud by the electoral commission and refused to follow correct constitutional procedure by presenting a petition to the courts.
In an election that was strongly marked by tribalism, opposition followers of Raila from the Luo and Kalenjin communities, enraged by the alleged electoral manipulation, went on a violent rampage against the traditionally dominant Kikuyu ethnic group that supported Kibaki. Political temperatures were raised and targeted ethnic violence escalated. The two sides unsheathed and unleashed machetes on neighbours and relatives and more than 1,300 Kenyan lives were lost.
It has been suggested since, that the violence that erupted in the regions of Naivasha and Nakuru was planned and funded by (2013 presidential candidate) Uhuru Kenyatta, who dropped out of the 2007 election race early in order to support Kibaki. Kenyatta was subsequently named as a suspect of crimes against humanity by the International Criminal Court (along with his current running mate William Ruto, formerly a bitter political rival). Kenya's High Court has now cleared the way for both Kenyatta and Ruto to stand in the 4 March vote, dismissing arguments that the forthcoming trials make them ineligible.
Tangled within this political web of shifting allegiances and ethnic clashes is the loaded question of whether history will once again repeat itself.
When compared with the extensive canvassing and campaigning done by political parties in the US and the UK, the ODM and Jubilee coalitions seem underdeveloped, without history and organisational muscle and issue based campaigning seems to have taken a back seat to populist verbiage. Writer for the Sunday Nation, Kwendo Opanga stated in his opinion column last month:
Kenya's parties do not invest in research, planning and logistics when they have money. They invest in incessant intra and inter-party feuds and in plotting to gain power. They seek power without the benefit of researched and reasoned strategies put forward by think tanks but through forced and arranged marriages. That is why politicians have belonged to Party A at sunrise and become members of Party B at sunset.
So, what are the positive steps that Kenya is taking to ensure that a successful and fair vote takes place?
Efforts have predominantly been channeled into ensuring that the results of the 2013 election are credible. In 2007, one catalyst for the violence was Odinga's accusation that illegal rigging and ballot box shuffling was taking place. Approximately 1.2 million 'dead voters' appeared on the manual register and it has been acknowledged that there was widespread fraud and impersonation.
The newly formed Independent Electoral and Boundaries Commission (IEBC) has now implemented biometric voter registration and verification kits in order to eliminate ghost voters. The votes will be transmitted in real time electronically from polling stations across the country whilst hard copy votes from areas more than a three hour drive from Nairobi will be delivered by air. Media will also be granted 'unimpeded access' to the new system. Mr James Oswago, the electoral agency's chief was reported in the Daily Nation as saying: "There will be no room for anyone to doctor the results as the live feed will be seen across the tallying centres."
The country's first televised debate, which was broadcast recently, is another example of Kenya's efforts to make their election system more transparent. Considered by most to be a political milestone, the three and a half hour marathon gave Kenyans the opportunity to judge their prospective leaders on the strength of their policies under the real time pressures of live debate. The focus on policy rather than personality is a welcome change in a country where politics have traditionally been entwined with tribal identity and campaigns often carry a bottom line of 'us versus them'. Indeed when questioned in the debate over claims that ethnic rivalry is still at the heart of the 2013 campaigns, Uhuru Kenyatta responded: "Tribalism is a cancer that has afflicted this country for a very long time."
The key to this election surely lies in the losing candidate's ability to concede. Concession is critical in guaranteeing a peaceful outcome and preventing a backlash of violence. Should a re-vote be called for, the maintenance of peace should take priority. With the IEBC's emphasis on transparency and the fact that legitimate grievances can be addressed through peaceful means as set out in the constitution, Kenya has made strides towards holding a credible, peaceful election.
For five years, Kenya has been singled out as an example of how not to run an election. With just a few days to go, all we can do is wait and see whether history will repeat itself.
(Image courtesy of openDemocracy, Flickr, Creative Commons)