It's not easy to answer the question of a 'perfect posting time' for heavily shared stories authoritatively.
However, it remains a source of curiosity for many wondering about the science behind viral hits.
Many of the most shared stories on Facebook are evergreen - listicles, personal blogs, interactive quizzes. They're not time-sensitive in the way that conventional news is. So, is there any way of picking an optimum time to post them?
One of the many pieces of information that our new NewsWhip Insights dashboard provides us with is the date and exact time of publication of any story in our database.
We used this information to try and figure out if there was any correlation between shares and time of publication.
To find out, we looked at the publication times of all stories in the last week for eight major social publishers:
The Huffington Post
BuzzFeed
Fox News
Upworthy
The New York Times
Elite Daily
The Mail Online
MTV
All of these sites were in our top 25 Facebook rankings for August 2014.
To get what we're looking for, we found their top stories of the week, ranked by Facebook shares.
Here are the time of publication of the top 100 most shared (on Facebook) stories from the above sites over the last week: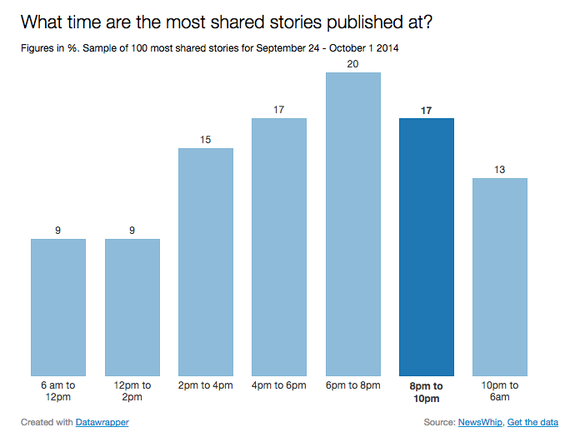 As you can see, there's not a whole lot of stories published before midday UK time, mainly due to the time difference in America.
In all, 54% of the most shared stories last week were published between 4pm and 10pm GMT. Here's a scatter graph illustrating the spread of these stories throughout the day;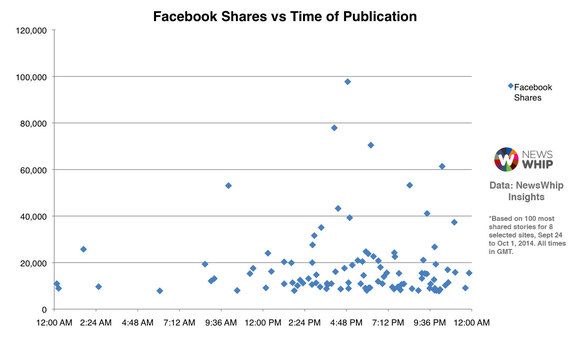 This graph shows a cluster of stories in the late afternoon and evening. Only one story that was published before 4pm GMT got over 40,000 shares. The only four stories with over 60,000 shares were all published after that time.
To get a better idea of the exact times of publication for well-shared stories, here are the top ten for last week, and their time of publication (GMT):
This Really Easy Recipe For Pepperoni Pizza Cake Will Change Your Life (BuzzFeed): 16.52
Leonardo DiCaprio Asks Everyone In The World To Stop Pretending Like Facts Don't Exist (Upworthy) 16.06
11 Things Only Parents Of Boys Understand (The Huffington Post): 18.12
39 Baby Halloween Costumes Even More Delicious Than Candy (The Huffington Post): 18.30
An Open Letter To My Now Ex-Wife (The Huffington Post): 20.26
'F-ck You And All Your False Patriotism' (The Huffington Post): 10.01
Everything Wrong With The World In 2.5 Minutes. Sorry If This Offends You (Upworthy): 16.19
Still Know Someone Who's Against Gay Marriage? Show Them This Video, And Watch Them Cry Like A Baby (Upworthy): 16.49
Earth lost 50% of its wildlife in the past 40 years, says WWF (The Guardian): 23.00
Michigan mom turns to prayer and social media for miracle to save her son (Fox News): 15.21
What we find here is that many of the most shared stories were published between midday and early afternoon east coast US time, or 4 to 7pm UK time. That gives UK readers time to find, read and share before their day ends.
We know that mobile visits soar after 4pm, in direct opposite to usage of desktops, largely an office-place platform.
Meanwhile, US readers will continue to see these posts on their news feeds throughout the day, allowing for a 'slow burn' of reading and sharing into the night.
On Twitter
When we changed our search requirements to rank by overall tweets, the results were somewhat different. Time didn't seem to be as much a consistent factor in the success of the stories. Then again, most of the content changed significantly, with news and shorter entertainment pieces taking the place of the Huffington Post's blogposts. Here are the top 10 ten most-tweeted stories of the last seven days, with their time of publication (GMT).
Restaurant owner admits serving opium-laced noodles to hook customers (Fox): 15.14
More than 30 hikers feared dead near top of Japanese volcano (Mail Online): 10.38
This Easy Recipe For Pepperoni Pizza Cake Will Change Your Life (BuzzFeed): 16.52
Earth lost 50% of its wildlife in the past 40 years, says WWF (The Guardian): 23.00
The 5 Most Amazing Moments In The New "AHS: Freak Show" Trailer (BuzzFeed): 20.29
Asamoah Gyan denies involvement in alleged ritual killing (Mail Online): 18.52
Woman beheaded at Oklahoma food distribution center, police say (Fox): 16.06
Demi Lovato Named New Face Of N.Y.C. New York Color Cosmetics (MTV): 22.13
Wanna Know Austin Mahone's 'Secret'? Watch This (MTV): 21.52
Lady Gaga Celebrated The Release of Cheek To Cheek With 7 Exclusive Selfies On MTV's Instagram (MTV): 23.28
It's difficult to be completely certain about the different publication times of stories on Twitter and Facebook, but the trend on Twitter favours news and current affairs above most else. Of course, the lack of algorithm-driven timeline means that you're free to post your story over and over, without repercussion.
Obviously, breaking news doesn't wait, but the above data indicates that there's no need to trip over yourself to be pushing your biggest stories out first thing in the morning.
If you have a piece of evergreen content that you want to get shared lots, write an interesting piece, sell it well, and post it so that your readers will see it by the late afternoon.