In a recent twitter exchange had between myself, @dimacdonald, @alomshaha, @AlexGabriel and Sanderson Jones, co-founder of Sunday Assembly movement, we discussed the difficult question of just how 'Atheist' Sunday Assemblies should be?
As MacConald points out, "it's sadly true that Sunday Assembly has divorced itself of explicit atheism... the Sunday Assembly's philosophy of 'live better, help often and wonder more' [could] end up neglecting that very cornerstone of freethought - freethinking itself."
I Share his concerns. I hope Atheist assemblies can find a way of marrying the theatre, uplifting spirt and sense of community monopolised by religious assemblies without, "the Sunday Assembly speaker platform just become[ing] an opportunity for every nutter off the street to promote their own personal pseudoscientific self-help shite," as he put it.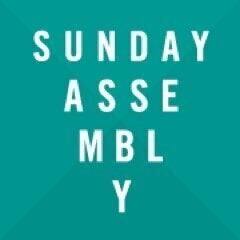 Atheism, and Atheist assemblies, should always maintain a focus on reason and a commitment to the scientific method that elevates them above the sometimes dangerous dogmatism of religion. Furthermore they should be democratic and pluralistic organisations in opposition to the autocracy, hegemony and pressurised conformity of religion.
I really support the essence and ambition of the Sunday Assembly. However, Atheism's greatest strength will always be it's intrinsic inclusiveness, honesty, openness and enlightened spirit. This must not be forgot in an attempt to market the Sunday Assembly as a friendly (yet ignorant) song and dance.