It's Pancake Day - not that we need an excuse to scoff them down. We like to eat them pretty much year round. But Shrove Tuesday is upon us, which can only mean one thing - the Internet is awash with pancake recipes.
Not wanting to feel left out, I've decided to honour the occasion with a selection of pancake recipes that the whole family can enjoy. That's right, even the dog gets to tuck in this year.
The beauty of pancakes is that you can eat them for breakfast, lunch, dinner or a snack. Just switch some ingredients accordingly and you're good to go.
The Perfect Breakfast Pancake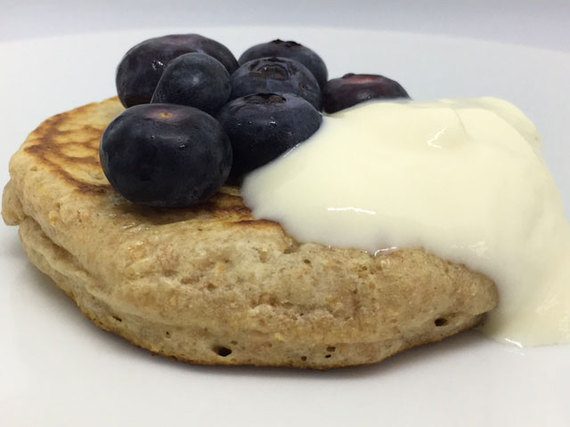 Photo Credit Liana's Kitchen
Essentially drop pancakes are the same as drop scones or scotch pancakes. They are also similar to American Pancakes. They can be made with any flour you have a preference for, or have handy.
They tend to be smaller and thicker than normal pancakes or crepes, but still taste equally delicious! Drop pancakes are perfect for breakfast as well as for an afternoon snack. They are ideal for freezing and heating up again.
Choose your topping according to your own taste buds! For this recipe I went with blueberries and a little natural yoghurt.
Ingredients
140g self raising wholemeal flour
150ml milk
1 egg
1tbsp honey
1tsp vanilla essence
Making It
1. Sift the flour in a bowl and add a pinch of salt.
2. In as separate bowl/jug whisk together the milk and egg.
3. Add the honey and vanilla essence and whisk together.
4. Gradually add the milk mixture to the flour, stirring and whisking continuously until the consistency is smooth and without lumps.
5. Heat your pancake maker (or frying pan). I don't use oil on my pancake maker but if you need to, add a little of your oil of choice - coconut oil is always a good one!
6. Add 1 tbsp. of the mixture for each drop pancake - allow to cook for a few minutes and then flip over to cook the other side.
7. Serve with a topping of your choice!
Banana Pancake Recipe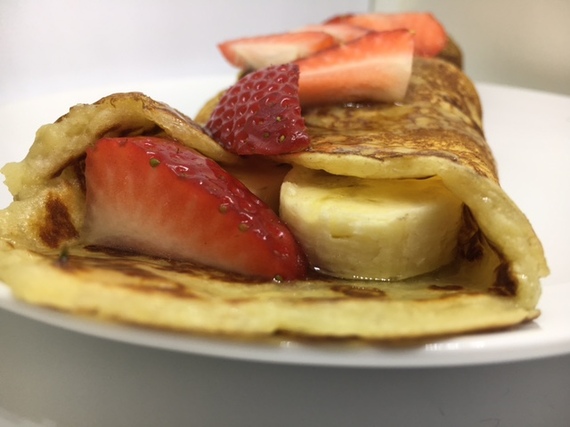 Photo Credit Liana's Kitchen
Bananas are the perfect fruit to add to a pancake mix. If you use a banana that is ripe enough, it will add such a delicious sweet taste to your pancake you won't even think about adding extra sugar.
This particular banana pancake recipe used bananas in both the mix of the pancake and the filling. I then added some fresh strawberry slices and drizzled a little honey over the top.
Ingredients
120g plain flour
2tsp baking powder
Pinch of salt
1 egg
200ml milk
2 ripe bananas
1tbsp coconut oil (optional)
Toppings (strawberries, blueberries, honey etc)
Making It
1. Mix flour, baking powder and pinch of salt in a bowl.
2. In a separate bowl crack the egg and beat it. Add the milk and mix together. Add the coconut oil (if using).
3. Add the milk mixture to the flour and combine. Whisk until smooth and lump free.
4. Peel the ripe bananas and mash with a fork until smooth and as lump free as possible.
5. Add the mashed bananas to the pancake mix and whisk together until smooth.
6. Heat up your pancake maker (or frying pan) and add the pancake mix. Brown on both sides.
7. Serve with a topping of your choice!
Pancakes for Dogs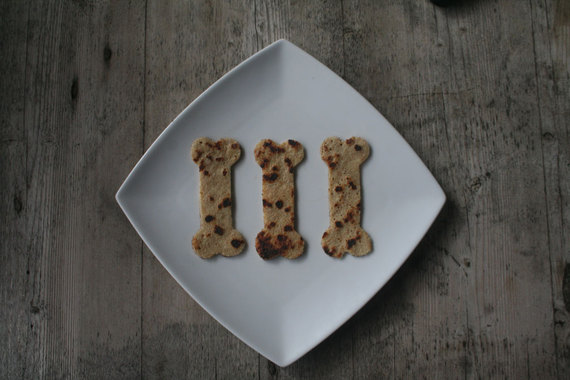 Photo Credit Wagnificent Pets
Why shouldn't the dog get a look in? Just make sure any ingredients you include are safe for your dog to eat (which means definitely no chocolate!)
Ingredients
120g flour (wholemeal, spelt, rice flour for example)
1 x egg
1/3 of a very ripe banana
20ml of water
4tbsp of milk
Making It
1. Put the banana in the jug and mash it until a runny pulp, then crack and add one egg
2. Mix together and then add one cup of flour, little by little.
3. It should become quite thick and stodgy, so add the milk and 20ml of water to the mix.
4. Mix well using a fork or electric whisk
5. As soon as you have the desired consistency, heat up your frying pan, using a little oil to ensure the pancake does not get stuck.
6. Cook gently on both sides, until golden brown and cooked through.
7. The pancakes can be cut and served as soon as cool, with a dollop of creamed cheese, or with a peanut butter drizzle. Remember to always check the label on your peanut butter to ensure it is xylitol free!
Have you got any special pancake recipes planned for Shrove Tuesday?