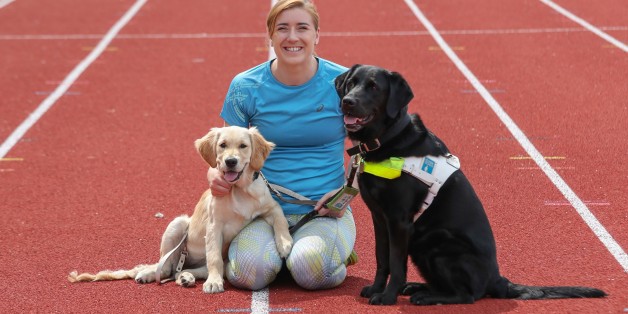 Libby Clegg

I was really looking forward to a nice weekend. Along with my fiancé, my guide running partner and his girlfriend, I'd travelled to London to watch tennis at Wimbledon. We'd even splashed out on a nice hotel as a treat. Oh, and I happened to have my guide dog Hattie with me, because I rely on her to get around.
As a courtesy, I gave the hotel advance notice that Hattie would be with us, but when we checked in, we were flatly told, "no dogs allowed". This does unfortunately happen quite often to me and to other guide dog owners. It's frustrating and embarrassing, but you learn to be patient and explain that Hattie is a guide dog and it's illegal to turn her away.
It's often just one member of staff who perhaps isn't sure of the law, so after checking with a manager, it was resolved and we thought that was that. But sometimes the lack of training goes deeper and it becomes really disappointing and upsetting.
During our stay at the hotel, we had a doorman call over to another member of staff in front of us, "is that allowed?" about Hattie, which I found incredibly rude. At breakfast we had to put up with staring and uncertainty from a number of members of staff, which made me feel really uncomfortable and unwelcome.
This was a hotel in Central London, and if you live in the city, or visit often, you'll know that there are guide dog owners everywhere, so there really is no excuse for such ignorance.
All hotel staff should be trained in the law when it comes to guide dogs. It's pretty simple really: hotels must make reasonable adjustments to ensure that disabled people can use the hotel the same as every other guest. This includes amending a 'no dogs' policy to allow guide dogs.
It's really distressing to be made to feel like you aren't welcome, like you stand out, or that staff don't know how to treat you. It put a dampener on our whole weekend. At the end of our stay, we made our feelings known and, when prompted by my fiancé, a manager apologised to me and offered us a free lunch, but I felt they were completely missing the point.
The charity Guide Dogs, who provided me with my lovely Hattie, does some fantastic work with hotels and other venues like restaurants to help raise awareness among their staff. But unfortunately cases like my stay in London show there's still work to do. Hotels also need to take responsibility to make sure their staff know the law and understand their obligation to treat all their guests with equal dignity and respect.
The World Para Athletics Championships are happening now at the Olympic Stadium and whilst lots has changed in how people with disabilities are treated, especially in sport, there is still a long way to go in society more broadly. But this experience has made me even more determined to make a success of our training venture called Ability Training (ability-training.com) which offers accredited disability specific awareness courses for sports coaches and fitness professionals. Perhaps we should create a course for the hospitality industry!
HuffPost UK Lifestyle has launched EveryBody, a new section calling for better equality and inclusivity for people living with disability and invisible illness. The aim is to empower those whose voices are not always heard and redefine attitudes to identity, lifestyle and ability in 2017. We'll be covering all manner of lifestyle topics - from health and fitness to dating, sex and relationships.
We'd love to hear your stories. To blog for the section, please email ukblogteam@huffingtonpost.com with the subject line 'EveryBody'. To flag any issues that are close to your heart, please email natasha.hinde@huffingtonpost.com, again with the subject line 'EveryBody'.
Join in the conversation with #HPEveryBody on Twitter and Instagram.