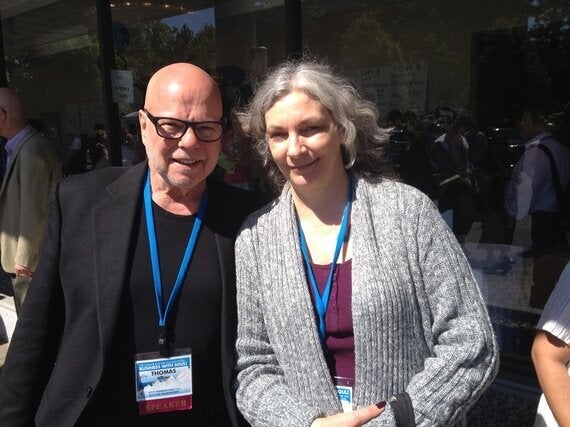 Thomas Bähler with this author
In a world that seems powered by money, status and celebrity, it is easy to think that anyone who has "made it big" would be all about arrogance, superiority, and "look at me." Ego could easily run wild. I suppose it is the case for some, but not so for award-winning multifaceted Thomas Bähler. And if anyone was ever in a position to say, "Wow, look at me and all the amazing things I've done," it is this lovely man. But that is not what Thomas is all about.
He is among the most down-to-earth, humble people I have ever had the pleasure of meeting. Kind and warm, Tommy, or simply "T" is a compassionate and sensitive man, which I suppose is at least partially responsible for his success in the entertainment industry. But there was a time when success seemed out of reach.
"The most devastating moments of my life have been some of the greatest transformational moments," acknowledges Thomas.
Growing up, he played the trumpet until surgery for a perforated ulcer at the age of 22 put a two-year stop to that. Admittedly disappointed and depressed, the young man had no idea what to do next. His father, who had a unique parenting style that was about questions and suggestions, said, "Son, may I suggest that you ask a question that empowers you? Is that all you are? - a trumpet player?"
"That changed my life right there," says Thomas, and it would change in a way that no one could have possibly imagined.
Giving up playing trumpet professionally, Thomas was pushed to use his other musical abilities. Before long, he became a Smothers Brothers studio singer. This was the first step on an amazing path spanning many years during which he became a composer, producer, creative director, songwriter, singer and arranger for some of the biggest names in the entertainment industry.
Thomas worked with Quincy Jones for 40 years, and the two remain close. He has also worked with the likes of Barbra Streisand, Diana Ross, Elvis Presley, Whitney Houston, Tina Turner, Billy Joel, Frank Sinatra, Cher, Steven Spielberg, Lucille Ball, Fred Astaire, Bob Hope, Blues Brothers, Lauren Bacall and many more.
Thomas was associate producer and arranger of "We Are The World." He was the Creative Director for Radio City Music Hall, produced several Super Bowl halftime shows, and was a Musical Director and Composer for Siegfried and Roy's Las Vegas shows for 13 years.
Sitting with Thomas over a glass of wine one evening, I asked him what it was like to work with one of the biggest names that ever was or will be in music history - Michael Jackson. Throughout Jackson's 39-year career, Thomas was his main vocal arranger and also wrote She's Out of My Life.
"He was so pure; he did not belong in this world," offered Thomas softly, his deep love and respect for the beautiful soul that was "Michael" radiating and palpable in every syllable.
Thomas is an incredible storyteller; I love listening to him speak about his family, most especially his parents, his grandparents and his upbringing. Every word resonates with joy and gratitude about who these people were and how they impacted his life so positively and so powerfully.
"My dad always said, 'Your talent is a gift from God. What you do with it is your gift to God.'" A beautiful sentiment that Thomas has obviously taken to heart, sharing a long list of talents with the world in a variety of ways throughout his life.
Adding author and mentor to that list, this lovely man, this beautiful Spirit, Tommy, is the epitome of humility. With such a distinguished career, it would be easy for him to see himself as above those of us who have not hobnobbed with the kinds of colleagues, clients and friends that he has. Yet he does not. He has a heart of gold; he is a kind and compassionate spirit, and I must add that he gives the best hugs on the planet.
"We live to serve others," offers Thomas quietly, adding that this means not getting tied up in Ego and labels.
Clearly, this gentle man, this extraordinarily creative being, this gifted spirit took those words to heart. There is no room in his life for Ego. Thank heaven he was raised in an environment that encouraged him to explore the depths of his abilities, his passions, and his soul and that he has chosen to share them to easily and so generously with the world.
What a beautiful blessing and gift to the rest of us.