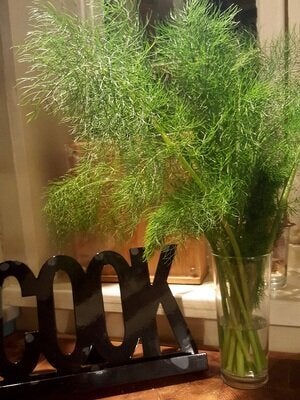 I owe this recipe to Diana Henry because when I was seeking inspiration in her book Bird In The Hand I found a passing reference to roasting chicken with chorizo and fennel.
Not so much a recipe as an idea and an extremely good one.
I'm not sure how Diana made hers but this is my interpretation. We ate it with a green salad and very good it was too.
I like its simplicity but if you want to make it more of a one-pot dish you could throw in some sliced, par-boiled potatoes at the beginning and a handful of cherry tomatoes halfway through.
I used baby fennel from the garden but I'm assuming you'll be using bigger bulbs and have written the recipe accordingly.
Chicken with Fennel and Chorizo (serves 2)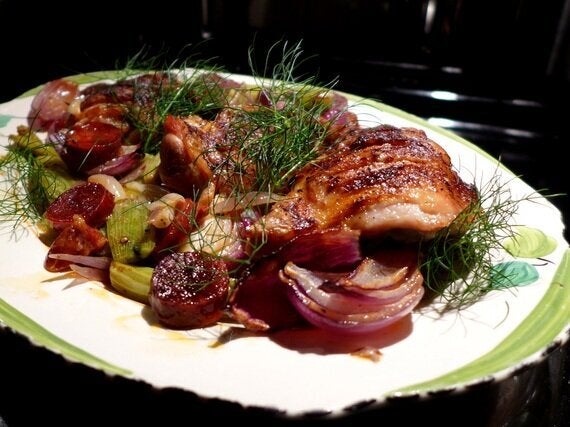 1-2 chicken thighs per person, bone in, skin on
About 60g spicy chorizo, sliced
1 tspn sweet Spanish paprika
A splash of sherry or white wine to de-glaze the pan
Fennel fronds, to garnish
Pre-heat the oven to 200C/400F/Gas Mark 6.
Slash the chicken thighs with a sharp knife, not too deep, and drizzle with oil. Sprinkle with paprika and set aside for a couple of hours if you have time.
Top and tail the fennel, reserving any fronds, and discard the tough outer leaves. Quarter the bulbs and cut out the hard core. Steam until almost tender but still al dente and drain thoroughly. Peel the onions and cut into quarters or thick wedges.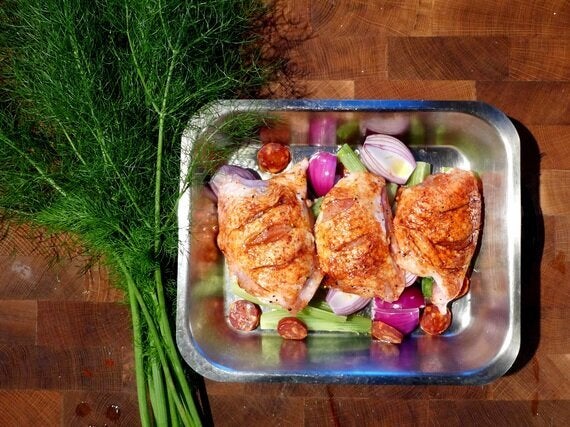 Put the vegetables and sliced chorizo in the base of a roasting tin and drizzle with a little oil. Season the chicken on both sides with salt and pepper and sit it on top, brushing more it with more oil.
Roast in the oven for around 40 minutes, or until the juices run clear when you poke a knife into the thickest part of the meat. Remove to a warm platter, skim off the excess oil and de-glaze the pan with a splash of dry sherry or white wine. Garnish with fennel fronds and serve with the juices drizzled over.