Much as I love Christmas, it can be arduous enough without chaining yourself to the stove while all your friends and family are whooping it up with the mulled wine and cheap cava.
So I've kept these recipes for party snacks and nibbles as quick and easy as possible.
I lay no claim to daintiness and sophistication here, but if you back up these munchies with some crispy roast potatoes, a big dish of chipolatas and some bowls of garlicky yoghurt and sweet chilli sauces, I pretty much guarantee your guests will fall on the food with cries of joy.
You can do most of the preparation in advance, leaving you more time to party.
Goats' Cheese Truffles with Pistachio and Thyme (makes 25-30)
These are incredibly simple but look attractive with their green and purple pistachio coating. They're quite rich so a little goes a long way.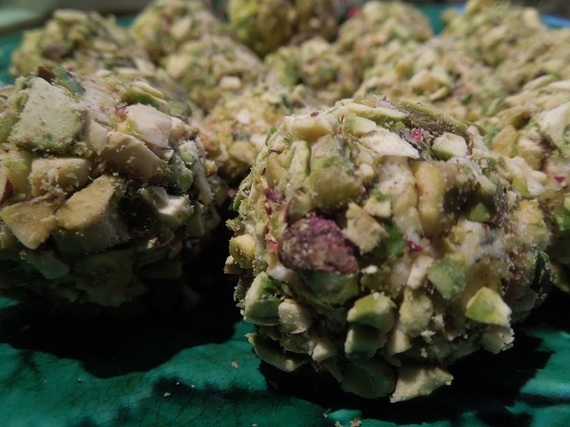 Ingredients:
300g soft goats' cheese, softened at room temperature and mashed
100g pistachio nuts, chopped
A handful of fresh thyme leaves, picked and chopped
Salt and pepper
Method:
Put the cheese in a bowl and mash it up with a fork.
Add the thyme leaves, mix well and season with a little salt and freshly ground pepper.
Chop the pistachio nuts - you want most of them finely chopped with a scattering of bigger crumbs.
Form the cheese into small marble-sized balls about 1.5 cm across then roll in the pistachio crumbs until coated all over.
Firm up in the fridge but take them out half an hour before you want to serve them.
Sausage Pinwheels (makes around 24)
A good-looking and tasty alternative to the ubiquitous sausage roll. If you'd prefer a vegetarian option, replace the sausage meat with a good quality pesto and scatter with extra grated Parmesan before rolling up.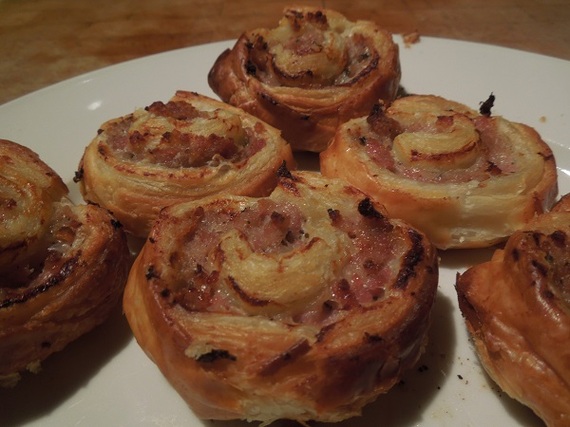 Ingredients:
1 sheet of ready-rolled puff pastry
10-12 good quality pork sausages
Beaten egg to glaze
Method:
Preheat the oven to 400F/200C/Gas Mark 6.
Skin the sausages and mash the meat together with a fork.
Unroll the pastry and cut into two rectangles.
Put a layer of sausage meat on each rectangle, leaving a 2.5 cm line uncovered on one long edge. Brush this edge with water or egg glaze.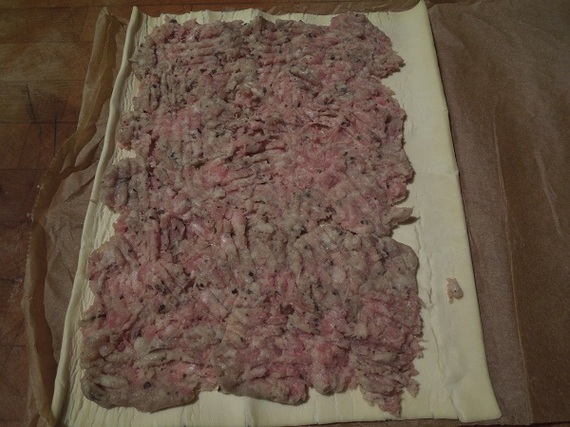 Starting at the opposite end, roll up the pastry carefully and evenly, ending at the wetted edge. Roll it over to seal.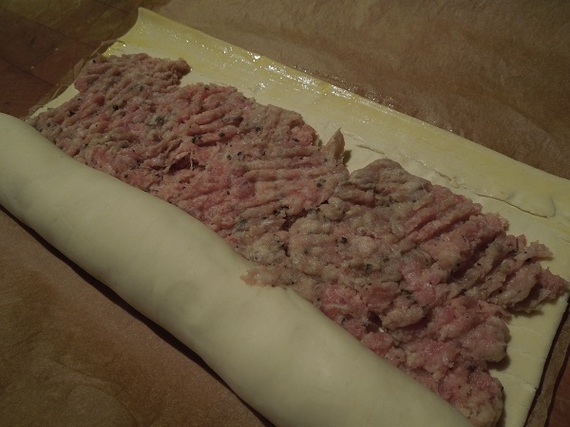 Brush all over with egg wash then slice into pinwheels 2.5 cm thick.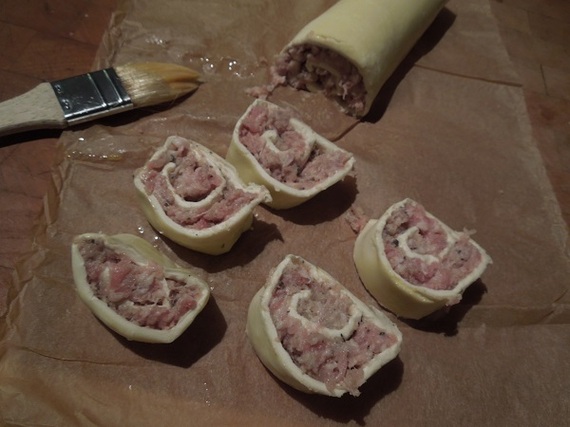 Place on a greased baking tray, spacing them a little apart and cook for about 20 minutes, or until the pastry is golden and crisp and the sausage meat is cooked through.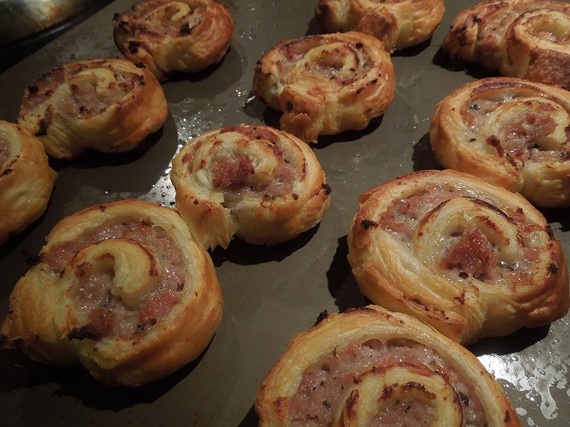 Mini Lamb Burgers (makes 45 patties)
Speckled with green and singing with fresh herbs, these are mouthfuls of lamby loveliness. In the unlikely event that you have any left over, they're great stuffed into a wrap with some sauce and salad for a quick lunch or supper.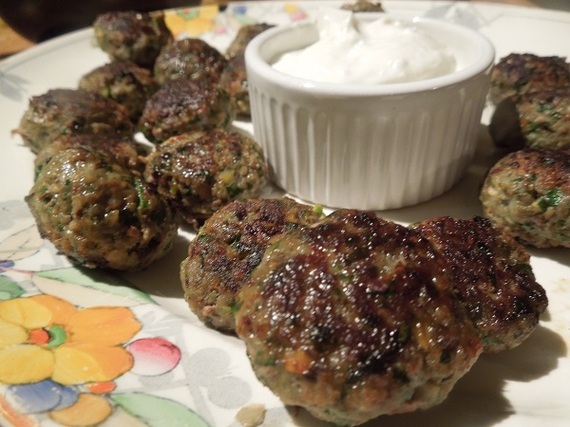 Ingredients:
500g minced lamb shoulder
1 large onion, grated
1 large bunch coriander (about 40g), finely chopped
1 small bunch mint, finely chopped
2 tspn ground cumin
2 tspn ground coriander
2 tbsp chopped pistachio nuts (optional - I had some left after making the cheese truffles)
Salt and pepper
Method: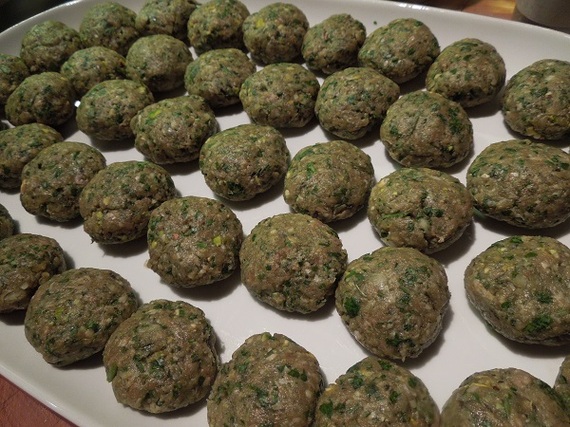 Mix all of the ingredients together, form into small patties about 3cm across and chill.
Just before you want to eat them, heat some oil in a frying pan and fry in batches until nicely browned on each side but still a bit pink in the middle.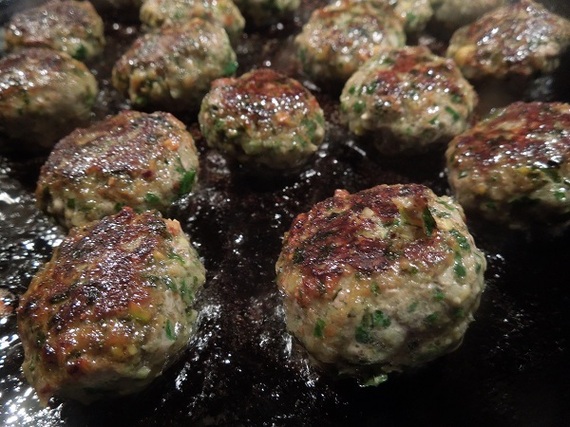 Blot on kitchen paper and serve with a garlicky yoghurt sauce.
Cheese and Leek Tartlets (makes 24 small tarts)
These intensely flavoured and more-ish tartlets from my sister in law Sarah are like mini quiches, minus the cream.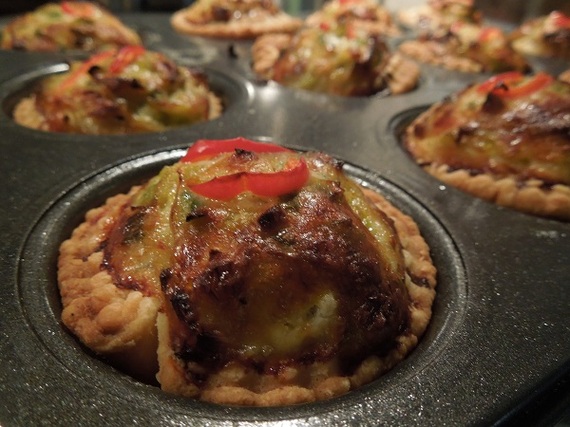 Ingredients:
2 sheets of ready-rolled pastry (puff or shortcrust)
4 large leeks
2 0z butter
3 oz grated Cheddar (I used Cheddar and Comté)
3 oz grated Parmesan
2 beaten eggs
Small bundle of chives, snipped
Slivers of red pepper to garnish
Method: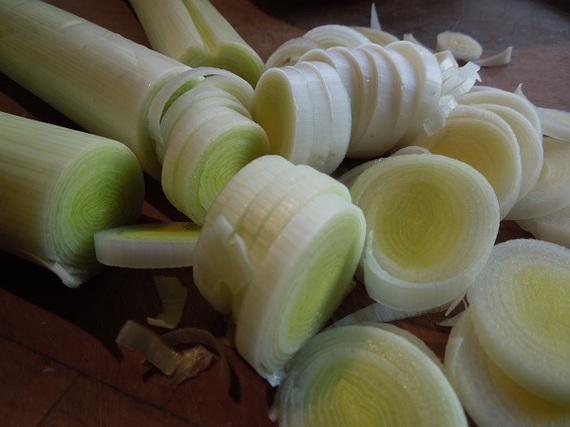 Preheat oven to 400F/200C/Gas Mark six. Place a baking tray in to heat up.
Slice the leeks into rounds as finely as possible.
Melt the butter into a deep frying pan and sweat the leeks gently until they're soft but uncoloured and still have a little bite.
Put them in a bowl and add the cheeses. Season with salt and pepper. Beat in the eggs and stir in the chives.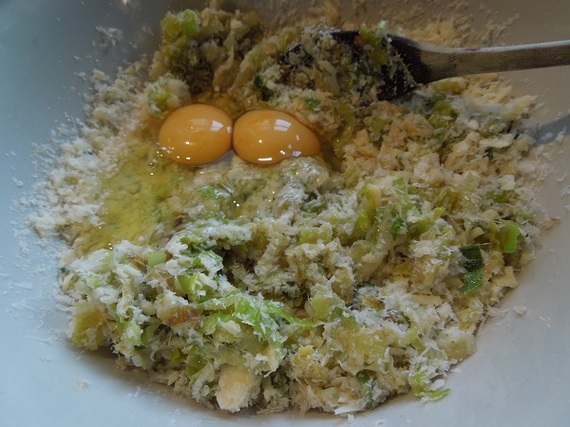 Cut out the pastry to fit two trays of small patty tins. Fill the tarts, garnish with a strip or two of pepper and place in the oven on the heated baking tray.
Bake for 15-20 minutes, or until the pastry is cooked and golden. Merry Christmas!