The salad drawer is stuffed, the neighbours are avoiding me and Him Outdoors is mumbling about trip hazards on the garden path. Even the hens have developed an aversion. Yes, the courgettes are running amok again.
H.O. points out that if we grew fewer plants we wouldn't have a problem. But I always worry that if we only plant a couple, the slugs will eat them and - shock! horror! - I would have to buy my courgettes. So I'm always on the look-out for recipes to use the surplus.
This courgette tarte tatin makes a tasty and substantial vegetarian meal for at least four people. It only needs a salad on the side, though of course you can serve it with meat or fish if you want to.
You'll need a pan about 24 cm in diameter. If you can source both green and yellow courgettes to alternate the circles, it looks rather pretty.
Courgette Tarte Tatin (serves 4-6)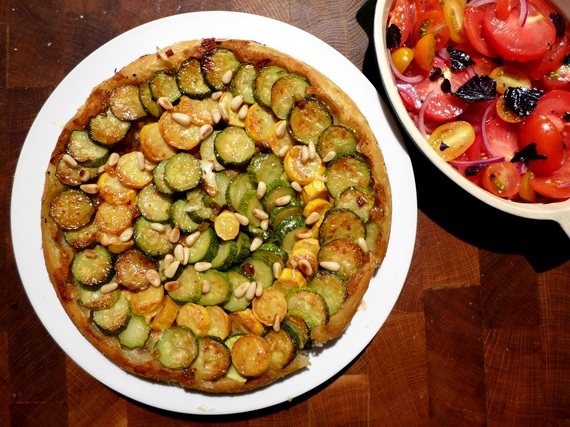 Ingredients:
Ingredients:
2-3 tbsp olive oil
1 large or 2 small onions, peeled and chopped
4-6 small courgettes (about 400g in total), sliced into thick pennies
1 tbsp fresh thyme leaves
Salt and freshly ground black pepper
About 120g cheese, diced (I used a lightly smoked sheeps' cheese but a hard goats' cheese would work, or try a crumbled caerphilly)
1 sheet of all-butter puff pastry
Small handful of toasted pine nuts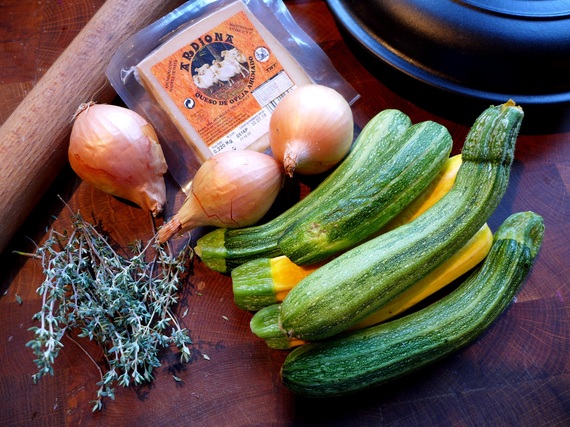 Method:
Pre-heat the oven to 200C/400F/Gas Mark 6.
Heat the oil in the pan and gently fry the onions until soft and golden. Season with salt and pepper, add the thyme leaves and remove from the pan with a slotted spoon. Set aside.
In the remaining oil, cook the courgette slices, in batches if necessary, adding a little more oil if necessary. When they're just softened, remove from the heat and scoop onto a plate.
Make sure the pan is well-greased, including the sides, then once the courgettes are cool enough to handle, put them back in the pan, arranged in overlapping concentric circles. Grind over a little salt and pepper.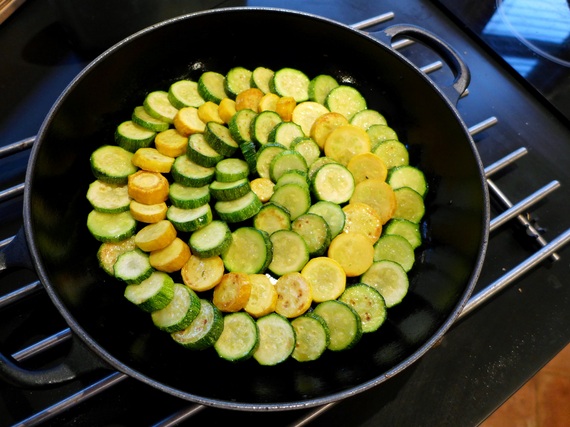 Scatter the onions evenly over the courgettes and top with the cheese. Try not to get any of the cheese in contact with the base of the pan or you will struggle to turn out your tart.
Roll out the puff pastry until you can cut a circle a little larger than the diameter of the pan. Place it over the vegetables and cheese, tucking the edges down and around. Prick with a fork. Bake for about 25-30 minutes or until cooked and golden.
Remove from the oven and allow to cool for about 5-10 minutes, but it'll be easier to turn out while it's still hot. Run a knife gently around the edges then, using oven gloves or a thick cloth, put a serving plate over the pan and invert it.
If any courgette sticks to the pan, just tuck it back in place. Scatter with toasted pine nuts and serve.