Editor's note: As I'm sure you're all well aware, the end of days is here: KFC has been forced to close two-thirds of its restaurants after running out of chicken.
This chicken shortage has not only seen KFC employees going to local butchers' to buy supplies but has resulted in people contacting their local police in an attempt to find a solution to this absolute emergency.
If, like most of Twitter, you are freaking out about how to get your fried chicken fix, fear not. HuffPost UK blogger Linda Duffin has a recipe for Southern Fried Chicken that will have you saying, 'KFC? Never heard of it mate'.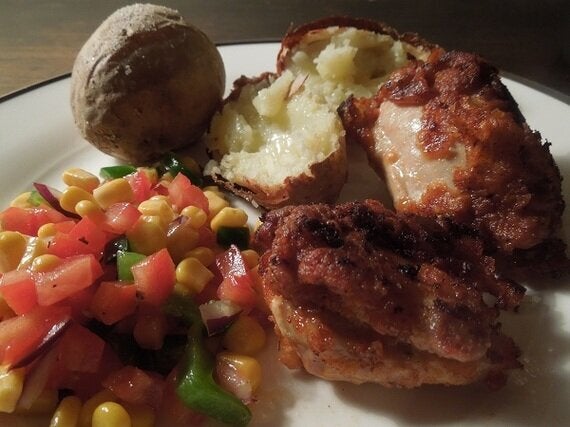 There are nearly as many recipes for fried chicken as there are cooks. Marinated in buttermilk or not at all. Skin on and skin off. Coated in flour, dunked in breadcrumbs or (heaven forfend) crumbled cornflakes. Deep fried, shallow fried, oven baked or a combination thereof.
I've tried various versions and this is the one I like the best. It's crispy outside, moist inside and smells so good the kitten tried to nick it off our plates. Armed with that resounding vote of confidence I offer it up as the latest in my occasional series on edible fast food cooked at home.
It may sound weird to put a lid on the pan when you're shallow frying but it gives good results in terms of speed and juiciness (a method for which I thank Laurie Colwin).
So give the gurning American military gent a miss and try cooking this at home.
Southern Fried Chicken (serves 4)
This is never going to be a diet dish but to reduce the overall fat content you can take the skin off the chicken. Cook it on the bone for maximum flavour, although I confess I used boned thighs here.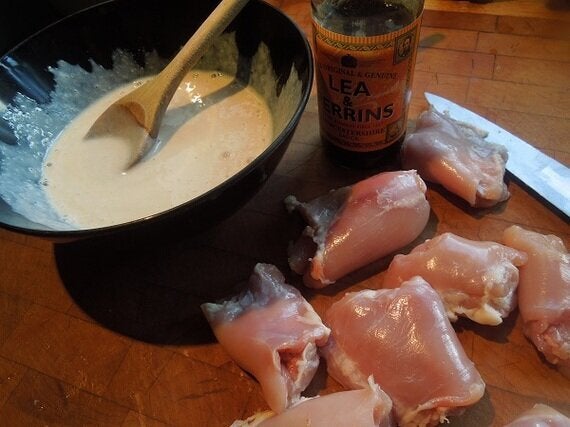 1 tbsp Worcestershire sauce
8 pieces of free-range chicken (drumsticks and/or thighs)
½ tsp freshly ground black pepper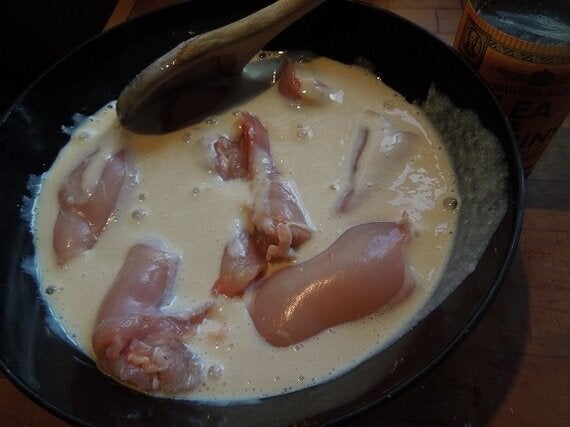 Mix the Worcestershire sauce into the buttermilk in a bowl with a teaspoon of the salt. Add the chicken and make sure it's submerged. Cover and put in the fridge for anything from 2-8 hours. If you're in a hurry you can dunk the chicken in the mix just before flouring. You'll lose some of the tanginess and juiciness but it'll still taste good.
Remove the chicken from the fridge half an hour before you want to eat to get it back to room temperature.
Put the flour into a large flat dish and add the remaining salt, the black pepper, paprika and cayenne and the oregano. Stir well to mix.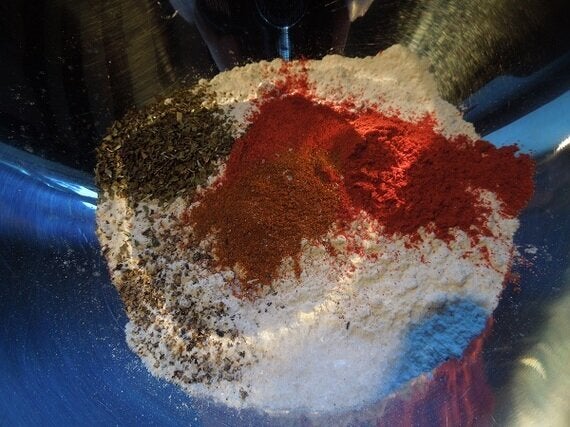 Remove the chicken from the buttermilk, give each joint a good shake to remove most of the marinade then dunk them a piece at a time in the seasoned flour to coat thoroughly. Remove with tongs and put onto a plate.
Heat 1.5 cm of oil in a large, deep frying pan with a lid until it's hot enough to brown a cube of bread almost immediately (about 170C).
Put the chicken in one layer in the pan (you may have to do this in batches) and put the lid on. Turn the heat down low and simmer for six minutes, then turn the chicken over, trying not to dislodge the coating, cover again and cook for a further six minutes.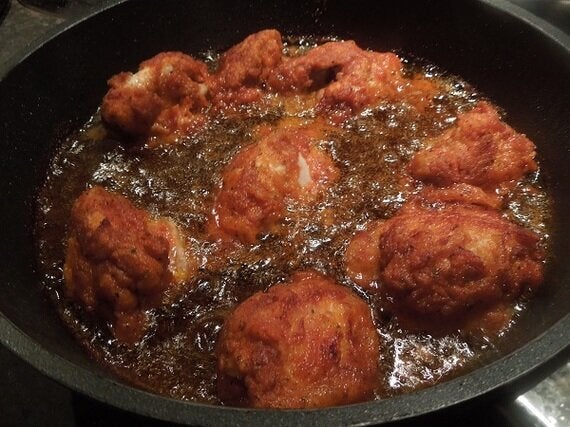 Take the lid off, turn the heat up and fry until the chicken is a deep golden brown all over. Drain on a rack above kitchen paper and allow to cool slightly before eating.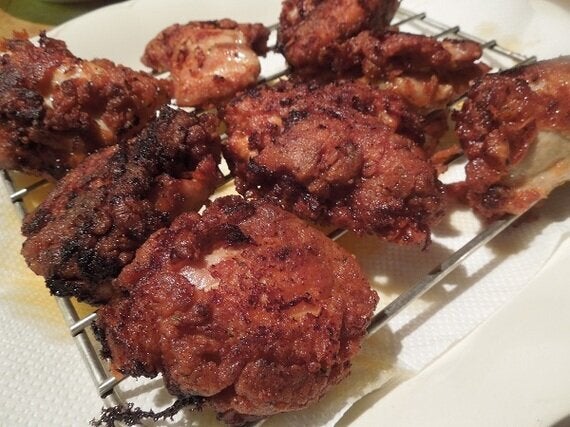 Try it with baked potatoes and this fresh and easy sweetcorn salad. Just mix together the following ingredients and dress with a drizzle of olive oil, a teaspoon of cider vinegar, salt, pepper and a pinch of sugar:
Sweetcorn Salad (serves 4)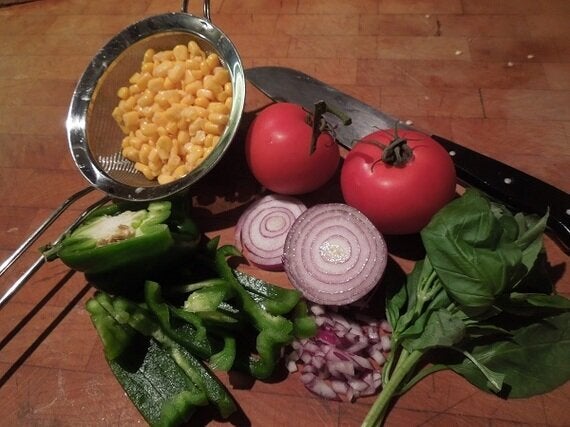 1 x 300g tin of sweetcorn
1 red or green pepper, deseeded and chopped to the size of the corn kernels
3 tomatoes, deseeded and chopped as before
1/4 small red onion (optional), finely chopped
2 sprigs of basil, leaves plucked and torn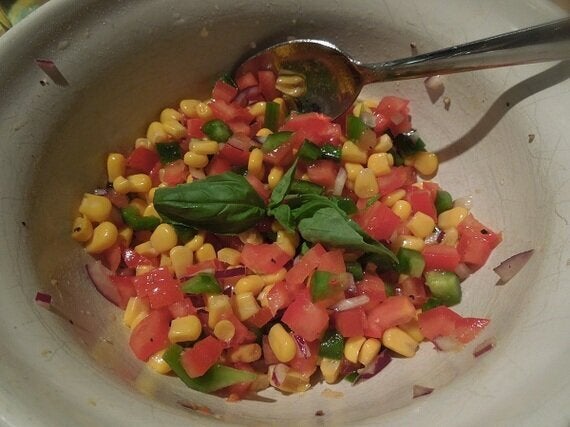 You can find earlier recipes in the fast food series - and lots of slow food - at Mrs Portly's Kitchen.