This recipe was inspired by our niece Fran, a multi-talented woman who works in the Caribbean doing everything from teaching scuba diving to being a sous chef and crew member on luxury yachts. On a recent visit back home she was telling me about a way to make easy onion and goat's cheese tarts using red onion marmalade as the filling.
I was intrigued but felt the result might be too sweet for my taste, so I came up with these. They take rather longer but I think they're worth the effort. As onions are sweet anyway when cooked, you can skip the onion marmalade component altogether if you prefer, but I like the way the flavours combine.
I used a muffin tin. If you're using bigger individual tartlet tins, you may want to up the quantity of onions to six. The remaining ingredients stay the same, although you will probably need another half sheet of pastry.
Goat's Cheese and Red Onion Tarts (makes 6 individual tarts)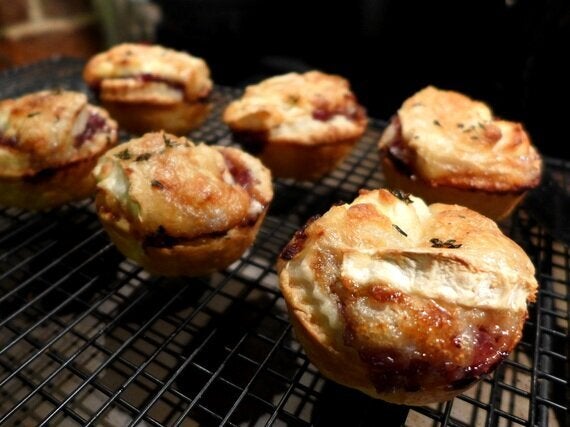 4 medium red onions (about 400g), peeled and sliced into very thin half moons
2 tbsp red onion marmalade (optional)
2-3 tbsp red wine vinegar
A few sprigs of fresh thyme
Salt and freshly ground black pepper
1 sheet ready-rolled puff pastry
6 slices of goat's cheese log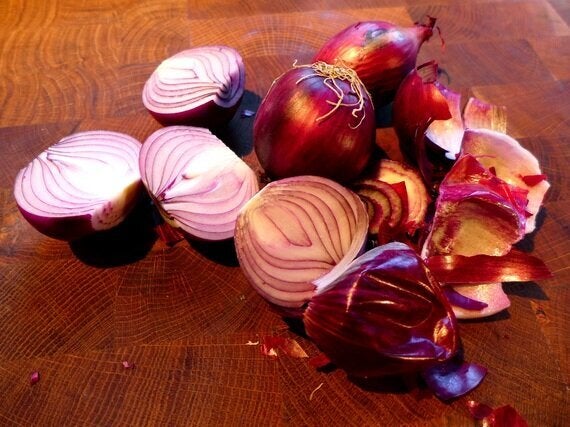 Pre-heat the oven to 220C/425F/Gas Mark 7. Put in a baking sheet to heat up. Lightly oil six small tart tins.
Cut six discs of pastry to fit the tart tins and pop in the fridge to chill.
Melt the butter and oil together in a deep frying pan and very gently fry the onions until soft but not browned. This will take at least 20-30 minutes.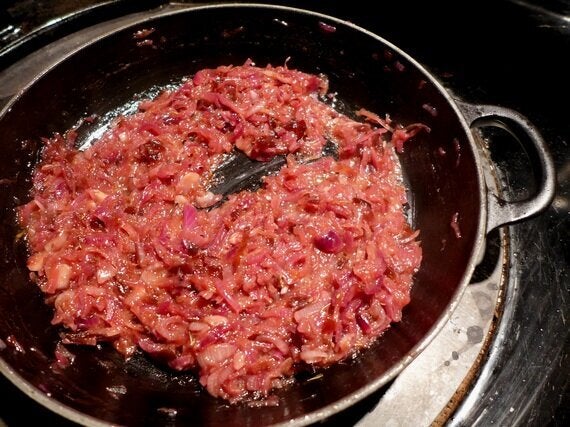 Season to taste with salt and pepper and stir in the red onion marmalade, a teaspoon of thyme leaves picked from the stems and the red wine vinegar. Continue to cook gently until all the liquid has evaporated.
Cool for 10 minutes and then spoon into the prepared tart cases. Top with the goat's cheese and sprinkle over a few more thyme leaves.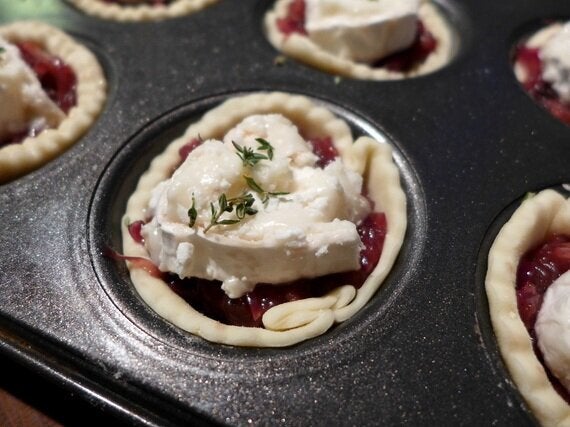 Bake for 15-20 minutes or until the pastry is puffed and golden and the cheese has melted and browned. Remove from the oven, cool for five minutes in the tin, then remove and eat warm or cold.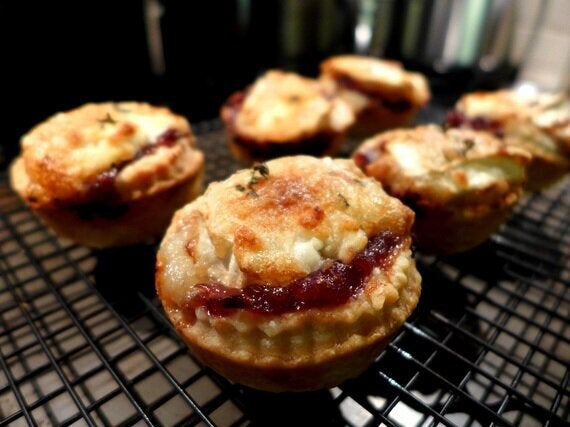 Related