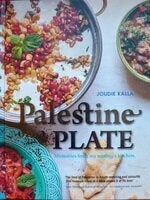 Diana Henry, putting this cookery book in her Autumn 2016 Top 15, described Joudi Kalla as a 'new voice'. This is indeed Joudi's first book, although fans of her late-lamented London restaurant, Baity Kitchen, will be familiar with her food and are probably still crying quietly into their falafel following its closure.
Joudie (pictured below, copyright Justin De Souza) trained at Leith's and in her 16 years as a chef has worked at such restaurants as Pengelley's, Daphne's and Papillon. She now runs her own private catering company.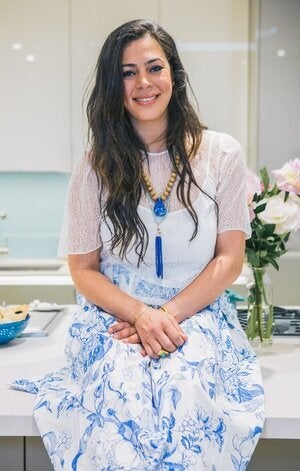 Though born in Syria and brought up in London from the age of four, her heritage is Palestinian to the core. The lavishly illustrated Palestine On A Plate, published by Jacqui Small, is a love letter to the ancestral home she has not so far been allowed to visit (because of the difficulties of accessing Palestine via Israel) and to the mother and grandmothers whose recipes feature here.
Middle Eastern food has been centre stage on the culinary scene for some years, thanks in large part to Yotam Ottolenghi and Sami Tamimi, but this book is about Palestinian home cooking.
Some of the recipes are uniquely Palestinian, others are influenced by different Middle Eastern cuisines. I chose to make mashbous (Joudie's Auntie Noha's recipe), a spiced chicken rice which originates in the Gulf but has been adopted by Palestinian cooks.
It is flavoured with dried limes, which look deeply unprepossessing but impart the most wonderful flavour to the dish. You can buy them in Middle Eastern food stores and online.
I have now cooked this twice and it is delicious. The kitchen was full of fabulous smells and my guests were sniffing the air with hungry expectation as they came in.
My only caveat, with all due respect to Joudie's much greater knowledge, is that I felt two tablespoons of salt (not a misprint, I checked) was too much. I'm not a member of the salt police, far from it, but I only used two teaspoons second time around. In other changes to the original recipe below, I poured off half the fat after cooking the chicken, pre-soaked the rice for half an hour, covered it while cooking and rested it for 10 minutes afterwards.
I also cooked Joudie's Kufta Bil Tahineh (minced lamb kufta with tangy tahini sauce), a simple but unusual and really tasty dish, and her pitta bread. Conversely, this doesn't contain salt and I felt it could do with some. I haven't yet had time to try the vegetarian, fish and dessert recipes (the honey dumplings look amazing) but I'll certainly be returning to this book. For the record, I paid full retail price for it, but use this recipe with permission.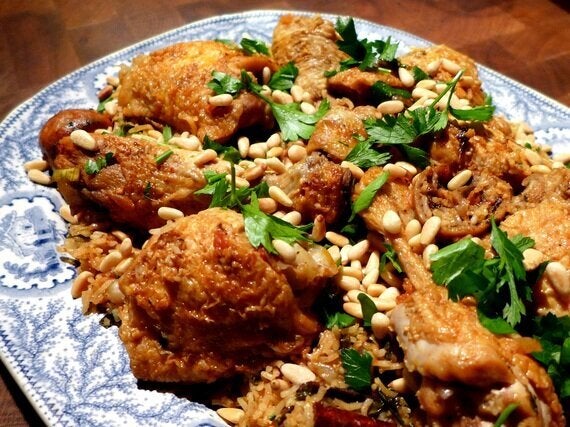 1 whole chicken, cut into 6-8 pieces, skin on
1 whole head of garlic, cloves crushed
5 loomi (dried limes), pierced
1 thumb-sized piece of fresh ginger, peeled and chopped
1 tspn ground black pepper
A large bunch of fresh coriander, leaves roughly chopped
A large bunch of fresh flat-leaf parsley, leaves roughly chopped
50g toasted pine nuts, to garnish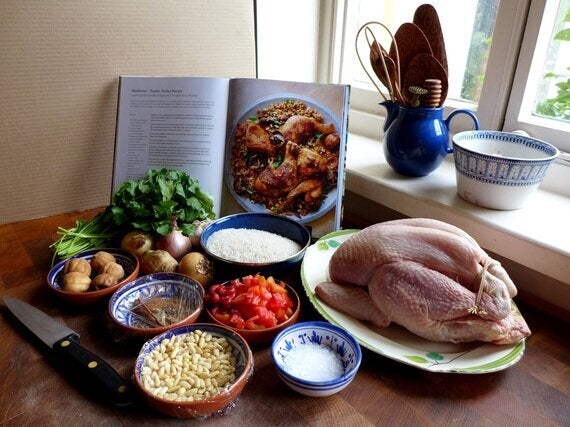 Heat the oil in a saucepan over a high heat. Add the chicken, skin side down, and cook until browned. Use a slotted spoon to remove the chicken pieces and set them aside.
Add the onions to the hot pan and sauté for 5 minutes until softened. Add all the remaining ingredients, except the water, rice and herbs, and stir to release all the flavours. Cook, stirring, for about 5 minutes.
Return the chicken to the pan, cover with the water and leave to cook for about 20-30 minutes.
Once the chicken is cooked through, use a slotted spoon to remove it from the pan and set aside, keeping it warm.
Add the rice to the pan - scoop out some stock if it looks like you have too much in the pan; you will need enough to cover the rice by just a knuckle's depth. Add the chopped coriander and parsley and stir through. Set over a medium-low heat and cook for about 2 minutes.
When the rice is ready the liquid should have evaporated and been soaked up by the rice. Tip the rice onto a serving platter, top with the chicken and the toasted pine nuts and serve immediately.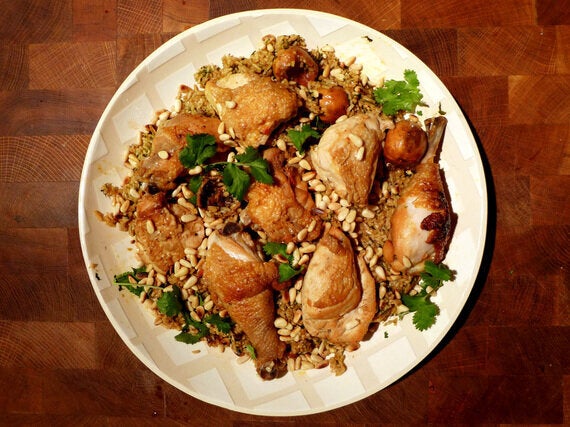 Related