I hope we're far enough away from Christmas for you to tolerate another poultry recipe - I promise you this one is worlds away from roast-turkey-with-all-the-trimmings. I'm a big fan of poaching a whole chicken rather than roasting it, especially if we don't want to eat it all at one meal. It is an economical method of cooking but you also end up with beautifully moist, delicately flavoured meat.
The recipe below will serve four to six people but as I was cooking for two, I had enough left over to make a big chicken and mushroom pie (like this one but with more mushrooms and no leeks). And there was lots of broth to make either a laksa or a chicken and sweetcorn soup for another day.
This was Meal Number One: we ate it with baby potatoes, spiced carrots and a tarragon cream, all gentle flavours. If you want something more pokey you could serve the chicken with a stingingly garlicky aioli instead or with harissa for a chilli kick.
Poached Chicken with Tarragon Cream (serves 4-6)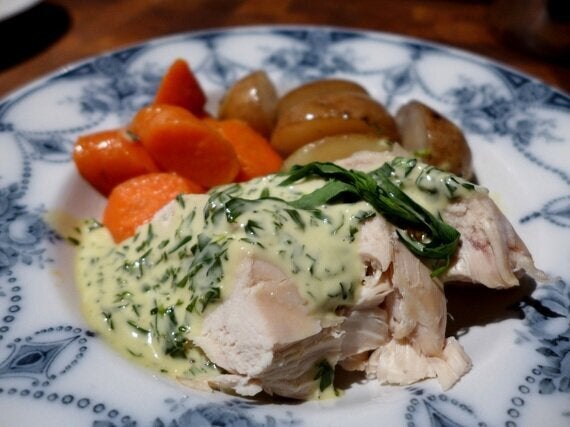 If you make this for more than four, I suggest you increase the quantity of sauce
1 chicken, 1.5-2 kilos, preferably free-range
The stalks from 30g fresh tarragon
2 carrots, roughly chopped
2 sticks of celery, roughly chopped
1 onion, peeled and roughly chopped
1 chicken stock cube (optional)
150 ml of the chicken poaching broth
The leaves from the tarragon, chopped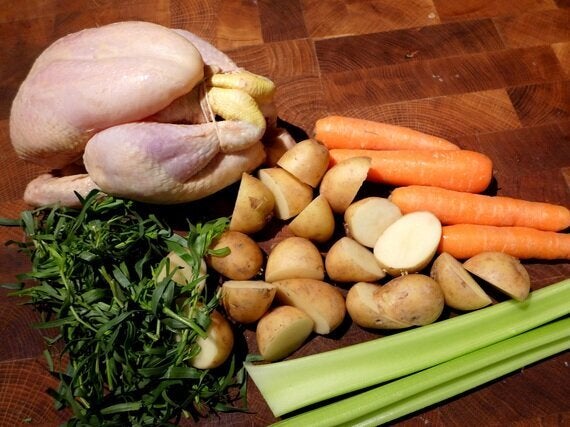 Stuff the bird with the tarragon stalks and bay leaves. Put it in a stock pot big enough to hold the bird and enough water to cover it by about 2.5 cm. Add 1 tspn of salt, the roughly chopped carrots and celery and the peppercorns. Crumble in the stock cube, if using. I find it boosts the flavour without, at this dilution, tasting too packet-y but leave it out if you like.
Bring to the boil and skim off any froth. Put on a lid, turn down to a simmer and cook for about an hour, depending on size, or until the leg bone pulls easily away from the chicken. Once it's done, remove the bird and keep it warm. Strain the stock - you'll need some for the sauce. The rest can be reduced further to make a fabulous chicken broth for another day.
To make the sauce, put the wine in a small pan and reduce until you have just a couple of tablespoons left. Add the chicken broth and reduce by a third. Pour in the cream and reduce again until the mixture has thickened enough to coat the back of a spoon. Stir in the chopped tarragon and season to taste. Portion up the chicken - I prefer to remove the skin - and serve it with the sauce poured over.