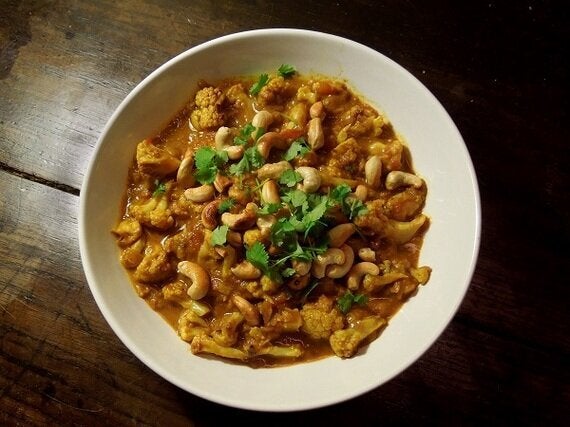 I usually use this sauce for a Goan fish curry but after the meat-filled excesses of Christmas we were craving something different. So I adapted it to use a slightly frostbitten cauli I had sitting shivering in the fridge for a warming, flavour-packed but vegetarian supper. It would also work well with chunks of roasted pumpkin.
The touch of tamarind really lifts the creaminess of this curry and roasting the cauliflower first gives it a nice toasty nuttiness. You can add extra toasted nuts as a garnish: unsalted cashews are good, tossed in a little hot oil until golden.
If you'd prefer to make the curry with fish, just marinade 800g-1kg of any firm fish, cut into pieces, and/or raw, shelled prawns in the juice of half a lime with a pinch of turmeric and another of salt for 30 minutes, then drain and add to the cooked sauce, simmering very gently until the fish turns opaque and the prawns pink - a matter of minutes. Serve immediately.
You can make the sauce ahead of time and keep it in the fridge for up to 24 hours before adding the main ingredients just before you eat.
Goan Cauliflower Curry (serves 4)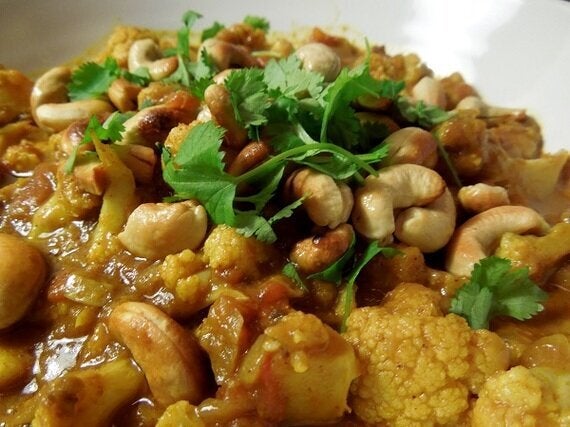 1 large-ish cauliflower, plus oil for roasting
1 good knob of butter and a dash of oil
2 medium onions, peeled and finely chopped
1 medium-hot chilli, de-seeded and finely chopped
1 thumb of fresh ginger, peeled and grated
3 fat cloves of garlic, peeled and finely chopped
1 tspn Kashmiri chilli powder or other mild-to-medium chilli powder
1 tin tomatoes, drained and chopped
A scant 1/2 tspn tamarind concentrate
Fresh coriander to garnish
Toasted cashew nuts, optional, to garnish
Preheat oven to 180C/350F/Gas Mark 4.
Break the cauliflower into bite-sized florets, drizzle with oil and roast in a baking tray for around 20 minutes, until it's tender and tinged with brown. Remove from the oven and set aside.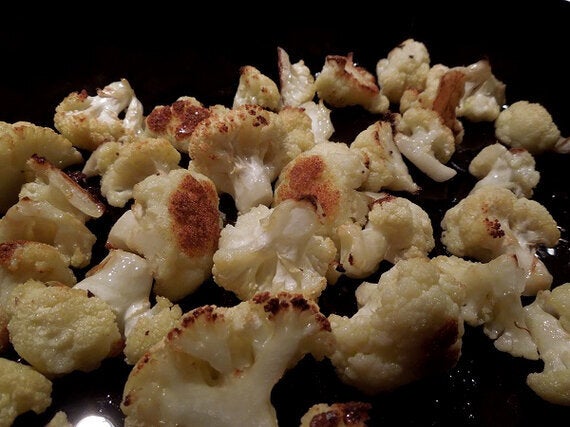 Heat the butter and oil in a deep, heavy pan and sweat the chopped onions very gently for about 20 minutes with a lid on, stirring often, until soft and golden brown.
Add the garlic, ginger and chilli and cook for another couple of minutes. Now add the tomatoes and stir through the tamarind and simmer for another few minutes.
Pour in the coconut milk and simmer until the mixture thickens, around 10-15 minutes, stirring to stop it catching.
Add the roasted cauliflower and heat through. Garnish with fresh coriander and the toasted cashew nuts, if using.