I was lucky enough recently to be given a haunch of venison by my friend and former colleague Keith, aka The Red Chef.
As Keith owns enough weaponry to start World War III, I'm a bit nervous to confess here that I overcooked it lamentably.
It was still delicious but not as rare as I would have liked it. My second effort wasn't much better (I'd resorted to buying the venison by now).
This is No. 3, which also includes an amended version of the original cherry sauce, too sweet for my taste first time around. This time I achieved perfectly pink meat with an intense sweet/sour sauce that complements the venison nicely.
We served it with dauphinoise potatoes and purple sprouting broccoli from the garden.
Roast Venison With Cherries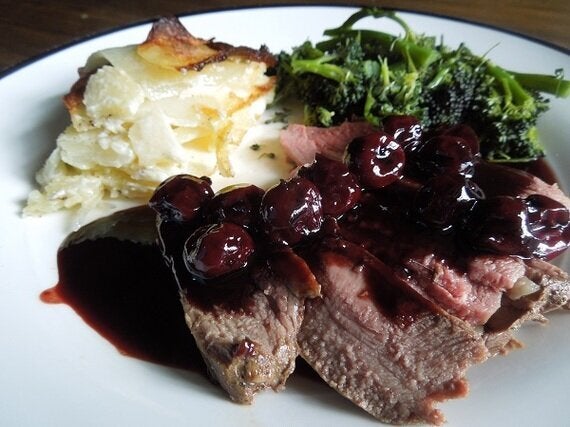 1.5 kg haunch of venison (I used muntjac)
Half a 680g jar of pitted cherries in syrup
Preheat the oven to 425F/220C/Gas Mark 7.
Rub the haunch of venison generously with a salt and then a twist of black pepper.
Heat the fat in a roasting tray and when it is hot, brown the haunch quickly all over.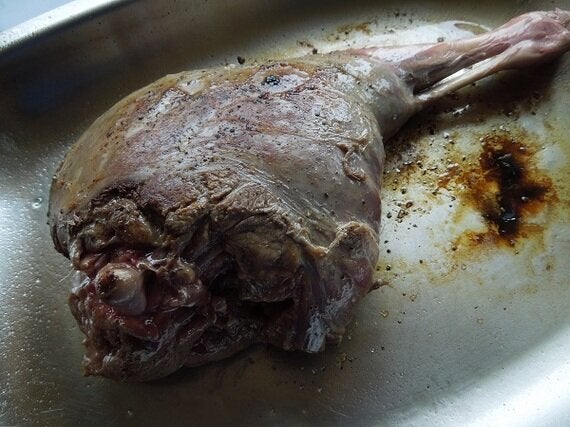 Put it on a rack in a roasting tin, add a good splash of red wine or stock in the base of the pan and cover with foil.
Cook the haunch at 425F/220C /Gas Mark 7 for 20 minutes, then lower the heat to 300F/150C /Gas Mark 2.
The general rule of thumb is to cook it for 10 minutes per 500g if you want the meat rare and for 15 minutes per 500g if you prefer it medium. I cooked ours for 15 minutes per kilo and I would say it was on the rare side of medium-rare. Your oven may vary from mine.
While the meat is cooking, make the sauce.
Put a couple of glasses or red wine into a pan and bring to a medium heat.
Whisk in the vino cotto, add a good slug or two of sloe gin and half the jar of cherries, drained.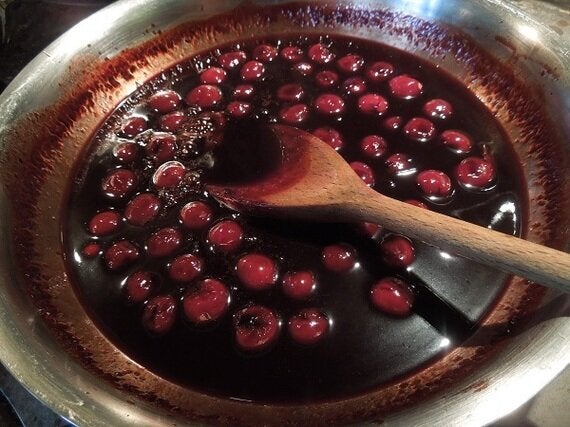 Reduce the sauce, at a simmer, until it has thickened enough to coat the back of a spoon.
Adjust the sweet/sour ratio to taste, set aside and keep warm.
I used home-made vino cotto, a reduced grape must, but if you don't have that I'd suggest using redcurrant jelly in a smaller quantity and thickening the sauce with cornflour mixed with a little water.
When the meat is cooked to your liking, remove it from the oven, cover the tin loosely in foil, wrap it in a towel and rest it for 20-30 minutes before carving.