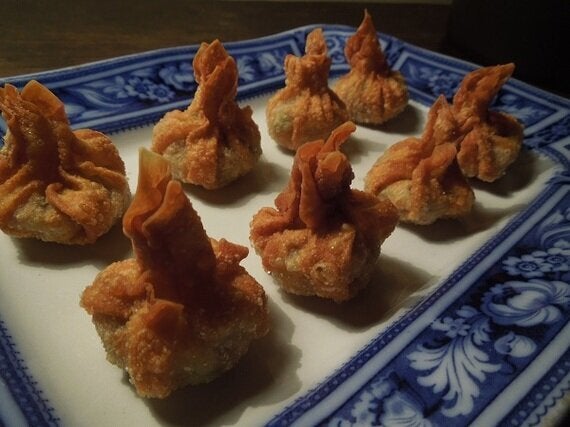 I can happily eat my own body weight in dim sum but usually they're something I'd go to a restaurant for.
Then I made a pleasant but inauthentic Peking Duck (the recipe search continues) and found myself with some leftovers.
The resulting spring rolls were a bit 'meh' but the dumplings were delicious - and versatile. As I'd put the ton into wonton, we ate some the first night simmered in a soup, then next day deep fried the rest to make a crispy snack. Fabulous and really easy.
For the soup, I cooked up the duck carcase to make an intensely flavoured stock. That was the theory anyway but it was a bit weedy so I gave it a flavour boost with some good home-made chicken stock.
Then I mixed the chopped duck meat with Five Spice powder and let the flavours mingle for an hour or two before adding the other stuffing ingredients to make the wontons, based on a Ken Hom recipe.
Leftover wontons can be frozen, assuming you're using fresh prawns, not ones you've previously defrosted.
Wontons and Wonton Soup (makes 36 wontons and soup for 4-6)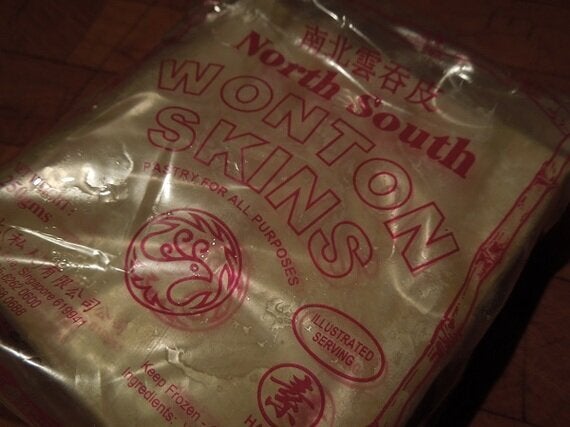 125 g cooked duck, chopped small and mixed with 1 tspn of Five Spice powder
225-250g raw prawns, deveined and coarsely chopped
1 1/2 tspn light soy sauce
2 tbsp finely chopped spring onions
1 tbsp rice wine or dry sherry
1 pack of wonton wrappers (about 200g)
1 litre of duck stock, skimmed of fat
1 tbsp soy sauce (optional - I didn't add any as my duck stock was quite salty)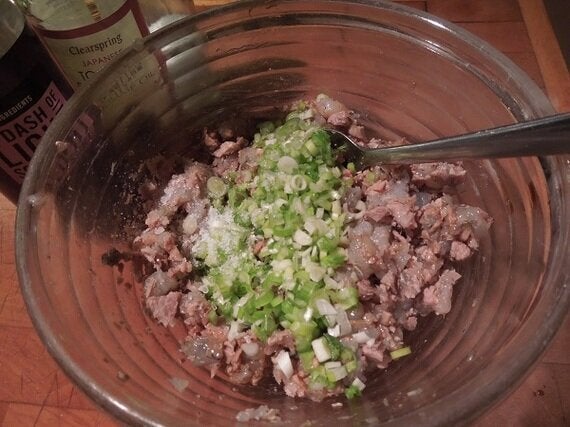 Mix together the stuffing ingredients and chill for at least 20 minutes.
Put a teaspoonful of the filling in the centre of a wonton wrapper.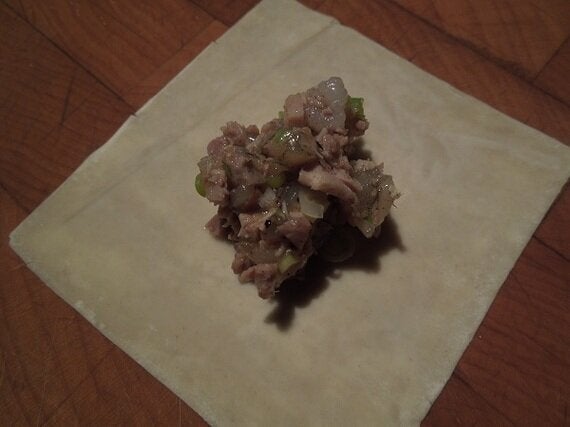 Dampen the edges and bring up the sides around the filling. Pinch the edges at the top to seal so it looks like a little money bag.
Keep going until you've stuffed all your wontons.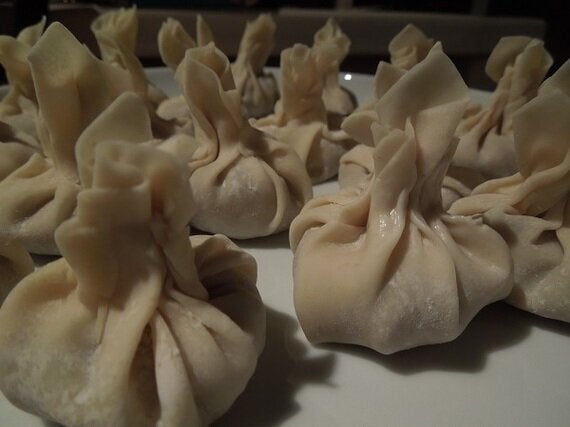 Bring the stock to a simmer, adding the sesame oil and soy sauce if using.
In another pan bring some salted water to the boil and poach the wontons for about a minute or until they float to the top. You may need to do them in batches.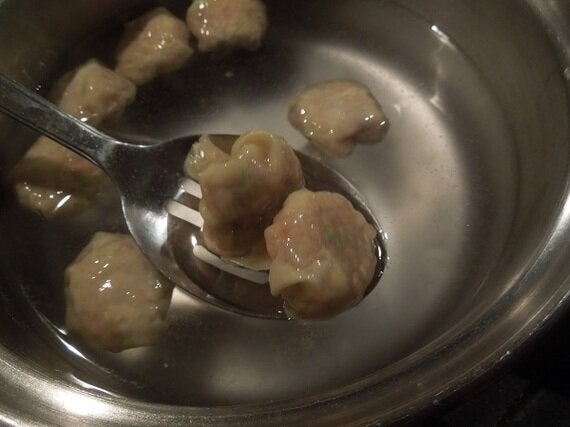 Whip them straight out with a slotted spoon and add them to the pan of simmering stock. Continue to simmer for around two or three minutes or until the wonton looks cooked. You'll be able to see the prawns turning pink through the skins.
Garnish with the chopped spring onions and serve.