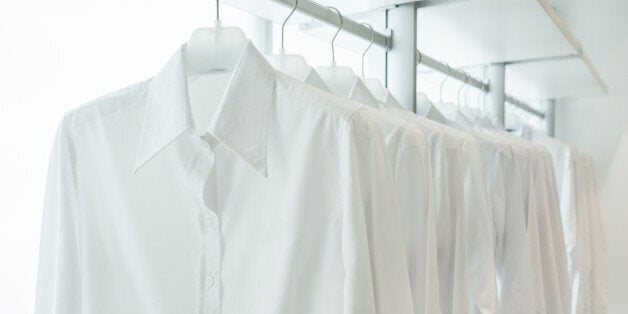 Gucci, GUESS, Zara - what do they all have in common? They all recently launched their own gender-neutral clothing brands. But it isn't just a mere fashion statement - gender-free clothing works in harmony with our own individual lifestyles. As the CEO of GFW Clothing, making sure things are inclusive for everyone is at the very core of my work, values and ethics.
Just because a woman is buying clothing in the men's section, it doesn't always mean she's buying for her male partner or relative. You'd be surprised at how many women shop in that section for themselves simply because they like the styles, patterns or both. But the fit isn't designed for those of us with hips or bigger busts - which is why I think it's so important gender-free clothing is available for everyone.
How many times have you worn a 'men's' shirt, only to have the chest almost burst at the buttons because your bust was too big? How many times has the shirt been the perfect fit for your bust, only to not fasten at the bottom because your hips are apparently too wide? The answer for a lot of women all over the world is 'too many times to count!'
Gender-free clothing isn't a disposable trend like skinny jeans or Ugg boots. It's an answer for people who don't want to wear overly feminine patterns and cuts, because they just don't express the wearer's view of themselves. It's more of a question of 'fit' rather than 'fashion.' The most important aspect of our clothes is that they fit men and women from all backgrounds. Call it 'inclusive clothing,' if you like - gender-free clothes are a way for us to express ourselves without fear of not fitting in, physically and mentally.
Emma Watson, the incredible actress and U.N. Women global ambassador, launched the HeForShe campaign and recently called for gender equality in the fashion industry. She spoke with world-class designers, including Stella McCartney and Bella Freud, on how they can help. Ms Watson commented, "I've seen some very positives steps towards equality, but I'd really love to see a more diverse representation of women and men, in any way that makes them feel empowered."
This statement is of the utmost importance. If people don't feel empowered and they're not represented in the world then it can be so damaging. It's so vital that the fashion industry produces role models for people who prefer gender-free clothing. People need to express themselves so they can be their true selves. For example, I wouldn't feel like my true self in a pretty floral dress. This is nothing to do with sexuality, it's to do with self-expression. I feel at my most confident wearing a well-fitting masculine-style shirt. I feel like 'me.' People who shop for gender-free clothing tend to hold certain values. This includes demonstrating their individuality, breaking society's stereotypes (not all women like pink and fluffy things!) and loving their own body. People from all over the LGBT+ spectrum, including heterosexual people, don't want to conform to gender stereotypes - and they shouldn't have to.
Similarly, there are several campaigns to encourage more inclusion for plus-size models. Again, this is priority because the average size of women in the Western world is 14-16. Evans held the #IAmMe campaign for plus-size women to celebrate diversity. There is also a growing number of plus-size male models - just check out this video!
That also brings us to gender-free clothing aimed at men, we only seem to hear about kilts. Yes, kilts, not even skirts. It seems masculinity is still slightly too fragile to adopt the word 'skirt' confidentially. Years ago a shirt for men would be 'shirt,' whereas a shirt for women would be called 'blouse.' But now we can use the shirt for both genders, regardless of sexuality and gender stereotyping.
Mathew Guiver, of BuzzFeed, wore skirts for a week. He called them skirts but wore them with trousers and jeans. It wasn't until the fifth day in he decided to ditch the trousers and wear the skirt bare-legged. He said, "I'd thought that wearing a skirt with no pants [sic - American English] would make me feel even more awkward and uneasy, but it didn't. Surprisingly the opposite happened. I felt empowered and unique." Mathew also claimed "I was feeling more confident than ever, and the skirt was also super comfortable. Wearing it without a layer of pants underneath was incredibly freeing." The fact he found the skirt comfortable dismisses a lot of myths men have about wearing clothes previously reserved for women. The Vetements Spring 2016 collection demonstrated an array of gender-free designs from men wearing knee-high leather boots and skirts to women wearing masculine suits. But then again, hasn't high fashion always been a little androgynous?
In the past, people have criticised our shirts for being masculine and not exactly gender-free. But the point of GFW is to choose what you want to wear because you like it, not because it's what your gender expects you to wear.
That brings me to the physical part of gender-free clothing. People can't (and shouldn't) be pigeon-holed into Small, Medium and Large sizes. One size definitely doesn't fit all. It's vital that clothing complements the body shape as well as size. At GFW we stock UK sizes 10 to 22 and a choice of three body types: Alex, Billie and Charlie. We want people to wear clothing that actually fits, so they can feel like the best version of themselves. I want to get rid of the feeling where people feel insecure and down about their bodies, all because the clothes are designed to fit a tiny section of the population.
Having 'body templates' readily available to people allows them to choose the right size and shape while keeping their individuality. Your body should never change to fit your clothes, you should change your clothes to fit your body type. Genetics and lifestyle choices such as our career, diet and so on, means we need clothing that adapts to our everyday lives. For example, our Billie shirts don't have breast pockets because, for practical reasons, they just don't work. Imagine trying to put your wallet in the pocket, only to discover it keeps falling out because of your bigger bust. Annoying, I know. So we thought 'Why not just take it out?' That way, we can say gender-free clothing is practical, high quality and takes into consideration the needs of the wearer.
As the famous saying goes, "Wear the clothes, don't let the clothes wear you."
CEO, Gender Free World Ltd T/A GFW Clothing
This February, HuffPost UK Style is running a month-long focus on our Fashion For All campaign, which aims to highlight moments of colour, size, gender and age diversity and disability inclusivity in the fashion and beauty world.
We will be sharing moments of diversity at London Fashion Week with the hashtag #LFW4All and we'd like to invite you to do the same. If you'd like to blog about diversity or get involved, email us here.