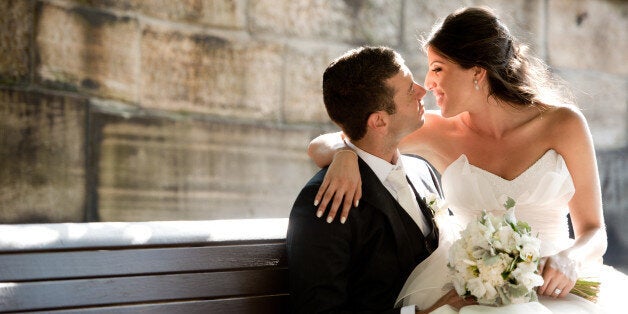 When you think of the word wedding, what image does this conjure up for you?
For me, it's stress, money pressures, anxiety and months of planning that I simply don't have time for. I am just a bitter old cynic? Perhaps, but let me try and explain why...
Of course, I can appreciate that weddings are predominantly about a union, family and two people in love, making a life long commitment to one another. However - and please don't lynch me here - do they really have to be so over the top and costly?
There are numerous studies that tell us how the average UK wedding will set you back around £20,000. Twenty thousand pounds! For one day.
For our millennial generation - already under pressure and overwhelmed with more outgoings and financial commitments than ever before - has the idea of a traditional wedding simply been put to the bottom of the hypothetical 'to do' list?
With more and more of us struggling to get a humble foot on the seemingly unreachable property ladder, that kind of money could well be house deposit instead. Living further away from cities, our workplaces and sharing accommodation, is a traditional wedding day becoming less and less of a priority for us thirty-something folk?
Gone are the days when the brides parents would pay for the whole wedding day. Granted, there are still some people out there with this golden ticket as an option, but for most of us, paying for our big day falls upon our own, burdened shoulders. Not many millennials are in a position to fund a wedding from their own salaries, without the help of a loan or a good few years of saving up our hard earned cash.
Please don't get me confused here. I am talking about a wedding day. The day of celebration - not the subsequent marriage. I'm actually a big believer and fan of marriage. It may not surprise you to learn that my own wedding day will consist of just the two of us eloping to New York City, a very simple ceremony at City Hall to sort out the legalities and the deed will be officially done - all at a fraction of the aforementioned £20,000!
Firstly, I need to talk about the dress. I personally know brides who have spent over £3,500 on their wedding gown. I do appreciate that this particular dress is important. It's the dress that will be immortalised in a thousand different pictures and memories, the pictures you may show your grandchildren one day. With the bride being the main focus of the day, of course they want to look their best.However, does it really warrant that kind of money for something that you will never wear for more than about twelve hours?
Let's put our rational heads on for just a moment. I am not putting blame nor casting any judgement on the people who have dreamed of their wedding day since they were in primary school. You want swans and doves at the ceremony? If that truly makes you happy, then knock yourself out.
I just cannot help but look at a £900 wedding cake and think about whether that money could have been better spent elsewhere. I guess the bottom line is simply priorities, which vary from person to person. Having to choose between spending a five figure sum on one day or investing my limited funds in a more practical way, I'll be doing the latter.
When I began planning my own wedding day, I'd quickly figured out that putting the word 'wedding' onto anything seemed to automatically double the cost. The wedding industry is big bucks and I can see why. The pressure of creating that perfect day means that most brides and grooms to be can quickly get caught up in all the finer details. Vendors are very good at convincing that you have to have a sweet cart, photo booth or whatever other fad craze may be on offer that particular year and before you know it, that's another few thousand pounds gone.
I have also witnessed friends become completely different people on the run up to their own wedding days - and it made me kind of sad. Watching them practically melt over table decorations, agonising for months over themed invites, crash dieting to fit into the dress, almost forgetting about the actual meaning and significance behind the day itself, their future spouses and lifetime of marriage ahead. Why on earth would I want that level of stress on my already demanding lifestyle, for it to all be over and done with within twenty four hours? Thanks but no thanks.