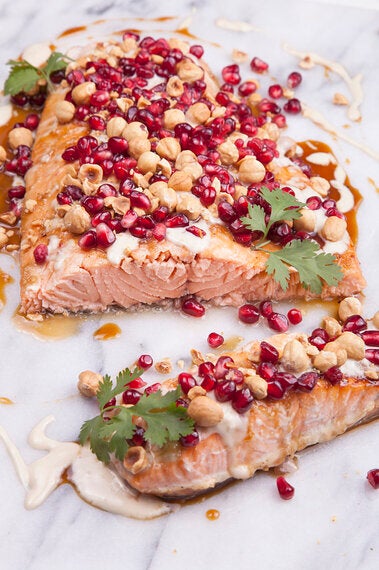 This dish is insanely delicious, each and every mouthful is lip smacking!
2 tbsp. tamari soy sauce (gluten-free)
2 tsp. Japanese rice vinegar
1 tsp. fresh ginger, minced
1-2 garlic cloves, minced (optional)
1 tbsp. sesame seeds, toasted
Preparation time - 30 mins, cooking time - 20 mins
Pre-heat the oven to 400°F, gas mark 4, 200°C (190°C fan-assisted).
Pre-heat the oven, then place the hazelnuts on a baking tray and bake for 16-18 minutes after every 5 minutes shake the tray to move the hazelnuts around to prevent burning, when toasted remove from the oven to cool. When cooled roughly chop the toasted nuts.
In a mixing bowl add the honey, tamari soy sauce, sesame oil, rice vinegar, ginger, garlic, lime juice and cracked pepper.
On a large baking tray line it with foil, (leave excess foil over the sides as you will make a foil parcel) in the middle of the tray place a large piece of parchment paper to sit under the salmon. Place the salmon onto the parchment paper skin side down. Spoon the Asian marinade. Carefully pick up the sides of the foil and scrunch up the ends and pinch the middle together. Bake in the preheated over for 16 minutes, remove from the oven, open the foil and fold over the edges to prevent the paper burning, and place under the grill for 4 minutes. Remove from the oven, pour any excess juice into a saucepan, and reduce slightly over a medium heat. Place the salmon on a serving platter, sprinkle with toasted sesame seeds, and leave to cool.
To make the tahini dressing, in a small bowl, mix together the tahini and water and whisk together with a fork until it creates a smooth paste, the longer you stir, the creamer it is. Add in the lemon juice and continue stirring, then add in the herbamare and mix together, check for seasoning and add more if needed. Add in the garlic and mix into the tahini dressing. If you would like a looser dressing, add a touch more water.
When the salmon has cooled, generously drizzle over some tahini dressing, then sprinkle the hazelnuts and pomegranate seeds over the salmon. Drizzle a touch of the reduced Asian marinade; add a few sprigs of coriander. Serve the extra tahini sauce on the side.
LISA'S TIP - This dish is delicious served either warm or room temperature. If your hosting a buffet style meal, its best to dress the salmon, when the salmon has completely cooled. I love to serve this dish in the middle of the table, with a large bowl filled with lettuce leaves (ideally romaine or whole lettuce), perfect to fill lettuce leaves with this succulent salmon and the flavours in the sauce are mouth watering. It's a vibrant dish full of flavour and freshness with an abundance of health properties.