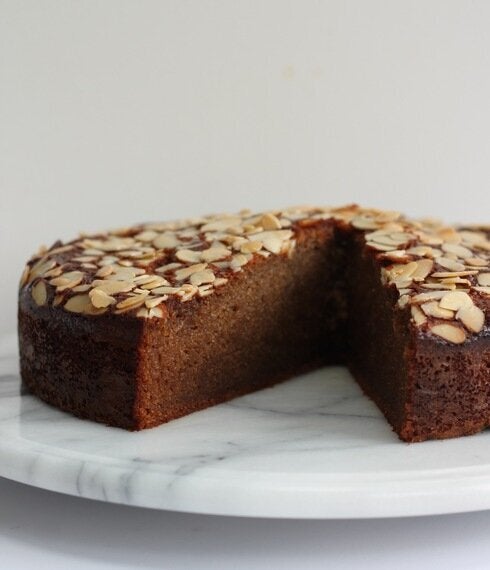 Nourishing and delicious, fortified with minerals and antioxidants from the buckwheat flour, making this cake gluten-free and heavenly!
200g coconut sugar or (soft light brown sugar)
200g honey, light and mild
250ml sunflower oil or rapeseed oil
2 tsp. baking powder (I suggest Doves Farm gluten-free)
1 tsp. bicarbonate of soda
1 tsp. vanilla bean paste, or 1 vanilla bean pod deseeded
2 tbsp. red wine or (kosher kiddush wine - Palwins No.10)
2 tbsp. honey, light and mild
Preparation time - 40 mins, cooking time - 1 hour, cooling time - 1 hour
Pre-heat the oven to 350°F, gas mark 4, 180°C (160°C fan-assisted).
Pre-line either a 9inch (24cm) spring form baking tin, with parchment paper or cake liner.
Place a saucepan on the stove and warm together the coconut sugar, honey, water, and oil until smooth over a gentle heat, and then remove from the heat.
Crack the eggs into a bowl and add in the vanilla bean paste and beat together using an electric mixer, food processor or by hand, until fluffy, do not over beat, then pour your syrup mixture into the eggs.
Sieve the flour into a mixing bowl, together with the ground ginger, cinnamon and baking powder.
In a separate bowl, mix the wine, bicarbonate of soda and mixed spice together.
Gradually mix in the dry ingredients, together with the wine mixture. Do not over mix. Ensure that there are no lumps at the bottom.
Pour the mixture into the baking tin and place the flaked almonds on top of the mixture.
Bake in the pre-heated oven for 50 minutes on the middle shelf, inserting a knife into the middle to check it's cooked, the knife will come out slightly moist, but it does continue cooking whilst cooling.
Leave the cake to cool for 10 minutes, then, using a silicone brush, lightly brush the top of the cake with honey to give it a shiny gloss and also for a little extra sweetness.
Put the cake tin on top of a cooling rack to allow the air to cool the bottom of the tray and leave to cool for an hour, then cover tightly with foil to keep moist (doesn't matter if its still warm - see my tip below)
Buckwheat has become popular due to its high amounts of minerals and antioxidants and it also has health benefits in that it improves blood sugar control. Buckwheat is neither a cereal grain nor related to the wheat family of flours, it has no connection with wheat whatsoever, In fact, it is a fruit seed that is closely related to rhubarb, sorrel and knotweed. Its high in fiber as well contains small amounts of protein. This is a great alternative to the traditional honey cake for those who are gluten free, or want a healthier version of the sweet honey cake.